FROM: Amber Earns Her Ears Published Mondays
Amber Gets a Thank You Card
After a trip to Cocoa Beach that turned out well, and a trip to an orange grove that didn't turn out so well, Amber gets back to work, and learns to her surprise that someone signed her up for "package pickup" training. But there is a happy ending...
The Disney College Program is a competitive, paid internship open to college students who want to spend a semester at either Disneyland or Disney World working, learning, and possibly laying the foundation for a Disney career.
After a successful stint in Disney's CareerStart Program, Amber Sewell began work in May 2011 at Disney World as part of the College Program. We'll follow her adventures every week right here...
This time last year, it was I who was packing my bags and saying my farewells. School was about to start, and I was being forced back into the real world without ceremony. This week, it was my turn to witness it from the opposite vantage point.
There isn't a huge difference between this bunch of people leaving and the people leaving last year, other than the fact that I was only here with them people for two months or so; last year, I was with people for five or six months before their time was up. I was definitely aware of the shortness of time, but that's not to say that we didn't have some fun.
Amber Takes a Road Trip
In my entire program last year, I didn't venture too far from Orlando. Actually, the only time I left Orlando was when I got lost one of those first few days driving back from Target. A little while ago, however, some friends and I made the spontaneous decision to take a trip to Cocoa Beach. I honestly can't even remember how we decided on going, but I do remember getting everything ready (sunscreen, camera, Powerade - check) and picking everyone up after my Adventures info-session early in the morning.
We packed into my car Dinosaur. Grace, in the passenger seat, DJed, and we set out. The road trip itself was one of the best parts of my program so far. When we finally got to the beach and parked at Ron Jon's, it was already into the afternoon, but we found a relatively clear spot on the beach to leave our stuff. I put on some sunscreen, and we spent the next few hours immersed in the ocean, being knocked about by waves and swallowing way too much salt water.
Eventually, it was time to get out and find some place to eat. After a few minutes wasted by trying to make a decision, we got in the car and drove, others calling out directions until Chris spotted the pier. We pulled in, heard the live band playing and smelled the seafood, and found a table. Starving after our day spent jumping over waves, we ordered massive amounts of food and tucked in.
It was dark when we left, laden with Styrofoam containers of crab cakes and fried shrimp. The drive home was just as fun as the ride out, except this time it was set against the background of an awesome display of lightning ahead of us for the majority of the ride.
Amber and the Orange Grove
My last few weeks or so was also punctuated by quite a few impromptu sleepovers, where conversations lasted long into the night and sleep overtook us before the urge to get up and make our ways back to our own apartments. After one such night, we woke up around noon and decided to head to IHOP for breakfast. Our waitress was an amiable woman from Macon, and when she heard one of the girls in our group say that her goal was to pick an orange in Florida, she immediately gave us heavily-accented directions to the orange grove near her house.
We had planned on spending the afternoon moving things from one apartment to another, but when we reached the parking lot and Dinosaur, I found myself turning onto I-4 rather than Little Lake Bryan. We drove along with no clear directions in mind, music playing and our random, sporadic conversation overriding it. Somehow, we managed to find the place after driving around randomly - only to find that it was closed until October 1. We were having too much fun to turn around immediately and head back, though; for several miles we drove on, others in the car shouting out left or right when we came to a stop sign. Eventually, when we emerged from the arbitrary backroads and back into civilization, I set the GPS back to home.
That afternoon was spent casually doing whatever, as it was one of the last days for two in our group (composed of a hippie, two gingers, and a Kiwi). After a quick stop at EPCOT to pick up stuff they had left for coworkers to sign and some quick-service in Mexico, we headed back to the apartments to regroup for our fireworks excursion that night. We drove to the Polynesian just minutes before Wishes began, and spent our last night as a group sitting on the beach, someone's phone playing the soundtrack perfectly in sync with the colorful flashes of light across the lake.
Amber Trains in Package Pickup
As far as work goes, there have been a few changes. I did go to an info-session for the Adventures program; for the first time since 2008, Disney is hiring guides for the program. As traveling is the one thing I am absolutely certain of in my future, I figured that Adventures would be a wonderful place to start; planning vacations for people and then leading them around places like Italy or England? What could be better?
After I believe two hours of sleep, I woke up, donned my business attire, stopped by Starbucks for some coffee, and made my way to the Contemporary. There I found out that, while it still sounds like an exceptional opportunity, the numbers aren't exactly encouraging. There are about forty-five Adventures guides for the entire program; when they last opened positions in 2008 (and they didn't even specify how many positions were available at that time), 12,000 people applied. As someone who doesn't speak another language and is not majoring in tourism or is a travel planner, the odds aren't encouraging. But as this program is progressing and I'm fairly certain that I don't want to work for Disney again, it wasn't a huge upset.
At work, I also was just trained for hotel delivery and package pickup. It was a random training; apparently, one usually requests to be trained in that area, but I just had it scheduled for me,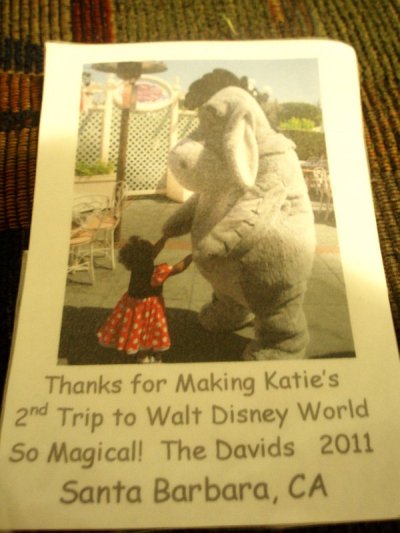 without any of my managers - or the managers in the North, where package pickup is located - aware of it. I turned up in the North and clocked in, and the manager, after figuring out that I really was supposed to be there, gave me vague instructions to wait for my trainer, whoever that would turn out to be.
After getting lost a bit (I hadn't been to the North since my training in May), I finally found someone who led me to the package pickup room, where I sat and waited on my trainer. She showed up a little late, completely unaware that she would be training someone - understandable, as she isn't a trainer. But she did very well, explaining things as I basically shadowed her around her normal day. It seems like a fairly easy job; it's primarily organization, which I love. Sorting and logging packages, going on runs and picking them up from the different areas in the park - nothing too difficult. The backing up of the large delivery van is potentially problematic, as is the fact that I'm certain I'm going to get lost while navigating backstage, but I was assured that was totally normal, and all I need to do is page someone at base and they could talk me through whatever mess I get myself into.
The only downside to being trained for package pickup is that I'll be sent over there more often, limiting my time in the West. While I like the backstage roles - stocking is one of my favorite shifts, after all - I'll also be missing out on some of the Guest interaction that reminds me why I like working with Disney in the first place.
Today, for example, I was taking pictures all day. A little girl of about three or four was getting her picture put into a puzzle with the princesses, but she wasn't having any of this smiling business. After quite a few pictures, hoping to catch one of the rare moments when she would be smiling in the direction of the camera, we finally, finally got a wonderful picture. Later, as I was waiting for the puzzlemaker to free up and was chatting with the next family in line, I felt someone tap at my leg. I looked down, and the little girl was back with a card in her hand. Her family had made little laminated thank you cards for Cast Members who made their trip especially magical, and I was deemed special enough to receive one.
More: AMBER EARNS HER EARS
Comments