FROM: Amber Earns Her Ears Published Mondays
17 Weeks to Go!
The experience is flying by and Amber has just 17 weeks to go. And nothing helps you get thru the day like a rousing game of Grocery Bingo!
The Disney College Program is a competitive, paid internship open to college students who want to spend a semester at either Disneyland or Disney World working, learning, and possibly laying the foundation for a Disney career.
After a successful stint in Disney's CareerStart Program, Amber Sewell began work in May 2011 at Disney World as part of the College Program. We'll follow her adventures every week right here...
I have roughly seventeen weeks left on my program, as my mother reminds me every time I am on the phone with her.
While seventeen weeks sounds like a long time, the reality is that the weeks, as you experience them, are speeding by. Between work and going to the parks with friends and all other manner of activities, the time from one Thursday to the next (always Thursday, as that's when you get paid unless you're an international CP) is startlingly brief. They seem to rush by in a blur, so that I don't remember exactly what I did throughout the week, but am acutely aware of the fact that a large chunk of time has already elapsed.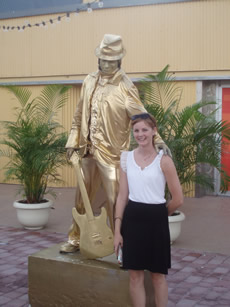 As I predicted, I am scheduled for package pickup from now until the seventeen weeks are up (I don't actually know this, but based upon my schedule since I've been trained there, it seems extremely likely). Which is actually okay, because I'm quite enjoying my time there. I quickly overcame my fear of driving the behemoth van, and now quite enjoy taking an hour to drive around backstage and pick up packages from the different locations. Two of the people I work with aren't such big fans of driving, which works out well for each of us, as they are always willing to take the Mouse Gear run (which involves pushing a big black bin around outside) while I or someone else drives for them. The rest of the time is spent logging in the packages and putting them in their places, which takes no time at all, really. Then we all just relax, lounging about in the two chairs, on the floor, in one of the bins… It's a good thing that I rather like all of the people who work at package pickup; everyone seems to possess a laid-back air that makes doing nothing rather enjoyable.
On Tuesday I worked my first ever shift at the Green Thumb, the gift shop outside of Soarin'. It was raining when I arrived, which was wonderful, because that meant that I had a steady line for well over two hours of people wanting to purchase ponchos and umbrellas, or candy to munch on while they hid from the precipitation outside. One of the largest complaints of people who work the Green Thumb is that it is so dull, especially as there's no one to chat with when the line disappears. I didn't run into this problem until well into the evening, as I was working the EMH shift from 4:30 to 1:30 in the morning. There's not a lot to straighten over at the Green Thumb, which is what I usually waste my time doing, but I was never too mind-numbingly bored. It's not a shift that I would enjoy doing constantly, but once in a while wouldn't be a nuisance.
Thursday I hit Magic Kingdom again with Cassandra and one of her friends, Nancy. We went immediately to food when we arrived, and sadly chose the Tortuga Inn to eat. I had vaguely remembered eating there once before, and my family vowing to never return, but I couldn't remember why that was, so thought we may as well give it a go as Cassandra was craving Mexican food. As we sat at our table with the rain falling outside, staring at our half-eaten soggy burritos, Cassandra pointed out that the unappealing sodden mess in front of us was an hour and a half of work. None of us were entirely thrilled with that insight.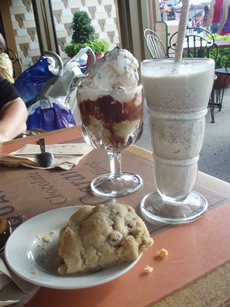 We ventured to the Tiki Room next, as it is no longer under "new management". Afterward, we meandered around the park for a bit, until finally Cassandra and I departed from Nancy's company to hit up Ghiradelli for a shake. By the time we arrived it was late afternoon, the air had cooled off considerably, and the sun was making its way down. We sat at a table outside and just people watched for probably an hour, commenting on the poor woman who walked by wearing a jean vest from the 90s and discussing work. When my milkshake infusion was only frothy chocolate at the bottom, and the cookie had disappeared from the bottom of her cookie sundae, we wandered up to the West Side to visit the street performer (who was particularly attached to Cassandra, refusing to let go of her hand until she replaced it with a little girl's) before catching the bus back to the Commons for my first round of grocery bingo.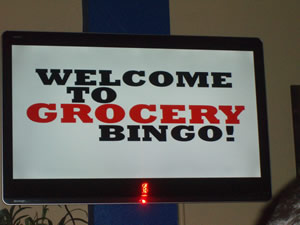 Paige, my roommate from last year, had often participated in grocery bingo, but as it was always at night, I was always working and could never accompany her. Which, I'm thinking, wasn't an entirely bad thing. The area in the Commons in front of the room the bingo was supposed to be held in was packed when we arrived, and only got worse as time passed. Cassandra, who was able to peer around the corner into the room, reported that it was full of disco lights and Cast Members filming the crowd outside for the College Program channel on TV, Housing the Magic. Eventually, we were allowed in a few at a time; it was so packed that they had to have people wait outside for an hour before they could take a vacated seat.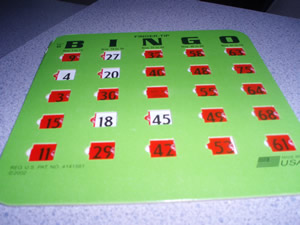 We were let in and given our bingo cards, found a seat, and waited as they filtered the rest of the crowd in. Then it began. It was a very loud, excitable game of bingo, and as I was already tired from our day at the park, I was less than enthused by the wave of people who would cheer as the number called was located on their board. We played different versions of bingo (and here I was, thinking there was only one), of which I was always a failure at. Which turned out to be a good thing, as the night progressed and multiple people with bingos at the same time had to perform in a dance-off in front of the room to determine who would get the most groceries. Some people got really into it, while others stood there abjectly and half-heartedly waved their arms about. There was such a demand to get in that as soon as you got a bingo, you were asked to leave, that way one of the unfortunate people who had arrived later could come in and have a go.
Cassandra and I stayed for a little under two hours, and left before everyone else so we wouldn't get stuck inside the room as the masses of people all tried to vacate the building at once. The walk back to Chatham was particularly entertaining for her, as I was exhausted to the point of not shutting up. We managed to fit quite a bit of discussion into the short walk, which was to be continued the next day at work.
Which started at 8:30 in the morning. I had a double shift on Friday; 8:30-2:30 at Image, then 3:00-9:30 at package pickup. I had picked up the shift at Image, as it had been a while since I worked there and I was starting to miss the place. The day, as long as it was, passed rather quickly, although as soon as I clocked out for the night, I was pretty much dead to the world. I drove home on autopilot, not even quite sure how I made it back. Luckily, the next day didn't start until two, and it was, again, package pickup, meaning I wouldn't have to do anything nearing strenuous.
And that's been my week! Nothing too terribly exciting is on the horizon, other than a trip to the barber shop below Magic Kingdom to restore my hair to its lovely red hue that has faded since I arrived. For now I'll just enjoy my lovely days off and try not to think about how short a period of time I'm down here for.
More: AMBER EARNS HER EARS
Comments