FROM: Disney Ink Published Saturdays
Snow White Tattoo
Snow White is a pure girl. She doesn't smoke, doesn't drink, and doesn't sport tattoos. But tattoos OF Snow White are popular among the Disney Ink crowd, and you will not see a more magical piece of body art than what's on the back of this girl...
What a knock-out!
And I'm talking about her tattoo, with its stunning depiction of Snow White, Prince Charming, the Evil Queen, a couple of the Dwarves, and assorted fairy tale flora and fauna.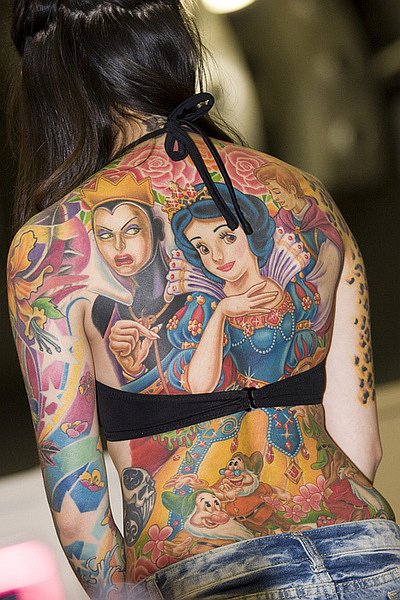 I can't imagine the time, the money, and the pain that went into this tattoo. What I can imagine, because it's right there in front of me, is the skill of the artist.
And we're not even seeing all of it!
The tattoo appears to continue below the waistline. Maybe Dopey is hiding down there? I don't know.
(And it's certain I'm never going to find out.)
Look closely at the right arm and you'll see some bare skin. More ink to come?
Regardless of how you feel about tattoos, it's hard not to whistle at the beauty of the artwork and not to marvel at the depth of Disney devotion that this tattoo represents.
By the way, if you're the girl in the picture, and if you'd like credit for your fantastic body art, drop me a line so I can update the article.
For further fantastic fun, check out:
Comments