FROM: Disney Tale of the Tape Published Every Other Saturday
Boulangerie Patisserie vs. Writer's Stop
This battle is sure to be sweet. The French Welterweight Champion Boulangerie Patisserie vs. Hollywood Studio's Writers's Stop. Dan gives us the play by play.
It's not "Sugar" Ray Robinson vs "Kid Chocolate", but a showdown of two masters of the "Sweet Science" square off in today's bout. The French Welterweight Champion - Boulangerie Patisserie - takes on Disney Hollywood Studio's undefeated contender – The Writer's Stop. The French Welterweight Title is not on the line in tonight's non-title bout. The bout is scheduled for 6 rounds and the Disney Dispatch stadium is packed! So let's go up to our new ring announcer - Don Rogers for the introductions.....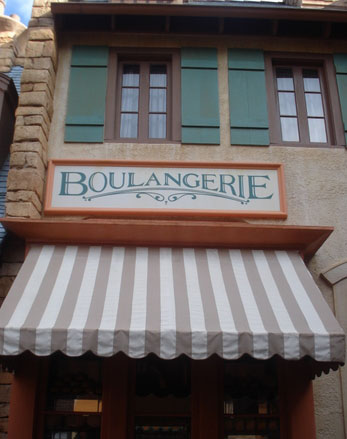 vs.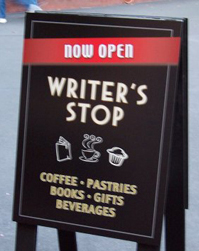 Boulangerie Patisserie
Location: Epcot: World Showcase: France
Featured Items: Dessert Pastries, Sandwiches, & Specialty drinks.
Hours: 11:00 am to varied closing times.
Writer's Stop
Location: Hollywood Studios: corner of Streets of America/Commissary Lane
Feature Items: Dessert Pastries, Coffees & Cold Drinks
Hours: Park Opening to Park Closing
ROUND 1: Exterior Appearance:
The two boxer's different styles show immediatley as the first bell sounds.
From the outside, The Writer's Stop (WS) isn't really much to look at, and to be honest, before I heard about it, I had passed by it many times without giving a thought of going in and exploring. With just a simple chrome lettered sign that says "Writer's Stop" above the door, it's kind of minimal in it's effort to grab your curiosity.
Boulangerie Patisserie (BP) has a much more interesting exterior. With stone walls and concrete tile walkways, it appears like a French sidewalk café with tables lining the pathway. It's charming and inviting. With outside tables, you can not help but to walk by and see other guests enjoying all kinds of creations that scream "try me!". You can hardly resist queuing up and trying something.
This is a big opening round for BP who dominates the round and staggers WS 30 seconds into the opening round! It looked like this one was going to be over quick, but WS weather's the round and a cut has opened over his left eye. Not a good start for the unbeaten up-and-comer who now begins to realize just how big of a step up in class he's taken on.
Round 1 goes to Patisserie 10-8.
ROUND 2: Atmosphere:
This is a much closer round as Writer's Stop begins to settle in to the bout.
While The Writer's Stop's exterior isn't much to look at, the inside is another story. This place has a warm and friendly feeling to it. It's usually not too crowded, so it makes a great place to put your theme park raid on hold, and just rest. Relax. Enjoy a treat. Reset. There are books and videos to browse, souvenirs and trinkets to consider. it's a pretty rare atmosphere for a Disney theme park.
Boulangerie has a very different atmosphere. While it's a beautiful place to be in, it's also a very popular and usually crowded place to be in. Sometimes the competitive spirit of hungry guests can show. This place would be one of the first that I would consider for a fast pass kiosk for snack eateries. The line out the door can often discourage potential pastry snackers. There are usually two lines with identical pastry cases on each side, but this is a very popular place. Maybe they should consider a sign outside that says "Standby: __ minutes" like they do at the attractions! Once you've got your goodies and find a place to sit and enjoy them, you are set.
Writer's Stop comes out aggressive and swinging in round 2 and stuns BP with a straight right hand that staggers him. The experienced French champion remains calm and boxes his way through the round.
A big round for WS. It could even be scored a 10-8 round on some judges scorecards, but not mine. Even though BP was staggered, I felt he boxed his way back into the round to make it a strong 10-9 round for Writer's Stop.
ROUND 3: Themeing:
Both places have a theme that is carried out very well.
Writer's Stop is kind of a strange mesh of themes. With set lighting above, it looks like you are on a TV production set. Cozy chairs and seating areas you may feel like you are at your Grandparent's house. Books everywhere give a library feel. Coffees and Bakery goods in the display case feel like you are at a local coffee shop. Put them all together and it feels like The Writer's Stop ! A place where writer's and creators can stop and think. Day dream over dessert and coffee. Some may not get it, but I do, and I love it!
Boulangerie Patisserie is themed as a french street side Cafe. With a massive collection of treats to choose from, and everything on display it is impressive and wonderful. There are some canisters of baking ingredients along the walls as you wait in line, and this adds to the theme of a working bakery kitchen. The theme is done well, especially for a limited amount of space to work with. It is a fun place to grab a rejuvenating snack.
Both boxers have now hit their groove and it's a technical boxing match in round 3. WS continues to be aggressive and throwing punches at a high rate. BP shows some awesome defensive moves, slipping and countering with some good counter punches. It's close in round 3. Maybe it's just because you seem to have more time to relax and focus on the theme, I give the round by a slight edge to The Writer's Stop 10-9 on my scorecard.
ROUND 4: The Location:
Location is usually a big factor in a match-up of specialty eateries like these. And that's true again.
Patisserie is big part of the France pavilion in World Showcase at Epcot. Since there is no ride to attract people to the pavilion, it's the movie and the shops that are the stars of this part of WDW. That puts a spotlight on BP which it proudly soaks up.
WS is located right next to The Sci-Fi Dine-In, and right around the corner from the Streets of America. It's hidden away and that has it's positives & negatives. Positive is that this location makes it a little more isolated, and may be a big reason why there is usually not a huge crowd here. For me that is a big plus, but for many it is a negative as it doesn't provide the excitement that BP enjoys in the middle of the France Pavilion.
This is a round that might get me in trouble with the DDBC (Disney Dispatch Boxing Commission). 99% of judges out there will give this round to BP for the exciting, colorful, and busy location in which it sits. But... for THIS judge, I love the quiet, almost hidden location of WS. I have to "call 'em as I see 'em", I give the round to Writer's Stop 10-9.
ROUND 5: The Menu:
While both boxers have an arsenal of treats that are sure to please, one takes it with sheer volume punching.
WS offers some great selections. Cakes, Cookies, Brownies and other treats along with some delicious coffee concoctions, it's not lacking in tasty offerings. The reason WS comes into this bout undefeated is it's devastating KO punch... The Carrot Cake Cookie. This thing is a work of art. A magnificent creation of chewy, gooey, goodness. Non other than Disney Guru- Lou Mongello has proclaimed it "The best of the best" in his quest for the best treat at Disney's Hollywood Studios.
Here's the link to that episode: YouTube
With a punch like that, it's no wonder that BP has been very careful to avoid being hit with it. So far, it has been avoided.
BP doesn't carry one big specialty punch, but delivers pretty much every punch in the book! A fantastic, and awesome collection of snacks that is hard to match anywhere in WDW. Not only does it offer sweets, but there are also cheese plates, and sandwiches here too. Rather than try to name them all, take a look for yourself.
Here's the link to their menu: Menu
All I can say is DO NOT go there if you are anywhere close to an ADR time! You could get carried away here.
While WS carries the big knockout punch, it can't stand up to the Jabs, Hooks, Uppercuts, Crosses, Straight Rights, Straight Lefts, Bolo punches, Windmill punches, Behind-The-Back Punches (Yes, that punch has actually been used!) and the vast assortment employed by BP. The Boulangerie Patisserie takes a 10-9 round on my card.
ROUND 6: Intangibles:
There are a few intangibles that play into this round.
*BP offers more than just desserts and you could easily make a lunch date here.
*WS offers seclusion.
*BP is in a scenic, fun and exciting location.
*WS offers books and souvenirs as well as snacks.
*The one intangible that swings this round into one boxer's favor. On our last visit, our Grand Daughter shared a carrot cake cookie with Grandma & Grandpa, and she loved it! That's a flurry that swings the round 10-9 in favor of The Writer's Stop.
 
--------------------------------------------------------------------------
This was a close bout with both showing why their fans love them. As the bell rings, both boxers give each other a hug and show lots of respect for each other. The crowd is buzzing about the possible decision, and ring announcer Don Rogers has the scorecards....
"Fight fans let's give both of these warriors a big round of applause for an outstanding match!
*Judge Dan Sisneros scores the bout: 57-56 for The Writer's Stop.
*Judge Pepe L'Baker scores the bout 60-53 for Boulangerie Patisserie.
*and Judge Booker Word scores the bout 58-57 for the winner by SPLIT decision...
BOULANGERIE PATISSERIE!
Writer's Stop falls to his knees heart broken at taking his first loss.
Patisserie raises his hands and bows to the crowd. This isn't the first time that I've been on the short end of a split decision as a judge, but the bout was close and could have swung either way.
WS fans come out of the stands and tell me that I was the only one who got it right... while the BP fans throw popcorn at me. Patisserie just had too many offerings in it's arsenal, and being in the heart of the France pavilion added power to the punches.
At the post fight interview, BP (through an interpeter) said that he was surprised at the skill and aggression that his opponent showed. He then invited everyone to the post fight celebration at Les Chefs de France.
I better not show up. ... But I think I'll grab a Carrot cake cookie on the way out though!
More: DISNEY TALE OF THE TAPE
Comments