FROM: Disney Tale of the Tape Published Every Other Saturday
Big Thunder Mountain vs. Matterhorn Bobsleds
A heavyweight battle in the largest sense. This is where the big boys play! It's East vs. West nd this 7 round fight for the heavyweight title is a thriller. Dan gives us the play by play.
It's not a Hip-Hop Rapper battle, but it IS "East Coast vs West Coast" in tonight's heavyweight matchup. The "Original" Mountain - The Matterhorn Bobsleds heads to disney dispatch arena to square off against Orlando's version of Big Thunder Mountain Railroad. The bout is scheduled for 7 rounds and is for the vacant "Disney Dispatch Heavyweight Title Belt".

Now it's time to go down to the center of the ring, and get the intros from our ring announcer... "Dangerous" Don Rogers!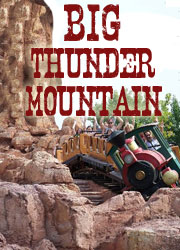 vs.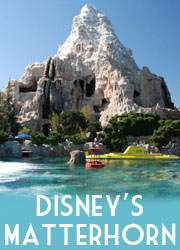 Big Thunder Mountain
Location: Frontierland - Magic Kingdom - Orlando
Opened: Nov. 15, 1980
Ride Duration: 3:30
Vehicle Type: Mine Train themed coaster cars
Theme: Runaway Mine Train
Matterhorn Bobsleds
Location: Fantasyland - Disneyland - Anaheim
Opened: June 14, 1959
Ride Duration: 2:15
Vehicle Type: Bobsled themed coaster cars
Theme: Wild bobsled ride thru the Swiss mountains
ROUND 1: The Queue:
Big Thunder Mountain Railroad (BTMRR) actually has a pretty well themed waiting area. As you approach the big red mountain and get into the line, you begin to see things while hiking up the path towards the loading area. Mining tools and equipment, crates of supplies, a wagon filled with barrels and such. The imagineers did a great job of creating the "western feel" of this attraction. You enter the switchback building and imagine what it's like when they are actually using all of those switchbacks! As you wind your way through the line, there are plenty of windows to look out onto the mountain and see the speeding trains roar by. Heading down into the final loading area, you see the trains pull up and this is where your anticipation can build. Low lighting adds a little mystery to the process. The voice of the late Dallas Mckennon is classic and adds so much to the queue for BTMRR as he welcomes you and prepares you for "The wildest ride in the wilderness".

Matterhorn Bobsleds (MB) does what it can with limited space. A covered chalet area lined with small pine trees offers a colorful waiting area for this classic coaster. You must make the choice of which side you want to ride. The "Tomorrowland" side, or the "Fantasyland" side. It's a very simple waiting area with a "swiss music" loop playing in the background. You can see the bobsleds dissapear into the mountain, and you can hear the laughs and screams coming from the mountain.

These two heavyweights open the bout very cautious. One wrong move or lapse of concentration and it could be "lights out" in a matchup of such powerful sluggers. BTMRR is busier and more aggressive in the opening round. Big Thunder scores well, landing some hard body shots, perhaps looking to "soften up" his opponent for the later rounds.

Round 1 goes to Big Thunder with a score of 10-9.
ROUND 2: Ride Vehicles:
Matterhorn's Bobsleds are "single file seating", in other words you don't sit "side by side". The vehicles have seat belts in them which can be a bit of a hassle to work with. While not as comfortable as a bench seat, sitting low in the sleds adds a feeling of excitement to the ride. You feel vulnerable to being thrown from the speeding sled (now you are GLAD you hassled with that seat belt!). I've never raced in an actual bobsled, but this attraction makes it easy to use a little imagination and suddenly... I'm in the winter olympics racing for the gold medal!

Big Thunder sends you off in a train of boxcars. Bench seats and a lap bar make it very easy to get settled in. The first car is the locomotive, and it "pulls" a line of mine cars filled with screaming riders. The vehicles are well themed and fun to watch as they whip around the track.

Both of these ride vehicles add much to the attractions. This is a very hard round to score.

The Bobsleds make you feel like there's almost nothing between you and the track, and you can almost feel the cars grabbing on to the track! You feel every little bump and shake.

Big Thunder's train cars wind their way along the track at high speeds, and really do feel a little bit "out of control"! They hold so many more riders than the bobsleds, and that just means more screams!

The boxers begin to heat things up here, and they exchange brutal punches. A very close round and BTMRR wins this round by the thinnest of margins. A train/coaster combo is hard to beat. 10-9 round for Big Thunder.
ROUND 3: Themeing and Appearance:
These two brawlers look more like body builders than boxers. Muscular and powerful looking. Great themeing of these beautiful mountains add so much to the fun.

BTMRR begins the teming as soon as you enter the queue area. There is so much to the theme of this ride. The abandoned mining town of Tumbleweed has a lot to see. The mysterious caverns, the dark tunnels, the rumble of the earthquake, the critters, even the dinosaur bones sticking out of the rocks at the end! There are some great views of the park around you as you speed along the outside sections of the track. It's just a great ride with so much detail to see. You can ride it many times, and see something different each time.

MB is also a work of art. The theme of a bobsled ride through the big snowy mountain is very well done. And for a ride that's older than me (by a few months), it's theme and appearance have held up well. (I wish I could say the same!). The roaring abominable snowman, the icy blue cave walls and the colorful crystals are simple, but fun. The waterfall on the "castle side" of the mountain is beautiful. The impressive towering matterhorn mountain stands tall in Disneyland and makes it's presence known to all.

These are two hall-of-fame bound boxers for sure. They trade heavy blows but both are made of steel (really!) and can take a punch.

The Matterhorn mountain seems to rule over everything anywhere near it. Forced perspective makes it appear higher than it really is.

Big Thunder Mountain's appearance is also impressive but not as commanding as MB. In this round the powerful theme carried out by BTMRR is just too much for the impressive appearance of MB.

In a round that sees both boxers land their best punches of the fight, it's close but as the bell rings to end the round, I've got to give the edge to BTMRR. 10-9.
ROUND 4: The Location:
Just when it looks like BTMRR is going to pull away on the scorecard, Matterhorn lands an overhand right that sends Big Thunder to the canvas!

MB sits on some prime Disneyland real estate. It is in between Fantasyland and Tomorrowland, and it seems like all paths lead to it. There once was a time when Matterhorn was the one and only "Mountain" of Disneyland. And the location is perfect for such a grand ride. Guests can't help but to see MB as the big daddy of that part of the park.

BTMRR is located at the end of frontierland. Paired with Splash Mountain, they make for a great 1-2 punch. But being at the end of the walkway means you have to go to BTMRR and then walk back.

It's not that big of a deal to me, but you can't beat being smack dab in the middle of the walkway between Tomorrowland and Fantasyland. I mean, C'mon!

it's kind of a "Flash" knockdown, but... a knockdown none the less. BTMRR goes down from a punch he didn't see. But gets up and doesn't appear to be hurt. Because of the knockdown, I've got to make this a 10-8 round in favor of Matterhorn Bobsleds.
ROUND 5: The Ride:
BTMRR can be a little rough. If you've ever tried to talk to someone during this ride, the shaking of your voice is a great indicator of just how bumpy this ride is. It's not that fast, but seems plenty wild. No big drops or loops, or anything like that, which makes this a great transition coaster for those who want to graduate to something a little more thrilling in the ride department. The winding banked curves are a hoot, and with a top speed of around 30 mph, it's just fast enough to feel the wind blow through your hair.

MB feels like you're going pretty fast with 4 flat tires. You can feel a rumbling in the seats and even the sound of the sled vehicle feels like you are scraping on the ground. With a top speed of about 28 mph you don't really go all that fast, but it's the tight fit in the caves, that makes you feel like you are moving faster. Much like Big Thunder, there are no big drops, no corkscrews or loops. This makes for another great "transition" coaster for those who want to step it up from the gentler rides.

This is a close round. I like the feel of both rides. BTMRR seems a little wilder and has a few more drops. I give the edge in this very close round to Big Thunder 10-9.
ROUND 6: Imagineering & Tech:
MB opened back in 1959 and was probably a technical marvel back in the day. With lots of realistic looking caves and an abominable snowman appearing several times on a "wild" roller coaster, it was an instant hit. One of the first tubular steel coasters made it even more of a technical marvel. Fast forward about 50 years, and there is no marvel in the technology of the Matterhorn bobsleds ride. It remains a favorite in a nostalgic sort of way. A bit of novelty in the fact that this attraction features two different tracks to choose from. But iIt takes lots of bells and whistles to impress todays coaster fans.

BTMRR has much more "I & T" to it. With flooding waters, rumbling earthquake, and other visual treats along the way, it offers a bit more in this category. By no means a technical marvel, but so much imagineering detail is put into this attraction that it remains a favorite of so many.

Fatigue is starting to set in on both of these big brutes, but BTMRR catches a second wind and is able to stick and move his way to another winning round. Solid shot landed to the head and body with most of the counter shots being caught on the arms and gloves gives BTMRR a 10-9 score on my card for round 6.
ROUND 7: Intangibles:
A few intangibles to be considered in the final round.

To anyone (like myself) who grew up in the Southern California area, Matterhorn is memorable as the icon of Disneyland. I remember anytime we were driving through Anaheim and you caught a glimpse of the Matterhorn in the distance, it was instant excitement, and a craving to go to Disneyland! When most people thought of going to Disneyland, the probably thought of the castle as the icon, but in my mind I always saw the Matterhorn Mountain.

BTMRR was named many times as my "favorite" WDW attraction for many years. It has since been surpassed by other attractions, but remains in my top 10 for sure.

MB brings back vivid memories of beins scared out of my mind as a kid! I remember my first time riding it, and thinking that we were going to fly off of the mountain at any time.

BTMRR can be enjoyed at both parks and can be enjoyed by riders on both coasts as well as Paris & Tokyo.

On our last visit to Disneyland in 2010, I remember how much I enjoyed riding this old classic again, and wishing so much, that there was a Matterhorn bobsled ride at WDW.

Both boxers know it's a close bout, and decide to let it all hang out. Throwing caution to the wind, they stand in the middle of the ring and exchange blow for blow.

Matterhorn just has too much history on it's side in the final round. I score it 10-9 Matterhorn.
- - - - - - - - - - - - - - - - - - - - - - - - -- - - - - - - - - - - - - - -
With the crowd rising to it's feet, the bell sounds and the anticipation of the announcement of the winner builds. With two powerful punchers in the ring, most experts at ringside didn't expect this one to go the distance. But it's in the hands of the 3 judges now.

And now, to find out who won this slugfest, we go to Disney Dispatch's own "Dangerous" Don Rogers for the decision...


"Ladies and Gentleman, we have a SPLIT decision!"...


Judge Bert Maverick scores the bout 68-66 for Big Thunder Mountain Railroad, Judge Ricky Ricola scores it 68-66 for Matterhorn Bobsleds, and Judge Dan Sisneros scores the bout 67-65 in favor of the winner, and new heavyweight champion.... from Orlando Florida, BIG THUNDER MOUNTAIN RAILROAD!

The crowd erupts into a mix of booing and cheering. The fans begin to file out of the arena feeling good about having just witnessed an epic battle. This heavyweight division is loaded with powerful opponents for future bouts. At the post fight press conference a bruised and battered Big Thunder gave all the respect in the world to his opponent and said that he felt youth may have made the difference in this bout.

BTMRR now has a target on his back as the other heavyweight contenders will be focusing on a title shot. But at least for now, Big Thunder Mountain Railroad in Orlando is "King of the Mountain(s)".
More: DISNEY TALE OF THE TAPE
Comments