FROM: Disney Travel Tips from Mouseketrips Published Saturdays
The Mouse Behind the Curtain
So you've been to the Disney parks umpteen times, think you've seen it all, and decide there's no reason to return. You're wrong. There's more to see, and as Keith Anderson explains, much of it is underground. Take the Keys to the Kingdom tour!
As part of my job, I get to spend a lot of time in the Disney theme parks, whether with my family or on business.
While that sounds fantastic (and it is most of the time), I have seen every inch of the Magic Kingdom more times than you can imagine. For many frequent visitors, the next logical step is to see beyond what is visible to most theme park guests, to see the man (or perhaps the Mouse) behind the curtain.
Fortunately for us, Disney World does a fantastic job of providing opportunities to peak behind the curtain. Tours are available in all of the Disney World theme parks, but my favorite is Keys to the Kingdom, a five-hour tour during which you'll learn about the Magic Kingdom's history and backstage secrets. You'll hear stories of Walt Disney and the visions and philosophies that helped build Disneyland and the Magic Kingdom, and you'll uncover some of the secrets of Main Street, U.S.A.
After visiting Main Street and other parts of the Magic Kingdom, you'll venture under the Magic Kingdom and walk the Utlidors, the underground hub of the park. There you'll see wardrobe and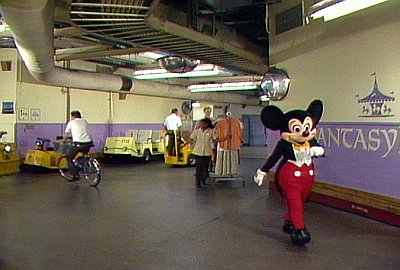 makeup areas, and storage for Disney events and offices. If you keep your eyes open, you'll spy secret Utilidor entrances and other hidden treats. You'll also visit the Magic Kingdom production center, where Cast Members build and store the floats and vehicles used in the parades.
The tour is offered daily at 8:30, 9:00, and 9:30 AM. It starts at City Hall just inside the Magic Kingdom entrance. The cost is about $80 per person, with reservations required, and you must aged 16 or older (because Disney doesn't want little kids meeting Mickey Mouse in the Utilidors with his head off...).
While Keys to the Kingdom may not be ideal for a first- or second-time visitor to the Magic Kingdom, it's perfect for 'veteran' visitors who want a bit more information on the history and function of the Disney theme parks.
While you're waiting for Keith's next Disney tip, why not ask him to plan your next Disney trip? Mouseketrips does nothing but Disney - and they're really good at it! Hook up with them at their website, through Twitter, or on Facebook.
More: DISNEY TRAVEL TIPS FROM MOUSEKETRIPS
Comments