FROM: From the Mouth of the Mouse Published Wednesdays
April, Storybook Land Canal Boats
One of the oldest rides at Disneyland, the Storybook Land Canal Boats, still holds it charm after all these years, and today Jeff Heimbuch presents a recent interview he did with April, a former Cast Member who piloted the boats way back in 1957.
While visiting Disneyland, I finally had an opportunity to ride one of the opening day attractions that I've been dying to see forever: the Storybook Land Canal Boats. While it may not be as thrilling as Splash Mountain or as action packed as Pirates of the Caribbean, it still has a place in Disneyland history as an iconic attraction.
click an image to expand and read notes: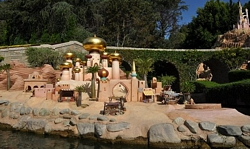 Agrahah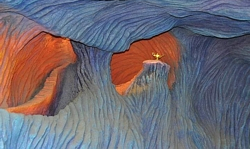 Cave of Wonders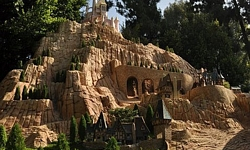 Cinderella's Castle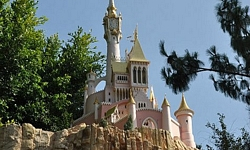 Cinderella's Castle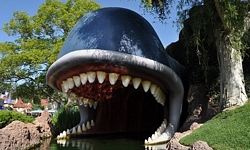 Monstro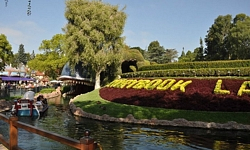 Storybook Land
Today we speak to April, who worked as one of the tour guides on the ride way back in 1957! I've had this interview for awhile, but wanted to hold back on it until I was able to experience the ride for myself, and I'm certainly glad I did!
Tell me a little about the ride.
APRIL:

Well, back when I worked on it, it was the same concept as it is today - a short little boat ride through some miniature sets of Disney films. The ride itself hasn't changed much over the years, aside from having some new sets added.
So the ride is pretty much the same now as it was back then?
APRIL:

For the most part, yes. I mean, obviously the newer animated films were added - those weren't there when I worked there. If they were, that would have been some amazing insight from the Imagineers! But yes, it is pretty much the same.
Did you go on the ride when the Park first opened, before you became a Cast Member?
APRIL:

I did. I was one of the few lucky enough to go on "The Mud Ride," as it has come to be known. I've called it "The Mud Bank Ride," too.
The Mud Bank Ride?
APRIL:

When the ride opened with the Park in 1955, there really wasn't much too it. It was just a short ride through some small canals, with very little landscaping to it. It was supposed to be themed after different parts of the world, but it either wasn't done in time, or the technology just didn't exist for what they wanted to do. So, it was a ride down some canals, past some mud banks! It's funny, because I remember a few times that the motor on some boats broke or something. They had to be pulled by hand by Cast Members around the canals.
Sounds like another one of those opening day disasters we always hear about at Disneyland!
APRIL:

Oh, it was more than just opening day! I lived close, so I went a few times during the first couple of months the park was open. I don't remember how long it was, but eventually they closed it up to re-do it. It didn't open again until '56, I believe. By then, they rethemed the entire thing to Storybook Land, and put all the sets in. It obviously was much more improved then! They even added the giant Monstro to it.
Can you tell us about your role on the ride when you worked there?
APRIL:

I was one of the tour guides who sat at the back of the boat. We'd get about 10 guests into a boat, and I'd navigate it through all the scenes. We had a little spiel we used to describe each little place, telling the guests what movie it was from and who lived there. It was a fun thing to do, really. It wasn't hard work, and we got to sit down and talk to people all day, which I liked.
Can you tell me anything interesting about the ride?
APRIL:

Actually, before you called, I looked up some stuff to refresh my memory! I found out that all the doors and windows are hinged, and they can actually open so the electricians can change their light bulbs. That's pretty amazing, actually. I wish I'd known that back then to tell the guests!
I always liked the waterfall on the ride, which is directly to the right when you're on line. Now, I think it has something from The Little Mermaid hidden in it. But behind it is the storage area for the other boats. Guests used to really enjoy when the waterfall would suddenly turn off, and a boat would appear from under it! That was fun to do!
Thanks, April, for sharing with us!
If you haven't done so already, please don't forget to subscribe to our podcast! We have lots more interviews coming your way, and you don't want to miss them.
If you are (or know) a Cast Member who would like to share some of their stories and be featured here on Disney Dispatch, email me at jeff@bamferproductions.com. I'd love to hear from you!
More: FROM THE MOUTH OF THE MOUSE
Stuff Not to Skip
Comments