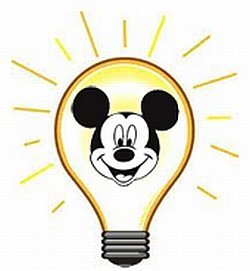 Happiest Tips on Earth
About the Column
Congratulations! You're going to Disney World, the Happiest Place on Earth! Now what? Do you have a plan? Do you know what to expect? Are you determined to 'see it all' or die trying? Lesley Sawhook has 'been there, done that' so many times that in her sleep she counts marching Mickeys, not leaping sheep. Her years of experience as a Disney mom, a Disney planner, and a Disney Certified Travel Agent make her uniquely qualified to dispense the Happiest Tips on Earth. Learn from Lesley how to have the Happiest Time at the Happiest Place on Earth.
Learn about the author, too!
Disney Swag: The T-Shirt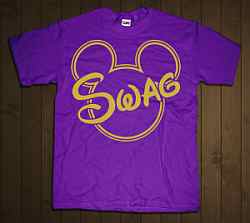 Get yours now!
Disney Swag: The T-Shirt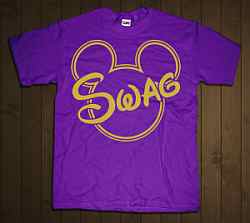 Get yours now!
Classic Disney Dispatch Content
Disney Dispatch Columns
Subscribe to Disney Dispatch Digest
And receive a daily email summary of new stuff on the site.
Soothing the Screamers
Lesley Sawhook shares tips for letting the magic happen
I'm happy to introduce the first of several new columns on Disney Dispatch that will address the most important issue of 'em all: how to make your Disney trip magical. Lesley Sawhook knows the secret and shares a little more of it with us weekly in the Happiest Tips on Earth.
Today, she shares a truth that many just won't accept: you'll never see everything you want to see in a single vacation - or in many vacations. So... relax! Let the magic happen.
When walking through the Happiest Place on Earth, sometimes you hear ... screaming.
For example:
I've seen children scream as their parents drag them to places where they don't want to go. The angry parents scream back: "I paid too much for this vacation to hear you throwing a fit!". Then, having finally made it to Tower of Terror, the children scream again when they realize with fear what's in store for them, and the angry parents scream back: "We HAVE to ride this ride!".
I don't know about you, but as a parent of two young children, that is not the memory I want them to have of our Disney World family vacation.
click an image to expand and read notes: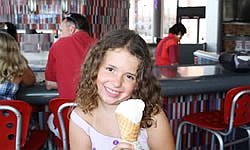 Lesley's Daughter Is Smiling!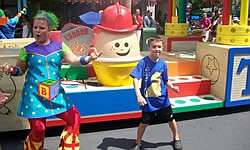 Lesley's Son Is Dancing!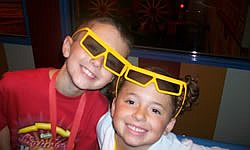 Lesley's Children Are Happy!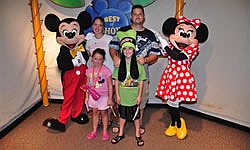 Example of a Happiest Trip on Earth
As parents, what can we do to make our children love Disney as much as we do?
Happiest Tip: Take It Easy!
My advice: take it easy. Don't go commando.
I realize you spent a lot of money on this vacation and you have a mile-long list of rides and attractions that each member of your family wants to see, but I suggest making a daily 'must do' list.
Each morning, perhaps while you're waiting for the bus or grabbing a quick breakfast, look over the park map with your family and let each person pick the number one thing they want to do that day.
Make it a priority to get it done.
Then determine which rides you should head for right away and which you should postpone until you've gotten Fast Passes.
For example, if your daughter wants to ride Dumbo, waiting until noon is not a good idea - go immediately to Fantasyland and get it done right away because that ride doesn't offer Fast Passes. If your son wants to ride Space Mountain, however, then a Fast Pass is a great idea.
Happiest Tip: Designate a Runner!
Don't drag your entire family as you trek through the park picking up Fast Passes. If you do, you'll have tired and cranky children on your hands very quickly. Instead, designate one family member as a 'runner', give him ('him' because it's often Dad!) all your park passes, and promise to meet him at the next scheduled attraction. While the runner is away, the rest of the family can relax a bit, have a snack or drink break, maybe hit the restrooms, or hop on a ride the runner doesn't enjoy.
Happiest Tip: Do the Parent Swap!
If your children are scared of a ride, don't force them on it or you'll traumatize them for the entire trip. Have a back-up plan. For example, if you're in line for the Haunted Mansion and your child starts to cry, decide in advance which adult will skip the ride and take the kid for ice cream. Use Disney's parent swap option so the entire family doesn't miss out on what they want to do just because one member of the group isn't tall enough or brave enough to ride.
Happiest Tip: Make the Memory Happen!
We've been to Disney countless times and we still haven't seen it all. You will not see everything, either. It's impossible. Don't even try it. Instead, relax - take the time to see what you really want to see and don't worry about falling behind on your 'schedule'. Don't skip a meet 'n greet with your child's favorite character just because the line is long and you're rushing somewhere else: make the memory happen. Let your children trade pins, get autographs, enjoy a Mickey bar, see the fireworks, and do whatever they want to do.
Isn't that what going to Disney World as a family is ALL about?
Lesley's Exclusive Food & Wine Festival Vacation Deal
The Happiest Tips on Earth can only get you partway to the Happiest Place on Earth. For the rest, you need Destination Magic. Drop Lesley a line and see what magic she can make for you when you're planning your next Disney trip!

Don't stop there! Check out more Happiest Tips on Earth...