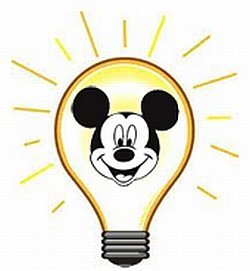 Happiest Tips on Earth
About the Column
Congratulations! You're going to Disney World, the Happiest Place on Earth! Now what? Do you have a plan? Do you know what to expect? Are you determined to 'see it all' - or die trying? Lesley Sawhook has been there, done that so many times that in her sleep she counts marching Mickeys, not leaping sheep. Her years of experience as a Disney mom, a Disney planner, and now a Disney Certified Travel Agent uniquely qualify her to dispense the Happiest Tips on Earth. Learn from Lesley how to have the Happiest Time at the Happiest Place on Earth.
Learn about the author, too!
Disney Swag: The T-Shirt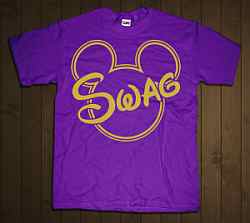 Get yours now!
Disney Swag: The T-Shirt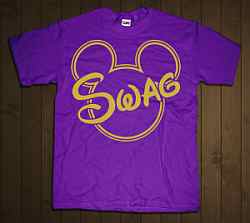 Get yours now!
Classic Disney Dispatch Content
Disney Dispatch Columns
Subscribe to Disney Dispatch Digest
And receive a daily email summary of new stuff on the site.
Dealing with Disney Trip Anticipation
Lesley Sawhook helps you start your Disney trip before leaving home
Next to leaving Disney, the roughest experience is the time spent in limbo between booking your next trip and leaving for it. Lesley Sawhook can't make the time pass faster, but her clever tips at least will make it pass more enjoyably.
You've finally booked your magical Disney vacation and now the anticipation is killing you.
The kids keep asking: "HOW MANY DAYS, MOM?" It just can't get here fast enough.
What can you do to pass the time and enjoy the days leading up to your vacation? Here are some 'happiest tips' to help start your vacation before you even leave home.
click an image to expand and read notes: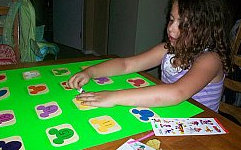 The Countdown Calendar - in Progress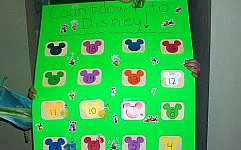 The Countdown Calendar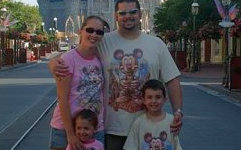 Matching Shirts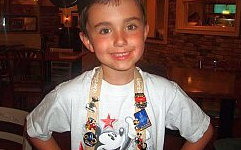 Trading Pins
Happiest Tip: Countdown Calendar
Our family loves making countdown calendars for our upcoming Disney trips. We make a night of it and sit down and do it together. To make them extra cool, I first visit a local hardware store that sells Disney paints and ask for sample pieces (they come in the shape of Mickey heads) in different colors that I can use for the days of the month.
I write the numbers on each Mickey head in descending order, and then we buy Disney stickers so the kids can decorate the calendar however they like. Each day we take turns ripping off a number as our vacation nears. It really helps build the excitement!
Now that you've made your countdown calendar, what else can you do with your family to ease the pain of anticipation?
Happiest Tip: DVD Planning Night
Disney has incredible planning DVDs for Walt Disney World, Disneyland, Disney Cruise Line. Adventures by Disney, and all their other destinations. We love watching them together as a family, especially when we're planning new trips.
For example, we have a Disney cruise planned for this summer on the Disney Dream and the anticipation is killing us. We were so excited when our new Disney Cruise Line planning DVD came in the mail. We popped popcorn and sat together learning about the cruise and sharing what we, as a family, most looked forward to doing aboard ship.
Now that you know which Disney things excite you the most, what should you do next?
Happiest Tip: Family Planning Meeting
At the meeting, discuss what each family member would like to do and see. You can go over park maps online and talk about attractions. You can discuss dining locations that you really want to hit and then make those reservations together online. If your daughter wants to experience Bibbidi Bobbidi Boutique, or your son the Pirate League, you can check out those packages online and call to make your reservations.
Now that you've made your countdown calendar, had a DVD movie night, and made your dining and entertainment reservations, what else can you do to prepare for your trip?
Happiest Tip: Shop Til' You Drop
We love shopping together for things to bring with us our next Disney trip. For example, I enjoy having a picture taken in front of Cinderella Castle with all of us in our matching Disney shirts. We buy those shirts at DisneyShopping, and then when they arrive in the mail, the excitement happens all over again.
Also, my kids are into pin trading, but since they trade for pins that they like, they really don't care what types of pins they take with them to Disney. We enjoy searching eBay together for great pin deals. When those pins arrive, the kids have fun putting them on their lanyards and dreaming of trading them with Cast Members for their favorite pins.
Starting your Disney vacation before you leave home will make it even more magical for your entire family when you finally get there.
Lesley's Exclusive Food & Wine Festival Vacation Deal
The Happiest Tips on Earth can only get you partway to the Happiest Place on Earth. For the rest, you need Destination Magic. Drop Lesley a line and see what magic she can make for you when you're planning your next Disney trip!

Don't stop there! Check out more Happiest Tips on Earth...