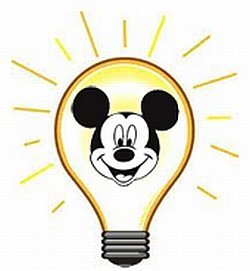 About the Column
Congratulations! You're going to Disney World, the Happiest Place on Earth! Now what? Do you have a plan? Do you know what to expect? Are you determined to 'see it all' - or die trying? Lesley Sawhook has been there, done that so many times that in her sleep she counts marching Mickeys, not leaping sheep. Her years of experience as a Disney mom, a Disney planner, and now a Disney Certified Travel Agent uniquely qualify her to dispense the Happiest Tips on Earth. Learn from Lesley how to have the Happiest Time at the Happiest Place on Earth.
Learn about the author, too!
Disney Swag: The T-Shirt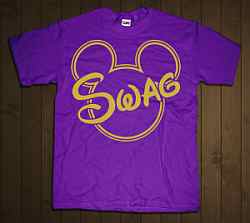 Get yours now!
Disney Swag: The T-Shirt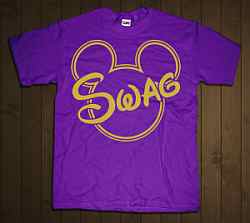 Get yours now!
Classic Disney Dispatch Content
Disney Dispatch Columns
Subscribe to Disney Dispatch Digest
And receive a daily email summary of new stuff on the site.
FROM: Happiest Tips on Earth Published Fridays
Epcot Interactive Adventures
Lesley Sawhook knows how to keep kids happy at Epcot
When I talk to parents of young children about their upcoming Disney vacations, I'm often dumbfounded that many of them consider skipping Epcot. Many parents have told me that they don't feel Epcot would interest their kids.
I'm here to tell you that Epcot is a do-not-miss park for everyone - especially those with young children.
Epcot has a ton of amazing rides including Soarin', Test Track, Mission: SPACE, and Spaceship Earth, but it also has lots of interactive things for families to do together.
And that, in my opinion, sets this park apart!
Happiest Tip: Kim Possible World Showcase Adventure
Did you know that Disney recently introduced an attraction at Epcot that transforms your child into a secret agent working alongside Kim Possible and Ron Stoppable?
Your secret agent picks up their phone from a Kim Possible Kiosk in the World Showcase and receives mission in one of the countries. These missions last 20-30 minutes and require your child to locate clues and activate special hidden items throughout the World Showcase in a very interactive way.
This was such a hit with my kids on our last trip that we solved every single mission in each country in the World Showcase - such fun!
click an image to expand and read notes: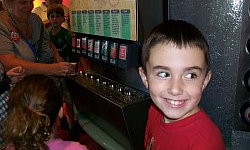 Club Cool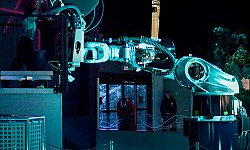 Innoventions: Sum of All Thrills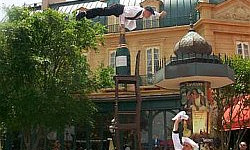 Serveur Amusant in Action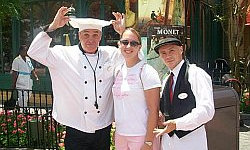 Serveur Amusant at Rest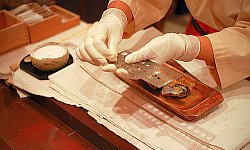 Pick a Pearl
Happiest Tip: Club Cool
One of our favorite spots to cool off on a hot day at Epcot is in Club Cool.
Club Cool showcases free Coke products from around the world. My personal favorite is the Mezzo Mix from Germany. Between you and me, there is one drink called 'Beverly' known for its horribly bitter taste. My kids love tricking one another (or even complete strangers) to try this drink, and we always have our cameras ready to catch the reaction.
Happiest Tip: Innoventions
Many families skip two indoor areas at Epcot called Innoventions East and Innoventions West.
One of the newest attractions in Epcot located inside Innoventions is the Sum of All Thrills. At this attraction, you can design your own roller coaster, bobsled, or jet ride, and then experience it first-hand by donning virtual reality helmets and taking control of several robotic arms.
This is such a fun attraction and should not be missed. I love that inside of the virtual reality helmet you can see an image of the person you are riding with. That allows you both to experience it together.
Innoventions also has great attractions such as a video gaming area where you can be filmed in several action shots (running, dancing, jumping, etc.) and then your image is transported into a video game which you can actually play - with yourself the star! You're also given the web address of the game so you can continue playing when you get home.
There are many other wonderful attractions in Innoventions that your family can do and experience together such as Don't Waste it, a simulation in which you portray trash collectors and recyclers working together to save the environment through various games and activities. We also loved Where's the Fire and Play It Safe, both of which teach about fire safetly in fun, interactive ways. We loved them both. Other attractions include The Great Piggy Bank Adventure and Storm Struck.
Happiest Tip: World Showcase Performers
One of my family's favorite things to do at Epcot is experience the culture and entertainment of each country in the World Showcase. Be sure to grab a times guide and catch the amazing entertainers, especially Serveur Amusant [photo 1 | photo 2], French acrobats who perform daily in the France Pavilion. Our jaws were on the floor the first time we saw them perform.
In the United Kingdom Pavilion, make sure not to miss The Knight of the Round Table, a fun show in which audience members are invited to participate.
In the Japan Pavilion, we love to watch the 'candy lady' create amazing things for children out of candy. There are also activities inside the Mitsukoshi department store. You can, for a small fee, select an oyster from which you'll receive a pearl that you can take home as-is or have mounted in jewelry. In the back of the store, several lovely ladies will help you or your children select a kimono and adorn your hair in traditional Japanese fashion. During a recent trip, I left the store with an amazing kimono for my daughter. It was adorable watching her bow to everyone for the rest of the night.
In the American Adventure, you can listen to the Voices of Liberty, an a capella singing group that performs bef, inside the American Adventure as you wait for the show to start.
Happiest Tip: Kidcot Fun Stops
In the World Showcase, you'll find 14 interactive craft stations called Kidcot Fun Stops. At each station, your child can create a drawing, a stamp, or simply color. Most of the Kidcot stations are staffed with a person from that pavilion's sponsor country, and you'll be able to ask questions and learn more about the life and culture there.
Happiest Tip: Illuminations
Every night at park closing, Epcot stages an amazing fireworks show called Illuminations. I can't think of a better way to conclude a day touring Epcot than by watching this show. No matter where you are in the World Showcase, you'll have a tremendous view and you won't feel crowded by a crush of fellow spectators.
My favorite part of a Disney vacation is grabbing an adult beverage, such as an Italian Margarita or a Grey Goose Slushie from France, and watching Illuminations with my family.
Ahhhhhhhhhhhhhh, if I could only be there now!
Lesley's Exclusive Food & Wine Festival Vacation Deal
The Happiest Tips on Earth can only get you partway to the Happiest Place on Earth. For the rest, you need Destination Magic. Drop Lesley a line and see what magic she can make for you when you're planning your next Disney trip!
More: Happiest Tips on Earth...