FROM: Happiest Tips on Earth Published Fridays
Choosing Your Disney World Digs
Staying on Disney property enhances your Disney vacation. Just ask Lesley Sawhook. She has lots of reasons for staying on property. But can you afford it? Lesley Sawhook takes a look at your options, from the inexpensive values to the pricey deluxes.
So... you are going to Disney World - where should you stay?
The big debate when planning your Disney vacation is often where to stay: ON property or OFF. We've had this debate often. For us, ON property always prevails, but I do understand that if you're on a tight budget, your only option might be OFF property.
In this Disney planning installment, I will discuss ON property hotels.
Happiest Tip: Good Reasons to Stay ON Property
Staying ON property has many perks and privileges, among them:
If you're arriving by plane, Disney's free Magical Express bus service will transport you from airport to resort, and then back again.
Location, location, location. Since you're on Disney property, you don't have to fight Florida traffic. You simply board your Disney bus or boat or monorail, and you're at your destination in no time.
The other location perk is being able to take Disney transportation back to your resort easily and quickly for an afternoon pool break or for a nap (a HUGE perk for us).
If you drive to the parks, you don't have to pay for parking. Many guests staying off property do not factor in the cost of parking every day - and it REALLY adds up.
You can use the Disney Dining Plan. Guests staying off property can't book the plan.
You will have a 'Key to the World Card' which serves as your room key and, depending upon what package you've chosen, your park ticket, your dining 'key', and your charge card (if you set it up for that).
Any purchases you make at the parks or Downtown Disney can be sent back to your room at no charge, so you don't have to lug them around with you.
The theming - you are on Disney property and the theming of their hotels is great.
The customer service - when you stay on Disney property, you are surrounded by Disney cast members. I have not seen customer service like this in any other hotel we have stayed in; Disney just knows how to do it right.
You can make your dining reservations 180 days in advance PLUS 10 days, so all of your reservations can be made in one phone call for your entire trip.
I'm sure I am leaving out some perks, but those are the biggies.
If you decide to stay on Disney property, then you need to determine where you would like to stay. Disney has several levels of hotels: The Disney Campground, Value Resorts, Moderate Resorts, Deluxe Resorts, and Vacation Villas.
When working with a Disney specialist travel agent, they'll look for the best discount codes to save you as much money as possible. I found my first discount code years ago and paid only $124 per night at Wilderness Lodge. From that point onward, we were hooked on deluxe resorts and NEVER looked back.
Happiest Tip: Which Resort Is Best for My Family and Our Budget
The Disney value resorts range from 82.00-145.00 per night depending on the time of year you travel and the type of room you request (for example, a preferred room that is closer to the food court and bus stops). These are the RACK rates. Disney often announces public discounts that reduce the rack rate considerably.
Value resorts have the smallest rooms and come with two double beds. Each room has outside access, so if it's raining and you've just stepped off the bus, you WILL get wet as you hike back to your room. We stayed at a value resort for the first year, and the kids LOVED the theming.
If you decide on a value resort, our FAVORITE is the POP Century, the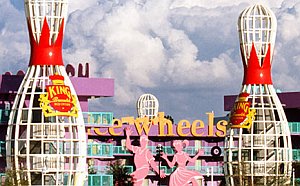 newest of the values, with larger than life icons, a nice main pool, a big food court, and an arcade. The resort is built around separate "era's": the 50's, 60's, 70's, 80's, and 90's. Each era has its own theme, icons, and music, and pool. Pop Century doesn't share its buses with other resorts - a huge plus.
The next step up are Disney's Moderate resorts. The rack rates are $149-$249 per night. You still have exterior access to your room, but the rooms are a tad bit bigger, with larger beds (queen sized), and the pools have slides and hot tubs (both of which are absent at the value level). Our favorite moderate resort is Port Orleans French Quarter.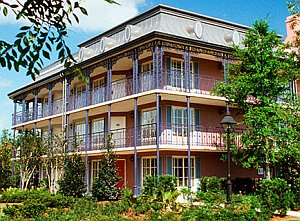 French Quarter theming here is great, and kids love the pool with the huge serpent slide. You can easily hop a boat to Downtown Disney, too. The other reason we love the French Quarter is that it is, by FAR, the smallest Disney moderator resort. That means your walk to the food court and the bus stop is minimal. Buses also pick up guests at Port Orleans Riverside, but guests at the French Quarter are both picked up and dropped off first. We've always gotten a seat. The food court is good, and the arcade is nice, as well.
Many people don't realize that the For Wilderness Cabins are also classified as Moderate resorts with similar rack rates. The cabins are a great option for larger families and include a full kitchen. Port Orleans Riverside is another Moderate level option for families of five. We have not stayed at either of these resorts, but have heard wonderful things about them.
The next step up are Disney's Deluxe Resorts. There are two big differences in the cost to stay at a deluxe resort. If you stay at a monorail resort, you will pay a LOT more. Our favorite deluxe resorts not on the monorail,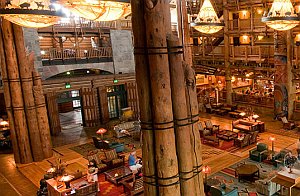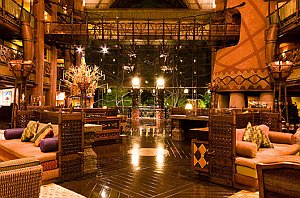 and so available at lower cost, are the Wilderness Lodge (top picture) and the Animal Kingdom Lodge (bottom).
These resorts are similar (the 'all under one roof concept', with covered walkways from the bus into the nicely air conditioned lobby. They have table service restaurants as well as food courts, along with pool slides, hot tubs, fitness centers, and other up-scale amenities.
The difference between Animal Kingdom Lodge and Wilderness lodge is the theming. Obviously, there are animals at the Animal Kingdom lodge and that is just AWESOME (where else can you see a giraffe from the pool or use night vision goggles to scout animals after dark in the savannah?). Wilderness Lodge is VERY close to the Magic Kingdom and has boat transportation to and from that park.
Both resorts have a bunk bed option, so you can have two queen beds in your room or a queen and a bunk bed. And every deluxe resort, including these two, has a balcony outside most rooms, offering a great place to grab some peace and fresh air while the kids fall asleep inside.
The rack rates for these two resorts range from $240-400 per night, depending on room size, view, etc. Right now, however, Disney is offering 30% off the rack rate at all deluxe resorts for the popular summer months.
The monorail resorts include the Contemporary, the Polynesian, and the Grand Floridian. All three have amazing table-service restaurants and incredible theming which can enhance your vacation experience.
We stayed at one of the Deluxe Villa Resorts recently (Disney's Boardwalk Resort) and just loved the convenience of being able to walk to and from Epcot and Disney's Hollywood Studios. The location of Disney's Boardwalk Villa's and Beachclub resorts just can't be beat! There are other villa resorts you can rent for larger families that include full kitchens and separate bedrooms.
So those are the Disney ON property locations in a nutshell (that was hard to summarize and it was STILL wordy). There are so many options that at times it can seem overwhelming. I hope this helped you to see the advantages of staying on site for your next Disney vacation and the differences between the various levels of properties located at Walt Disney World.
Lesley's Exclusive Food & Wine Festival Vacation Deal
The Happiest Tips on Earth can only get you part-way to the Happiest Place on Earth. For the rest, you need Destination Magic. Drop Lesley a line and see what magic she can make for you when you're planning your next Disney trip!
More: Happiest Tips on Earth...