FROM: Happiest Tips on Earth Published Fridays
Disney World Not Just for Kids
Let's take the kids to Disney World! Or better: let's not. Lesley Sawhook reminds us that you don't always need the kids to have a great time at Disney. The parks offer plenty for adults who'd prefer to party or just plain relax.
When my husband and I first went to Disney World, it was as honeymooners without kids.
Then, starting in 1998, we made our trips with our two little ones every year (or more than once per year). We enjoy our family vacations to Disney very much, watching the magic through our children's eyes, but we've also learned that adult time in Disney can be just as magical for us - sometimes even more so!
click an image to expand: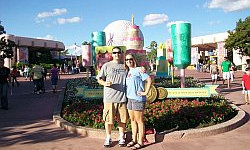 Tim and Lesley at Epcot - sans kids!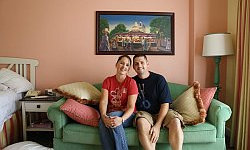 Tim and Lesley in their room - sans kids!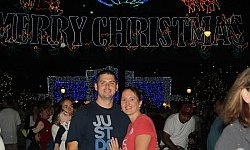 Definitely the two happiest people in this picture
Happiest Tip:
Use Disney's Child Care Centers
Disney has amazing child care centers located at many of the deluxe resort hotels that you can take advantage of during your vacation. And you don't have to be staying at the hotel to use its child care center!
We hesitated many years before giving them a try, but once we did, we didn't look back.
We first used one of the centers when we wanted to enjoy a romantic dinner alone. Upon returning to pick up our kids, they begged us to let them stay longer, so we left them there for an additional hour while we relaxed with a drink at the hotel bar.
Another time, we left the kids at the Neverland Club at the Polynesian and enjoyed four hours of adult time at Epcot's Food and Wine Festival.
We thought by then the kids would have had enough of the Neverland Club, but when we picked them up they pleaded with us to drop them off there again the next day.
We now make sure on family vacations to schedule at least one date night for the two of us. Our date nights might include a night at the park enjoying the rides together (we've hit Magic Kingdom on our own for a few hours once and it was WONDERFUL; we felt like honeymooners again!).
We've also scheduled romantic dinners at Jiko or at the Yachtsman Steakhouse, evenings at the Food and Wine Festival, or just a few hours strolling through the World Showcase without having to worry about pushing strollers or standing in lines for characters.
Once, we even stayed to watch Illuminations - just the two of us.
What a perfect Disney date!
Happiest Tip: Plan an Adult Getaway
This past November, my husband Tim and I headed down to Disney World for our first-ever adults only getaway. We booked 3 nights/4 days at the Boardwalk, met another couple down there, and had an incredible time!
At first, I felt guilty leaving the kids behind while we went to Disney, but we'd do it again in a heartbeat!
We were there during the last weekend of the Food and Wine Festival. They had just put up the Christmas decorations, and it was the perfect time to visit.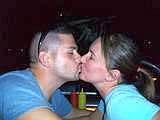 We loved staying at the BoardWalk and staying out late with our friends - just sitting, talking, and enjoying the atmosphere with an adult beverage. We loved walking over to Epcot for the Food and Wine Festival, then strolling over to Hollywood Studios for the Osborne Lights. Since it was just the two of us, we were able to use single rider lines. We slept in (try doing that with the kids along!), shopped around, enjoyed long romantic dinners, and treasured the 'us' time that every marriage needs and deserves.
So, the next time you plan your Disney vacation, don't think of it as only a family affair, but rather take some time to also enjoy it as a couple. You won't regret it!
Lesley's Exclusive Food & Wine Festival Vacation Deal
The Happiest Tips on Earth can only get you partway to the Happiest Place on Earth. For the rest, you need Destination Magic. Drop Lesley a line and see what magic she can make for you when you're planning your next Disney trip!
More: Happiest Tips on Earth...