FROM: Happiest Tips on Earth Published Fridays
Disney Character Dining
If there's one thing better than the Disney dining plan, it's the free Disney dining plan. And it's back! Before you bite, learn how to use it right, with Lesley Sawhook's tips about getting bang for your buck, and plenty of characters with your cuisine.
Did you know that Disney just released free dining again for this fall!?
Well, they did, and many Disney fans are thrilled about it. I'm sure it means I'll be hearing these questions quite a lot: "Where is the best place to eat at Disney?" and "Where can I get the most bang for my buck on the dining plan?".
There are many WONDERFUL dining options on Disney property, but for this column, I will focus solely on character dining. And to help you get the most 'bang for your buck' with your dining plan, I will limit my recommendations to 1 credit options.
Happiest Tip: Dining with the Princesses
When you are on the dining plan, most restaurants are 1 credit options, and only a few 2 credit options, such as signature dining locations.
If you are DYING for a meal with Cinderella or the other princesses, you don't have to spend 2 credits for a meal in Cinderella Castle. Our favorite places to dine with the princesses for only 1 credit are 1900 Park Fare at the Grand Floridian Cafe or Akershus in the Norway Pavilion at the World Showcase in EPCOT.
At 1900 Park Fare, you can dine with Cinderella, Prince Charming (they will even dance for you), and my favorite hysterical step-sisters, Anastasia and Drisella, who bicker throughout the restaurant and who always keep us laughing. Lady Tremaine (Cinderella's step-mother) also circulates among the tables for autographs and meet-and-greets.
Keep in mind that 1900 Park Fare is a buffet, and that Cinderella and crew appear for dinner, only. I'm not a buffet fan, but this one is just wonderful, with a great selection and even chefs on hand making fresh pasta.
At Akershus, your meal (which Disney calls the 'Princess Storybook Experience') includes a free picture package with 1 8x10 and 2 4x5 photos in a cute little frame to showcase your child posing with one of the princesses in an alcove near the front entrance. Once you're seated, you can also take your own photos with the many princesses who will visit your table: Belle, Ariel, Snow White, Cinderella, Jasmine, and Aurora.
The princesses are present for breakfast, lunch, and dinner. Breakfast is served family-style, with fresh fruit, pastries, and bagels available at a 'salad' bar. At lunch and dinner, you have access to a more traditional salad bar with cold meats, cheeses, and salads, and for your entree and dessert, you order from a menu.
click an image to expand: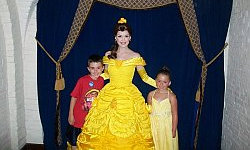 Lucky Princess Belle poses with Lesley's two children.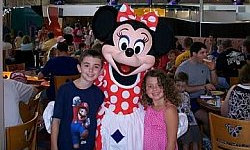 Minnie Mouse is a playful poser.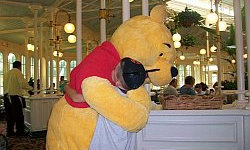 Pooh is an eager embracer.
Even though the food is just okay, Akershus is by far my daughter's favorite place to eat at Disney. I prefer breakfast of the three meals served, but to tell the truth, we really come for the princesses!
Happiest Tip: Dining with Mickey Mouse
So, you are going to Disney World, and you want to eat with Mickey Mouse!?
You have a LOT of options, but be sure to make those reservations early.
The most popular, of course, is Chef Mickey's in the Contemporary Resort, serving a buffet for breakfast, lunch, and dinner. All the heavy hitters are there: Mickey, Minnie, Donald, Chip 'n Dale, Goofy, and Pluto. About every half hour, the characters signal a napkin-waving 'celebration' that really amps up the noise (and excitement). We have had good meals here, but it isn't my favorite place to see Mickey.
I prefer seeing Mickey at 'Ohana in the Polynesian Resort, where family-style breakfast is served in a less chaotic setting. During the meal, kids can get up and dance through the restaurant with the characters, who in addition to Mickey include Pluto, Lilo, and Stitch. The characters only appear for breakfast. It's well worth making the earliest possible breakfast reservation and then hopping aboard the monorail to arrive at the Magic Kingdom in time for rope drop.
Other popular places to see Mickey are the Cape May Cafe breakfast buffet at the Beach Club Resort (I haven't eaten there yet, but I'm told it's an amazing meal) and the Garden Grill in the Land Pavilion at EPCOT. The Garden Grill features family-style lunch and dinner with appearances by Mickey, Pluto, and Chip 'n Dale. The food isn't stellar, but we had outstanding interaction with the characters, who visited our table numerous times, and who even played a bit with our kids.
Finally, don't forget about Tusker House in the Animal Kingdom, where Donald's Safari Breakfast features a buffet with Mickey, Goofy, Donald, and Daisy dressed in safari gear. As at 'Ohana, kids can join a parade led by the characters through the restaurant. The kids are given shakers and maracas, so expect lots of noise. I love getting an 8:00 AM reservation so we can walk through the empty Animal Kingdom (all the way to Africa!) an hour before it opens and snap some great family pictures in front of the Tree of Life.
Happiest Tip: Dining with the Other Characters
If Mickey and the princesses aren't your favorites, there are plenty of other character dining experiences.
In the Magic Kingdom, you can meet Pooh, Piglet, Eeyore, and Tigger for breakfast, lunch, or dinner buffets. As at 'Ohana and Tusker House, the meal includes a parade around the restaurant, with the kids following the characters and everyone waving their napkins.
Just as I do at Tusker House, I love getting an 8:00 AM breakfast reservation at the Crystal Palace. There's nothing better than strolling down deserted Main Street, U.S.A., taking a few photos in front of the Castle, and then enjoying an incredible breakfast - all before the Park opens! After breakfast, we walk over to the rope drop at the Castle, which gives us a headstart over the crowds making their way through the park entrance.
If you have younger children, then the Hollywood & Vine breakfast buffet in Hollywood Studios may be for you. It features such Playhouse Disney characters as Jo Jo and Goliath, the Little Einsteins, Special Agent Oso, and others. (But only for breakfast!) The early reservation trick works here, too. Use it to get into the park before it opens.
Happiest Tip: Make Your Reservations EARLY!
Most families envision a Disney Parks vacation with frequent character dining, and the locations I've mentioned are very popular and book fast.
Don't waste time! Now that Disney is once more offering free dining, you'll have lots of competition. And remember, you can make dining reservations 180 days in advance. I recommend that you do - or let your wonderful Disney travel agent make them for you!
Lesley's Exclusive Food & Wine Festival Vacation Deal
The Happiest Tips on Earth can only get you partway to the Happiest Place on Earth. For the rest, you need Destination Magic. Drop Lesley a line and see what magic she can make for you when you're planning your next Disney trip!
More: Happiest Tips on Earth...