FROM: Happiest Tips on Earth Published Fridays
Disney World for Boys
What with all the princesses running regally round, many people assume that Disney World hasn't much to offer boys (at least those too young to appreciate princesses running regally round). Lesley Sawhook disagrees! And she has some happiest tips to prove it.
If you have a son, and you're headed to Disney, you are probably like many people I encounter who ask me: "What about the boys!?"
Disney World is full of special encounters for girls to enjoy, such as posing with princesses, styling at the Bibbidi Bobbidi Boutique, and sipping tea at the Grand Floridian, but what special encounters are available for boys?
As the mother of a son, I am happy to report: many!
Happiest Tip: Calling All Pirates
Disney recently introduced a pirate-themed makeover experience for boys called The Pirates League. Located next to Pirates of the Caribbean in the Magic Kingdom, it transforms boys (or girls, if they'd prefer it!) into scurvy sea dogs.
The Pirates League offers two different packages - 'The First Mate' and 'Empress' - each priced at $29.95 plus tax and including:
Reversible bandanna
Earring and eye patch
Sword and sheath
Temporary tattoo
Unique pirate coin necklace
Personalized pirate oath
Official pirate name
Facial effect (choose one from five available)
Participation in daily Adventureland Pirate Parade
The packages differ in one way: with The First Mate, you get removable teeth; with Empress, you don't get the teeth but you do get makeup, nail polish, and a face gem.
Cast Members interact with your child in full pirate mode, ensuring a fun, memorable experience. To book, call 407 WDW-CREW or visit The Pirates League website.
Disney also offers a 2-hour (9:30-11:30 AM) Pirate Adventure for kids between the ages of 4 to 12 aboard a pirate-themed boat that departs from the docks of select Disney resorts. On the voyage, children enjoy pirates snacks while searching for treasure. board pirate themed boats and head out on their adventure. They search for treasure and are given pirate snack as well.
To book, call 407 WDW-PLAY up to 180 days in advance, or visit Disney's Kids Activities site for more information.
Happiest Tip: Calling All Secret Agent Missions
If you ask my son for a list of his favorite things to do on a Disney trip, he will include on it the Kim Possible Secret Agent Mission at Epcot.
These interactive adventures are such fun, and they're included with your park admission.
When you're in the World Showcase, look for one of the many Kim Possible kiosks where you can pick up a phone for your secret agent and learn your assignment, which will involve a specific country in the World Showcase and a specific mission to perform there.
Kim Possible and Ron Stoppable will appear on your phone's video screen to provide clues that will send your child on a fun, interactive hunt. Solving the clue will activate something in the park that will surprise and amaze you. My kids and I have a blast on these missions!
click an image to expand: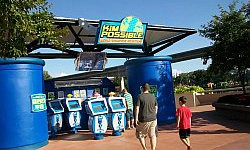 Approaching Kim Possible's World Showcase Adventure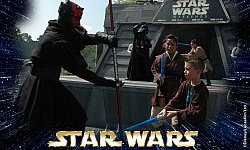 Battle to the finish with Darth Maul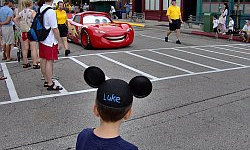 CARS at Hollywood Studios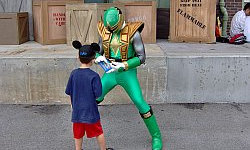 Power Ranger Meet 'n Greet at Hollywood Studios
Since the missions are popular, I suggest that you stop by Innoventions first thing and grab a FastPass for Kim Possible. These FastPasses don't count against other FastPasses: their purpose is to tell you the country where you should report for your phone and mission.
My son loved the missions so much he wanted to do one for each country in the World Showcase. Sometimes, however, his FastPass would tell him to report to a country he had already 'done'. When that happened, we simply told one of the Cast Members at the kiosk, and they would give us a missino for the country we requested.
I'm happy to report that we've completed each Kim Possible mission not once but multiple times. Why multiple times? The missions sometimes change, just a bit, and just enough to keep them entertaining the second (or third) time around.
Happiest Tip: Calling All Jedi Knights
At Disney's Hollywood Studios, your little Star Wars fan can have the opportunity to battle Darth Vader or Darth Maul at the Jedi Training academy.
Shows run throughout the day (check the times when you get there) and the lucky children selected to participate are adorned in a Jedi robe, armed with a light saber, and given a brief training session with the saber to prepare them for their battle - in front of the audience! - with Darth Vader or Darth Maul.
This was a highlight of the trip for our son!
Disney no longer selected children randomly from the audience. Now, you have to arrive early and sign your child up for the show. Doing so is no guarantee that he'll be in the show, if others have signed up their kids first, so make sure you get there early. Since it's possible your child might not be chosen, I wouldn't make any promises and just let him enjoy the surprise if it happens.
Happiest Tip: Characters and Shows
Years ago, Disney considered a Toy Story Character Breakfast. I was among the many parents of young boys thrilled with the idea. I was also among the many parents saddened when Disney decided not to do it. But you can meet the Toy Story characters at Disney's Hollywood Studios for a meet 'n greet. Arrive early because the line gets long fast.
My son is also a huge CARS fan, and Disney offers a meet 'n greet with Mater and Lightning McQueen, also at the Studios.
And we're not done yet! Hollywood Studios also features the incredible Lights Motor Action Extreme Stunt Show, now starring Lightning McQueen who saves the day and makes this show one of my son's favorites.
When he was younger, my son was a Power Ranger fan, and he enjoyed meeting each Ranger at Hollywood Studios, though the Rangers haven't been around (at least not at Disney World) since May 2010.
Character meals are still few and far between for boys. We always schedule a meal with Mickey, and I still hold out hope that Disney will one day surprise everyone with that Toy Story Character Breakfast.
Happiest Tip: Disney Barber Shops
If you have a reservation for your daughter at the Bibbidi Bobbidi Boutique, and your son isn't a Pirate lover, there are still a few options.
The Boutique offers a 'knight' package for boys in the boutique. This makeover includes hair styling and a sword and shield for only $14.95. It gets busy here, so make your reservations in advance.
If your son (like mine) won't step foot into the Boutique, then take him instead to the Harmony Barber Shop on Main Street, U.S.A. in the Magic Kingdom. Haircuts are 15.00 and colored hair gel $5.00 extra. For the little ones, Harmony Barber offer a My First Haircut special with complimentary Mickey ears and a certificate. Reservations are not accepted, but walk ins are most welcome.
Disney can be such a magical place for both Princes and Princesses, and I hope my tips have made you more excited about bringing your Prince Charming to Disney World.
Lesley's Exclusive Food & Wine Festival Vacation Deal
The Happiest Tips on Earth can only get you partway to the Happiest Place on Earth. For the rest, you need Destination Magic. Drop Lesley a line and see what magic she can make for you when you're planning your next Disney trip!
More: Happiest Tips on Earth...