FROM: Happiest Tips on Earth Published Fridays
Keeping That Disney Magic Alive
The unbelievers can't believe you're going back to Disney AGAIN. Haven't you SEEN it already? What do you DO there? Lesley Sawhook gets those same questions, and she answers them in a way that makes us realize how much we HAVEN'T seen...
Whenever we plan multiple trips to Disney World during the same year, people ask me: "Haven't you seen everything there is to see there yet!?" or "Why in the world are you going to Disney AGAIN!?!"
Well, the Disney Magic has taken a firm hold on our family, and it doesn't plan on letting go any time soon. So how we do keep it fun and different each trip?
Happiest Tip: Variety is Key
We have stayed in many Disney resorts and enjoy the experience of staying someplace new each time. This summer will be our first visit (as a family) to the BoardWalk Inn, and the kids can't wait to stay there! We're also going to use our Disney Vacation Club points to stay at the Animal Kingdom Lodge (Concierge level), and we can't wait to experience that level of service.
Each resort presents a unique experience from the pools to the rooms, the theming, and the food courts, that make each vacation seem like an entirely new experience.
We like to travel at different times of the year to experience new things. Last year, for instance, we attended Mickey's Not So Scary Halloween party for the first time - while staying at the brand new Bay Lake Towers resort - which was such fun.
Disney World in October means cooler temperatures and lower crowds. It was so much fun getting dressed in our Halloween costumes and trick-or-treating through the Magic Kingdom. The Halloween Parade and fireworks were amazing and unlike anything we had ever seen at Disney World before.
Also last year, my husband Tim and I took a couples only trip to experience the Food and Wine Festival AND the Christmas decorations for the first time. I can't wait to bring the kids to see the Christmas decorations, especially the Osborne Lights.
click an image to expand: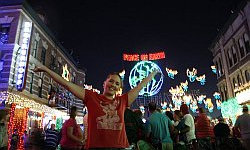 Lesley Strikes a Pose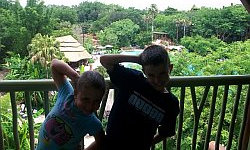 Lesley's Kids Strike Poses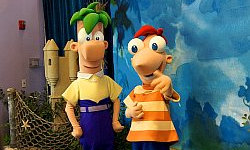 Phineas and Ferb Strike No Pose...
My friend and I traveled last spring for a girls only trip to experience the Flower and Garden Festival at Epcot. Seeing all of the displays and artists was a wonderful experience that I will never forget, and the spring weather was wonderful. A girls only trip means you don't have to worry about accommodating what your other family members want to do - instead, you can enjoy Disney World in an entirely different way.
Happiest Tip: Take It Easy
Now that we have experienced so much Disney over the years, we're aware of what we like and we have a good routine. We know what to hit on what days, and we no longer do the 'commando' style park touring.
Disney honestly feels like a home away from home for us. We enjoy the resorts more each time we visit, and we don't worry about skipping an afternoon parade so we can enjoy that afternoon quietly at our resort pool. Sleeping in and missing a rope drop is okay, too (although it took us a while to get to that point!). We don't have to stay late at the parks every night to experience every fireworks exhibit if the kids are tired, either. We can simply skip it and come back another day, or on another trip.
Happiest Tip: Disney Keeps It Interesting
Even though we have gone to Disney more times than I can count, we experience something new each and every trip.
This summer we're looking forward to the brand new Star Wars ride that opened this week at Hollywood Studios, and the kids can't wait to see Phineas and Ferb at their new interactive meet-and-greet. And there's lot more we haven't yet seen, such as the debut of Lightning McQueen in the Lights, Motors, Action! Extreme Stunt Show. My daughter Lauren wants to get the new 'mermaid makeover' at the Pirates League, and we're excited about cruising on the Disney Dream this summer. And, of course, the new Fantasyland will be opening soon, as well. They're always something new to experience!
Happiest Tip: Family Makes It Even More Magical
In the spring of 2012, we plan on taking the kids to Disney World for spring break. I can't wait to show my nephew around the parks for the first time and watch the magic come alive for him. We'll be staying in a 2 bedroom villa with our parents - another first! Traveling with relatives lets you experience Disney on an entirely different level.
So, if you are going to Disney for the very first time, be forewarned: you may get the Disney bug like we have. But no worries, Disney will keep making it new, fun, and interesting, and you will be planning your next trip while still on Disney soil!
Lesley's Exclusive Food & Wine Festival Vacation Deal
The Happiest Tips on Earth can only get you partway to the Happiest Place on Earth. For the rest, you need Destination Magic. Drop Lesley a line and see what magic she can make for you when you're planning your next Disney trip!
More: Happiest Tips on Earth...