FROM: Happiest Tips on Earth Published Fridays
Celebrating at Disney
Where better to celebrate a 'big day' than at a Disney park? The Mouse is happy to help! Lesley has plenty of tips for making your special occasion a magical occasion, but as she points out, you can't rely upon Disney to do everything.
Many people go to Disney to celebrate a birthday, anniversary, graduation, or other special occasion. Usually, they note that fact on their reservations and expect Disney to roll out the red carpet and shower them in Mickey confetti. When that doesn't happen - and it won't happen - they're disappointed.
To get the Disney celebration you deserve, you can't leave it up to chance. My tips this week will ensure that your happy day at Disney is also a magical day.
Happiest Tip: Enjoy But Don't Rely on the Freebies
Disney will give you a free celebration pin to wear on your clothing during your special day. If you wear the pin, you can expect Cast Members to greet you by name. That's all you can expect. But sometimes you'll get more.
For example, a Cast Member once sang for me at the Plaza Ice Cream Parlor and gave me a free ice cream cone, because he saw me wearing my 'Happy Birthday' pin. On another birthday, Disney sent a special card signed by Mickey Mouse to my resort room.
But you can't expect that. If it happens, enjoy the nice surprise.
To make sure that special things happen on your special day, you'll have to make the effort (and sometimes pay the price) to ensure that they happen.
Happiest Tip: Note It on Dining Reservations
I highly recommend making a nice dining reservation (which you can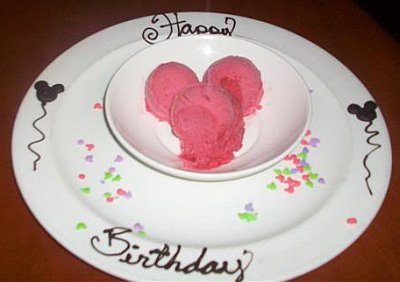 do up to 180 days in advance by calling 407-WDW-DINE) and letting Disney know that you'll be celebrating an event on that day. The restaurant will typically provide confetti and bring a cupcake or other small treat to your table.
Our family has celebrated many occasions at Disney. Whenever we note a special occasion on a dining reservation, we'll arrive at the restaurant to find decorations at our table, and often we'll receive our dessert plate with a nice inscription in chocolate. Once, I was even given a birthday card signed by the entire kitchen staff, which I thought a nice touch.
Don't leave it up to chance. You may also get a cupcake or an inscribed dessert plate; but you may not. Here's what you can do to ensure the 'surprise'.
If you're fine with a basic cake, then request it when you check in for dinner at the podium, and your server will bring out a standard round cake with candles and sing to the guest of honor. The cake will serve 5 people and will cost about $21.
If you want a custom cake in the shape of a Mickey head, Cinderella slipper, etc. then you have to order it in advance by calling 407-827-2253. Price depends on cake size and detail. We once had a custom cake delivered to our room, and it came with plates and silverware - a nice (and necessary) addition!
My husband inquired at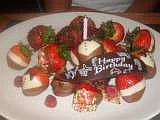 the front desk one time about special ordering some chocolate covered strawberries, and those were delivered, too. (And were DELICIOUS.)
For Father's Day one year, we were at Disney's Animal Kingdom Lodge, and I decided to special order some Zebra Domes. They came very quickly on a plate inscribed with "Happy Father's Day Tim" in chocolate.
Some restaraunts will go out of their way to celebrate anniversaries. We were at Tony's Town Square once, and they had a couple come up and pass a meatball back and forth with their noses as the entire crowd 'swooned'. And at 'Ohana I have seen an anniversary or honeymoon couple be appointed the honorary limbo stick holders. These individuals had noted it on their reservation, so it was not a random selection.
Once again, don't expect anything, but if you note on your reservation that you're there for a special occasion, Disney will rarely disappoint.
Happiest Tip: Plan a Cruise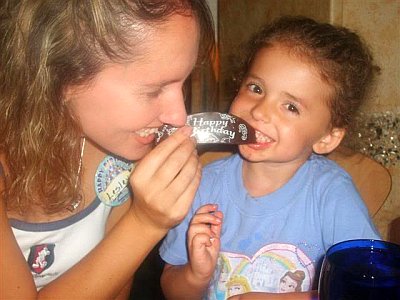 Who doesn't love cruising on a boat to watch fireworks? You can arrange your own private fireworks cruise by calling 407-WDW-PLAY and choosing either a Wishes fireworks cruise or an Illuminations Fireworks cruise.
Disney has special celebration cruises where they will decorate the boat and provide snacks and drinks. The music from the fireworks show is piped in - what a GREAT way to celebrate! The price ranges from $225-300 dollars for around 9 people on the boat.
Happiest Tip: Big Bang for Bigger Bucks
If you have a BIG occasion to celebrate, Disney will help you take it to the next level (at a premium price). You can work with Disney's FairyTale Wedding Coordinators to arrange an elaborate vow renewal that you'll never forget by calling 407 827-3505. And DisneyFlorist can provide virtually anything that blooms or bubbles, including champagne packages, room decoration packages, birthday arrangements, etc.
For many, just the trip to Disney is celebration enough, but by going that extra mile and letting Disney know why you're there will make your special occasion truly memorable.
What do you do to celebrate in Disney?
Lesley's Exclusive Food & Wine Festival Vacation Deal
The Happiest Tips on Earth can only get you partway to the Happiest Place on Earth. For the rest, you need Destination Magic. Drop Lesley a line and see what magic she can make for you when you're planning your next Disney trip!
Find out what folks are saying about Lesley: Pixie Vacations.
More: Happiest Tips on Earth...
Comments