FROM: Happiest Tips on Earth Published Fridays
Magic Kingdom Park Touring
You've gotten past security, squeezed through the turnstile, trotted under the railroad station. You made it! The Magic Kingdom! Look, you can see the castle! Let's go there, no this way, no that way... Relax. Lesley's got your touring plan.
I am often asked how to best navigate through the Magic Kingdom. Over the years, we have come up with our own strategies that have worked best for us and let us maximize our time having fun, not fighting crowds.
We always do one long vacation during the summer, but even during the busy summer season, we never wait longer than 20 minutes for any ride. Want to know our secrets? Here are, well, some of them...
Happiest Tip: Be There Early!
Rope drop at Magic Kingdom on days with normal operating hour is at 9:00 AM. We make sure to arrive at the park by around 8:40 AM to watch the opening show in the front of the park - it's a great way to start off your morning at the Magic Kingdom.
Another fantastic way to beat the crowds is to secure an early morning reservation (we like 8:00 AM) at the Crystal Palace. We enjoy strolling into the park an hour before it opens, taking pictures in front of Cinderella Castle when no one is around, and enjoying a yummy breakfast. We have also learned to ask for our check halfway through the meal so that it arrives in plenty of time for us to pay up and exit the restaurant by rope drop.
Happiest Tip: Fantasyland First, and FastPass as You Go
As soon as the rope drops, we immediately head to Fantasyland and jump on Dumbo, because if you don't hit it immediately, the line can become unbearably long, stay that way. (Remember, Dumbo has no FastPass.) By 9:40 AM, we've usually been able to ride Dumbo, Peter Pan, Small World, and Winnie the Pooh; see Mickey's PhilharMagic; and we're approaching the Spinning Teacups. Not a bad start to the morning!
click an image to expand:
The Sawhooks pose on Main Street, U.S.A.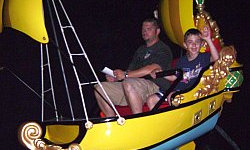 Are we both having fun on Peter Pan's Flight?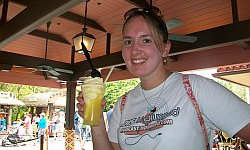 Lesley's definitely having fun with that Dole Whip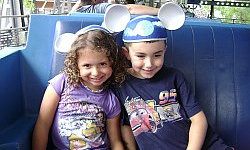 We both are having fun on the Wedway People Mover!
After we have mastered Fantasyland, we move to Tomorrowland. Typically, we will FastPass Space Mountain, then ride Buzz Lightyear's Space Ranger Spin and see the Monsters Inc. Laugh Floor. Once we've been to infinity (and beyond) and saved Monstropolis, we cross over to Frontierland and Adventureland, stopping along the way at the Haunted Mansion.
Lines for Big Thunder Mountain and Splash Mountain are still reasonably short at 10:30 AM, with about a 20-minute standby line, most days, so we hop line for the Railroad while one member of our party grabs FastPasses for Splash Mountain.
Next, we heed the call of Captain Jack and breeze through a 10-15 minute line for Pirates of the Caribbean, emerging to handcuff one another in the Pirates gift shop and then grabbing a bite to eat before scoping out the line for The Magic Carpets of Aladdin: if the wait is less than 20 minutes, we get in line and send a member of our group to get FastPasses for the Jungle Cruise.
I can't leave Adventureland without grabbing a Dole Whip Float. It's now about 12:30 PM. As I enjoy my treat, we organize our FastPasses and prepare for further adventure.
Happiest Tip: FastPass Your Way to Fun
If you are keeping track, we now have three FastPasses in hand (Space Mountain, Splash Mountain and Jungle Cruise).
Typically, Disney will let you use FastPasses PAST the time printed on them, so we continue to gather them throughout the day. After we have gotten our Dole Whip Float in Adventureland, we enjoy Splash Mountain in the heat of the afternoon, then meander over to Tomorrowland for Space Mountain, pausing long enough to hop on the Wedway People Mover, an under-rated attraction which never has a line. I just love it, and so do the kids.
At this point, my daughter Lauren is BEGGING (yeah, you heard that right) to see Carousel of Progress (again, never a line), so we take in that show (or a nap, if you ask my husband) before heading back to Adventureland for the Jungle Cruise, courtesy of our final clutch of FastPasses.
Happiest Tip: Take a Break
All of what you just read we usually accomplish by 2:00-3:00 PM, leaving us ample time to return to our lovely Disney World resort for a swim and a freshen-up in time for dinner. Do take a mid-day break for the sanity of everyone in your party.
Happiest Tip: Skip Main Street for the Parade
If you're returning to the Magic Kingdom at night for the parade, I HIGHLY recommend heading to the back of the park. The people on Main Street, in my experience, start staking out their spots an hour and a half before the parade during the busy summer hours, and it can become extremely crowded. We've found far fewer people in Frontierland, especially in front of the Hall of Presidents, and we've been able to find great spots about 45 minutes before the parade begins.
Magic Kingdom is such a magical park, and I feel badly for families who go there one time in their lives without any plan on how to avoid waiting hours on end for the popular attractions. I hope that this touring strategy will help you navigate the Magic Kingdom at a slow but steady pace, maximizing your Disney fun so that your vacation is truly magical.
Lesley's Exclusive Food & Wine Festival Vacation Deal
The Happiest Tips on Earth can only get you partway to the Happiest Place on Earth. For the rest, you need Destination Magic. Drop Lesley a line and see what magic she can make for you when you're planning your next Disney trip!
Find out what folks are saying about Lesley: Pixie Vacations.
More: Happiest Tips on Earth...
Comments