FROM: Happiest Tips on Earth Published Fridays
Hollywood Studios Park Touring
Lesley is back with her exclusive touring plan for Hollywood Studios. Follow her on the red carpet to streamline your day at the park, avoid the press (of crowds), and board like VIPs the busiest rides and attractions. You're ready for your close-up.
Disney's Hollywood Studio's is such a fun park packed FULL of amazing popular attractions, but it requires a good strategy to see and do everything in one day.
Happiest Tip: Arrive Early
If you want to have a prayer of riding some of the big ones at this park, you MUST arrive by 8:45 AM in time for the 9:00 AM rope drop. Once you're inside, your initial plan of action depends upon whether your group includes a child who loves Star Wars.
If your group does NOT include any young Star Wars fans, then everyone should RUSH to Toy Story Midway Mania, grab FastPasses, and then jump into the standby line.
If your group DOES include young Star Wars fans, and those fans would like to participate in the Jedi Training Academy, give all of your tickets to an adult who will RUSH to Toy Store Midway Mania for FastPasses while another adult, with Star Wars fans in tow, RUSHES to Sounds Dangerous and signs them up for the Academy. All spots fill quickly. Don't waste time!
click an image to expand: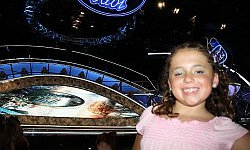 An American Idol in the making.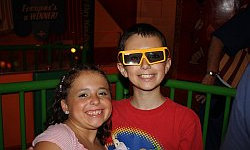 Who wouldn't be happy in a short line for Toy Story Midway Mania?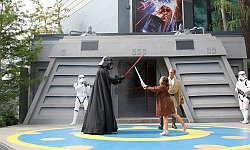 The Jedi Training Academy in session.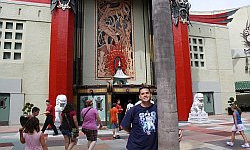 The Great Movie Ride awaits!
After completing either 1 or 2, above, head to Star Tours and jump in the standby line while it's still reasonably short.
Since you now have FastPasses for Toy Story Midway Mania, your next targets should be the Rock 'n' Roller Coaster and the Tower of Terror. If you go immediately to R 'n' R after Star Tours, the wait time should be less than 20 minutes. When you're done, walk over to Tower of Terror and check out the wait time. If it's less than 20 minutes, hop in line; if not, come back for a FastPass as soon as you're able to do so.
Happiest Tip: Get a Times Guide to Customize Your Day
Congratulations! The mad morning dash is over. Relax a bit and pick up a Times Guide (available at any merchandise stand or by the maps at the front of the park). Use the Guide to devise a plan for the rest of your day. Don't forget, of course, to use your FastPasses, and to continue to gather more whenever possible.
Happiest Tip: Must-Do for the Little Ones
If you have little children, they may want to attend the new meet 'n greet with Phineas and Ferb near Mama Melrose's restaurant. They may also want to catch the interactive Disney Junior Live on Stage show.
Ready for a break? Let the kids burn off more energy at the Honey I Shrunk the Kids Playground while you sit nearby and relax.
Happiest Tip: Must-Do for Older Kids
If you have older kids, or if you're a kid at heart yourself, don't miss the American Idol Experience, and think about taking a drawing class at the Animation Studios. Other fun options are the Great Movie Ride (which can be a bit intense for young riders in parts) or Muppets 3-D.
Happiest Tip: Must-Do for Everybody
If you have a princess lover in your midst, take her (or him) to The Little Mermaid: Ariel's Undersea Adventure (FastPasses are plentiful) and/or Beauty and the Beast Live on Stage.
If you have an action-lover in your party, head for Lights, Motors, Action! Extreme Stunt Show Spectacular and/or Indiana Jones Epic Stunt Spectacular.
(For all these shows, arrive 1/2 hour prior to the times listed in the Times Guide.)
Happiest Tip: Don't Miss the Parades and Pyrotechnics
The Pixar Pals Parade occurs daily at 3:00 PM. Be sure to grab a spot (hopefully in the shade) by 2:15 PM. It's a fun parade with all of your favorite Pixar pals, and of course, Mickey and the gang, too.
If you'll be in the park for Fantasmic, plan to arrive in the Arena (by the Tower of Terror) at least one hour before the listed show time. Fantasic fills up quickly, and if it's full when you get there, they won't let you in.
Finally, as you stroll Hollywood Studios, keep your eyes open for the 'Streets Mosphere' characters. When you see them, slow down and watch: this park is home to some of Disney's best actors and impromptu street shows.
I hope this plan will help you enjoy to the fullest Disney's Hollywood Studios.
Lesley's Exclusive Food & Wine Festival Vacation Deal
The Happiest Tips on Earth can only get you partway to the Happiest Place on Earth. For the rest, you need Destination Magic. Drop Lesley a line and see what magic she can make for you when you're planning your next Disney trip!
Find out what folks are saying about Lesley: Pixie Vacations.
More: Happiest Tips on Earth...
Comments