FROM: Happiest Tips on Earth Published Fridays
Touring the Animal Kingdom
In terms of rides and shows, the Animal Kingdom has less to offer than the other Disney World parks, but that doesn't mean you can breeze through the gates and expect to do everything in one day - unless you have Lesley's touring plan.
Are you headed to Animal Kingdom during an upcoming vacation to Disney World? If so, I have some tips for you to see it all without waiting in line.
Happiest Tip: About 1/2 a Day Will Do It!
We usually devote one day to Animal Kingdom theme park during our visits to Disney World, and can see everything we like to see by getting to the park at rope drop and heading back to the hotel around 2:00 - 3:00 PM. If you follow this plan, you can do the same.
Happiest Tip: Yeti, Dinosaurs, and Bugs - Oh My!
As soon as the rope drops at 9:00 AM, my husband gathers all of our tickets and then he and our son head over to Expedition Everest. They grab FastPasses, then jump on and ride with little to no wait. While the boys are playing with the Yeti, my daughter and I head to Dinoland USA for a twirl on Triceratop Spin (we usually have this ride to ourselves first thing in the morning).
click an image to expand: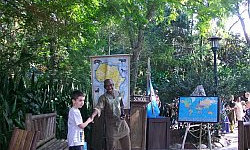 Attending Harambe School while waiting for a Fast Pass return time.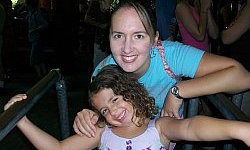 Ready to see animals on the Safari without waiting in line thanks to a FastPass.
Typically, the Cast Members let us stay on for a few rides before the boys meet up with us. Once we are all together, we head over to DINOSAUR (which is an intense/scary ride for young kids, so if you have little ones who scare easily, I would skip this one).
Our next step is Tough to Be a Bug, a '4-D' show starring Flik and friends, which can also be a bit intense for the timid.
Happiest Tip: FastPass and Times Guide
By this time, we're eligible for another FastPass, so one of us will gather the tickets and get FastPasses for Kilimanjaro Safaris. Then we head back to Expedition Everest and use our FastPasses from the morning to board quickly.
We also grab a Times Guide to see when the next Finding Nemo Live on Stage show begins. It's a great show and we enjoy relaxing in the air conditioned theater. Be sure to arrive 30 minutes before the show starts to get a good seat.
Happiest Tip:
Eat, Watch Animals, Get Soaked
After Nemo, we're ready for lunch. Our favorite counter service location at Animal Kingdom is Flame Tree BBQ. YUM! When we're finished with lunch, we're able to get more FastPasses, which we do - for Kali River Rapids, a ride best ridden last.
We use our current FastPasses for Kilimanjaro Safaris and enjoy the animals, after which we usually have an hour to kill before we can ride Kali, so we check the Times Guide to see whether Festival of the Lion King is playing (usually, it is) and take in that show (making sure to arrive at least 20 minutes early).
While we are waiting for our Kali FastPass time, we enjoy watching the dancers in Africa, looking at the various animal displays, shopping, and interacting with the characters. We always end our day at Animal Kingdom by riding Kali River Rapids because we NEVER leave this ride dry. For us, it makes the walk out to the Disney bus much more tolerable on a hot day, and it's nice knowing you can go back to your hotel for a change of clothes.
There is a daily parade at 4:00 PM that you can watch, but we are usually too wet to stick around for that!
I hope you have a magical day at Disney's Animal Kingdom Park.
Lesley's Exclusive Food & Wine Festival Vacation Deal
The Happiest Tips on Earth can only get you partway to the Happiest Place on Earth. For the rest, you need Destination Magic. Drop Lesley a line and see what magic she can make for you when you're planning your next Disney trip!
Find out what folks are saying about Lesley: Pixie Vacations.
More: Happiest Tips on Earth...
Comments