FROM: Happiest Tips on Earth Published Fridays
Saving Money with Disney Cruise Line
Disney cruises cost big money - more than you'd shell out for double the days at a Disney park. So it's even more important to find ways to save before you sail. Lesley Sawhook reveals a few secrets, including the awesome virtual porthole.
I recently went on the brand-new Disney Dream with my husband, 9 year old son, and 7 year old daughter. We have been to Disney on countless visits at different times of the year, and have made a lot of wonderful Disney memories, but our 5 nights on the Disney Dream were the most amazing family vacation we have ever had. Now that we have experienced all that the Disney Cruiseline, and in particular the Disney Dream, have to offer, all we can do as a family is discuss how to get back on that amazing vessel.
Everyone knows that Disney cruises aren't cheap, but are they worth every penny? YES! A resounding YES! They are worth every penny, BUT how can we save our pennies in order to afford another future Disney cruise on a tight budget?
That's what I'll help you do today.
Happiest Tip: Choose an Inside Cabin
If you're on a tight budget, you can save a lot of money by booking an inside cabin, which feature the "virtual portholes" that Disney created for the Disney Dream and will also feature on the new Disney Fantasy, scheduled to sail in 2012.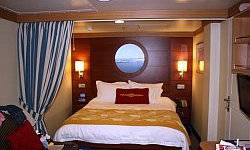 Virtual porthole in our category 11C stateroom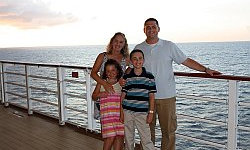 Our family on the Dream - now we are just Dreaming of being back there soon

When we first walked into our stateroom, my entire family was amazed and pleasantly surprised by the virtual porthole. It showed a true-view picture of what was happening outside as if we had a real porthole. As a bonus, Disney characters would often make appearances in the porthole. Our inside cabin had enough space for all of us as a family of four. We found the beds extremely comfortable and we had plenty of room to unpack and stow the empty suitcases under the beds.
My husband and I have decided if it means we can afford to go on future cruises, we would gladly stay in an inside cabin. We can't rationalize spending the extra money for an actual porthole since the virtual ones are just as good.
Happiest Tip: Book Early
I booked our cruise almost 2 years in advance and paid it off gradually. As a result, I was able to secure an inside cabin (there are very limited quantities of inside cabins on the new Disney Dream and they go QUICKLY) and we were all able to cruise on a 5-night Bahamian sailing for $3190 for a family of four.
Disney will release their 2013 cruise itineraries soon, and I can begin booking them for clients starting October of this year. We plan on booking a future cruise for our family as soon as those 2013 rates are released to save money and be able to pay it off gradually as we did before.
If you had an amazing time on a Disney Cruise (which I PROMISE you will), and you plan on cruising again, then take advantage of the re-booking bonuses before you disembark the ship. Had we done this on our cruise, we could have taken 10% off with only 10% down (normally, the deposit for Disney cruiselines is 20%). We are kicking ourselves for not re-booking on board, so don't make that same mistake yourself!
Happiest Tip: Save on Alcohol
Did you know that Disney Cruiselines lets you bring your own alcohol on board; this can be a huge money saver. We filled a roll-on suitcase with some beer and a few bottles of wine, and never had to pay out of pocket for alcohol on the cruise (except when I indulged in a few yummy drinks of the day). You can even ask for a wine glass from room service, fill it up with a glass of wine, and walk it into dinner each night in the dining room.
Happiest Tip: Look for Cruise Line Specials
Right now Disney has a special for dates in October-December on their Mexican Riviera Sailings in which children sail free - a HUGE savings for families. They had the same deal for Alaskan cruises, and it saved many of my clients a ton of money.
Happiest Tip: Ask Your Travel Agent for Help
I book my clients' cruises online, which automatically gives them a $25.00 stateroom credit, and then I offer additional onboard stateroom credits or Disney gift cards to help them offset the cost. Be sure to ask about these - having on-board credits can help you save money during the cruise.
I hope these tips help you make the dream of cruising on the Disney Cruise Lines. It really is possible to make the Disney Disney cruises affordable, and once you have experienced it for yourself, you will be as hooked as we are counting down the days until our next Disney Cruise Line vacation!
Lesley's Exclusive Food & Wine Festival Vacation Deal
The Happiest Tips on Earth can only get you partway to the Happiest Place on Earth. For the rest, you need Destination Magic. Drop Lesley a line and see what magic she can make for you when you're planning your next Disney trip!
Find out what folks are saying about Lesley: Pixie Vacations.
More: Happiest Tips on Earth...
Comments