FROM: Happiest Tips on Earth Published Fridays
Fast Course in FastPass
The concept of a FastPass at Disney World seems simple enough: get the pass, then come back later to board the ride fast. And that's enough for most people. But if you want to leverage the system, just a bit, Lesley knows how to do it.
Have you been to a Disney park recently and seen all of the people waiting in the 2 hour plus lines for an attraction? Do you often wonder, "Don't they KNOW that there is a FastPass for this ride and a MUCH better way to spend your day here at the parks?"
I often do. And so in this column, I'll try to educate those individuals who just don't quite "get it" when it comes to the FastPass.
Happiest Tip: FastPass Basics
FastPasses are FREE and available to everyone. You'll find FastPass kiosks in front of the more popular attractions, and you simply slide in your park ticket and out pops a FastPass for that ride. You'll be given you a return time, such as 9:10-10:10 AM, and then at the bottom of the ticket you'll see the time when you can get your next FastPass. When you return, make sure you approach the separate FastPass entrance, where you'll show it to a Cast Member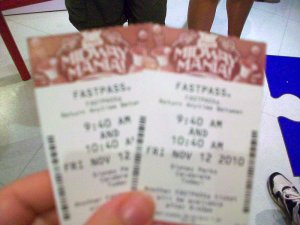 who will then usher you into a WAY shorter line for the attraction.
We always "FastPass" our way through the day. If you do it properly (see my previous columns on specific park touring strategies for each park using FastPasses), you should not wait in line for even the popular attractions longer than 20 minutes.
Happiest Tip: Break the Rules!
There is a little secret a lot of people don't realize about FastPasses: you CAN use them beyond the time printed. For example, if your FastPass for Space Mountain says "return time 10:05-11:05", you can still use it at 4:00 PM that same day. It REALLY does work. Now you can't use it before the time printed, but definitely you can use it after.
As a result, you should be collecting new FastPasses throughout your day as soon as your next FastPass "window" opens (again, the exact time when that window will open is printed at the bottom of the ticket).
Happiest Tip: One FastPass at a Time?
Typically, you can only get one FastPass at a time, and then you have to wait until your window opens up before getting another one. But there are a few exceptions:
At Epcot, if your child wants to do a Kim Possible Mission, you can get a FastPass for that at any time, and it won't count against your other FastPasses.
At Hollywood Studios, if you are FastPassing the Lights, Motor, Action! Extreme Stunt Show, it also doesn't count against any other FastPasses. So, for example, you can get a FastPass for a later Stunt Show and then walk right up to Tower of Terror and get a FastPass for it, too.
If you already know the basics, be a great friend and pass this column along to your friends who will be visiting Disney for the first time and may not understand the rules. Friends don't let friends wait in 2 hour lines for popular attractions when FastPasses are so readily available.
Lesley's Exclusive Food & Wine Festival Vacation Deal
The Happiest Tips on Earth can only get you partway to the Happiest Place on Earth. For the rest, you need Destination Magic. Drop Lesley a line and see what magic she can make for you when you're planning your next Disney trip!
Find out what folks are saying about Lesley: Pixie Vacations.
More: Happiest Tips on Earth...
Comments