FROM: Hughes of Green Published Every Other Saturday
In Pursuit of a Princess
Hughes has his work cut out for him today: a mysterious princess is on the loose in the Magic Kingdom, but only children - especially children in strollers - are able to see her. So far Hughes, not in a stroller, is stumped. But he's not giving up.
I've found it hard to break the habits ingrained during my previous military career. I was up at dawn for a run on the treadmill in the Shades of Green gym, followed by some time on the weight machine. Then I went for a short walk around the property to cool off.
As I passed the pool, I overheard a very young girl telling her mother quite forcefully, "I want to see the princess with a crown again, Mommy!"
The mother appeared baffled and replied, "What princess, sweetie?"
"The one I saw in my stroller, Mommy - I want to see her."
"There was a princess in your stroller?" the mom replied.
"No, no, I saw her when I was in my stroller at the Magic Kingdom."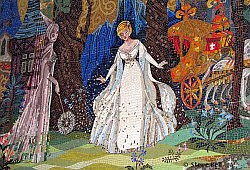 The princess in the mural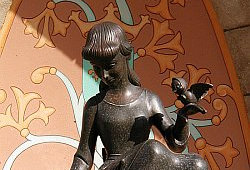 The princess near the fountain wears her crown - when seen from the proper angle at "child height"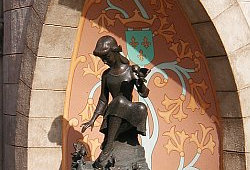 From every other angle, the princess does not wear her crown
By this point, I'd walked on past the point where I could hear them any longer. I started to contemplate my day and what adventure I'd have or what new facet of Disney World that I'd discover. Why not head to the magic Kingdom, I thought. Perhaps I'll see this princess myself.
So I took the short walk from Shades of Green to Disney's Polynesian Resort, where I boarded the monorail for the Magic Kingdom.
The Quest Begins
As I entered the Magic Kingdom via Main Street U.S.A., I saw at the far end of the street a magnificent castle. If I'm going to find a princess, that's where it will be, I thought.
I looked all around the front of the castle where lots of people were milling, but there was no sign of a princess with or without a crown. I continued up the ramp and entered the castle and saw a beautiful tile mural

along the wall depicting the story of Cinderella in many colors and sparkly tiles. But this couldn't be what the little girl meant.
Deciding that I'd need to search the whole theme park, I consulted my guide map and decided to make a clockwise circle, ending back at the castle.
First, Adventureland: I spotted several shops with jewels and trinkets, took a magic carpet ride, and fell in with some rough-looking pirates. But no princess wearing a crown to be seen.
Next I entered Frontierland, where I got wet listening to a singing rabbit, saw some talking bears, and searched a small island accessible only by raft. But still no sign of the princess I sought.
In Liberty Square I toured a dusty mansion with some unwanted guests, spent an enjoyable time listening to the great leaders of our nation past and present, and rode on a steam-powered riverboat. Still no luck.
Hughes Despairs
I was beginning to wonder if I'd ever find this elusive lady. I was quite hot and a little tired, but I needed to press on. As I strolled into Fantasyland, I saw large crowds of people. Most were lined up to see various attractions on each side of the street. It will take me hours to wait in those lines, I thought. I'll ski ahead to Tomorrowland and come back.
Passing by some construction on my left and flying elephants to my right, I entered the world of tomorrow.
I had no better luck there, despite lots of futuristic rides and a funny looking alien. I boarded the Tomorrowland Transit Authority to see if I could spot my princess from the elevated track. While I didn't see her during my ride, I did enjoy the time off my feet and even considered riding a second time.
But I was running out of places to search and still hadn't found my princess.
Back in Fantasyland, I went to the other side of the flying elephants and past the carousel. I found myself at the back of the castle that I'd searched before. I was at a loss. I guessed I'd have to brave the long lines to see if I could find my princess in one of the Fantasyland attractions, perhaps Mickey's PhilharMagic. I headed in that direction.
The Quest Ends
After a few steps, I noticed my boot had come untied and stepped into the shade to my left to tie it. I stopped near a fountain with the statue of a beautiful girl and stooped next to a parked stroller to re-tie my footgear. As I was about to stand up, I again looked at the statue of the girl and almost fell over - there she was!

Looking at the statue from below, as I had been, I noticed a crown painted on the wall behind the statue that seemed to be nestled on a girl's head.
I glanced to the stroller and realized that only a child looking from below at the statue would be at the correct angle to see the crown on the girl's head. I stood up and, sure enough, the crown didn't line up.

Mystery Solved
Who was this princess whose true identity had been disguised? A plaque revealed that she was Cinderella. I saw the mice from Disney's animated film around her feet. To think, I had been so close when I started my mission earlier in the day.
I've seen a lot of interesting sights, many that I'll have to check out in more depth. But those are missions for another time.
Until two weeks from today, sharp, you'll find me on patrol.
For further fantastic fun, check out:
Comments