FROM: Hullabaloo Published Every So Often
Vinylmation Double Release: Robots + POP!
Fans of Disney Vinylmation are digging deep to pony up for two new releases this week: the Robots series and the limited edition Disney POP! by Funko. Robots will be available nationwide, but if you want POP!, better act fast. Here's how to get both...
Friday, July 22, marks the day robots take over the world. Well, the world of Vinylmation - but I'm sure they have designs on the rest of us, too.
Rise of the (Vinyl) Robots
If you happen to be in Times Square, all you have to do is look up: the 2,000 square-foot digital billboard about the Times Square Disney Store leaves no doubt of the imminent arrival of the Vinylmation Robots series.
And if you're not in Times Square, all you have to do is click here:
The non-mechanical marvels in the Vinylmation Robots series were inspired by vintage wind-up robot toys from the 1950s. They go on sale Friday, July 22, nationwide at the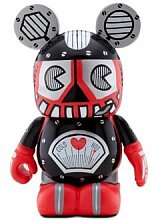 Disney Store and on-line at DisneyStore.com.
The series includes 12 three-inch vinyl figures ($9.95 each) representing different robot personas, such as Radio-Bot, Tesla-Bot, and Love-Bot, and others. Also available are three nine-inch limited edition Robots characters ($39.95 each): Silly-Bot, Salvage-Bot, and Reflector-Bot.
POP! Goes the Vinyl
The robots aren't alone.
With them: POP! As in the first limited edition Disney POP! Vinyl by Funko, available only at San Diego's Comic-Con from July 20 - July 24. These Vinyls are Funko's creative take on Disney characters. Such as this guy:
The POP! vinyls come with metallic finishing and glow-in-the-dark features. The series includes nine-inch Metallic Buzz Lightyear ($50), nine-inch Metallic Maleficent ($50), three-inch Flocked Sully ($15), three-inch Glow in the dark Mike Wazowski ($15), three-inch Metallic Mickey Mouse ($15), and a three-inch Blue Mr. Incredible ($15).
Disney-Pixar designer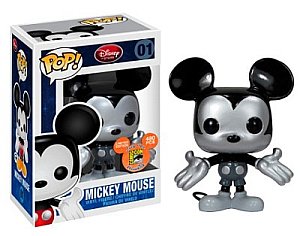 Ben Butcher will meet with Comic-Con attendees and sign autographs at the Funko Booth #4829 on July 21 and July 22 from 10:00 AM to 11:30 AM. Guests can also take a break from the madness of Comic-Con and head over to the Disney Store in the Fashion Valley Mall, where they can meet their favorite Disney Store Vinylmation artists on July 22 and 23 from 6:30 PM to 8:00 PM.
A Hot Vinyl Summer
According to John Balen, Director of Toys for Disney Store North America, "Disney vinyls are the hottest collectible right now and we're pleased to offer two different styles in one great week. The Vinylmation community keeps challenging us to be more imaginative and creative, and the Vinylmation Robots series is like nothing they've ever seen before. Comic-Con is all about exclusives and Disney POP! Vinyls are a great way to give the fans something unique."
For more information about Vinylmation, visit Disney's official Vinylmation blog.
If you're looking for a nearby Disney store, check out the on-line Store Locator or call (866) 902-2798. True Disney Store aficionados will want read the official blog, The Buzz, and keep track of Disney Store doings on Twitter and Facebook.
For further fantastic fun, check out:
Comments