FROM: It Came from Disney! Published Tuesdays
Magic Kingdom Retro Character Shirt
I'm not a girl, but if I were, I'd love to wear Jessica's new Disney shirt. It brings back memories of my childhood trips to Disney World. It has no grunge, no pretension, no 'edgy' design. It's just the magic of Disney, in polyester.
I first saw this shirt, not in Disney, but at my university. A fellow Disney fan (and fellow student) was wearing it, and I fell in love immediately - with the shirt!
click an image to expand: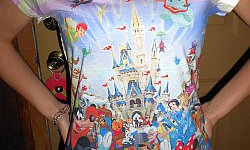 The front of the shirt, as modeled by yours truly.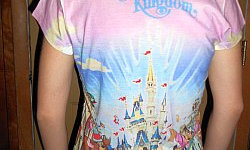 The back of the shirt featuring the retro Magic Kingdom logo. Can you name all of the characters?
She told me that she'd gotten it at Disney World during a recent vacation. I was worried that it would no longer be available, but last August, when I was in the parks myself, I found it in the World of Disney store at Downtown Disney.
What drew me to this shirt were the bright colors and the scenes of the Magic Kingdom.
The front of the shirt features Main Street U.S.A. in much detail, such as the lamps with pottery, the stores, and even the trolley tracks. At the end of the 'road' is lovely Cinderella Castle, complete with Partners statue in front.
And that's not all! Main Street is alive with characters. Jiminy Cricket is looking at a map in the center of the road while Brer Bear, Cinderella, and Mickey himself say hello and point to the castle. There are many more characters peering out of the windows and flying above the street.
So much detail, and this is only the front!
The back has the same background scene with a whole new set of characters, including some rare ones, and also features the Magic Kingdom logo in a retro font along the shoulder blade.
The shirt is made of polyester, and is very light and soft. There are folds in parts of the shirt where there is no color, but that's not a defect, it's just the design.
I love wearing this shirt: it puts me in a Disney mood!
More: IT CAME FROM DISNEY!
Stuff Not to Skip
Comments