FROM: MouseMerch Published Thursdays
Avengers (Merch) Assemble!
As a kid, I spent 20 cents every month for the newest issue of the Avengers comic book, fresh (if slightly droopy) from the spinner rack of the local newsstand. Fellow Avengers fan Chris Taylor brings news not only of the Avengers, but their merch, too.
Avengers Assemble!
Next year, Marvel Studios, and by turn Disney, will unleash The Avengers on the world. Known to comic fans since the 1960s, The Avengers will be new for many summer movie-goers, though the singular heroes will be familiar to most.
For this column, it means merchandise. And lots of it. But I'm not here today to review upcoming toys and collectibles, most of which haven't been announced yet (and won't be announced until next week's D23 Expo in California, at the earliest). No, I'm here to introduce you to mankind's greatest hero team... The Avengers!
Now that I've got my Stan Lee on, a little background. The Avengers are a team of superheroes created by Marvel founders Stan Lee and Jack Kirby. In the first issue, circa 1963, the team comprised Iron Man, Thor, Hulk, Ant Man, and Wasp. By issue 4, Captain America had been discovered and the Hulk was gone. This led to an ever-rotating roster of heroes: Hawkeye,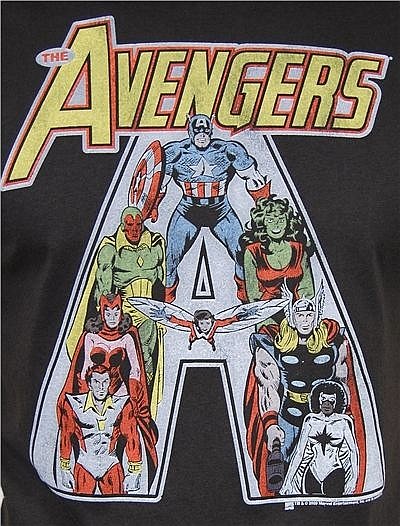 the Scarlet Witch, She-Hulk, Swordsman, and so on. But much like we Disney fans have our fab-five (Mickey, Donald, Minnie, Goofy, and Pluto), most comic fans identify the Avengers 'fab-five' as Captain America, Thor, Hulk, Hawkeye, and Black Widow.
Since the Iron Man film in 2008, then Iron Man 2, The Hulk, Thor, and Captain America, all roads have been leading to this point. After-credit scenes in all of these movies have alluded to the coming film with the unifier being Nick Fury, Agent of SHIELD, a quasi-governmental agency charged with protecting the world from its most dangerous enemies. A team needs to be assembled to address a huge threat to the planet. I for one, can't wait.
Much like most Marvel comics, the Avengers address a deeper issue than a group of super humans fighting villains with lots of explosions. There's group tension that makes the members seem all the more human. Spiderman has long been an allegory about the troubles of teenage life; the Hulk, should man master science; the X-Men, what happens when you're different and no one likes it; the Fantastic Four, fear of change; and so forth. Marvel has addressed everything from being black or gay in America, to drug abuse, to governmental interference into our private lives.
The Avengers movie is sure to tackle some larger issues such as Tony Stark's ego, the fact that Thor is a god with father issues, and that the Hulk has a split-personality with little control over himself. Add the fact the film is helmed by Joss Whedon, a master of the "group setting" plot line, and we have the makings of not just a great comic book movie, but some great human drama, as well.
Expect cargo loads of Avengers stuff to buy in the Disney Parks, at the Disney Store, and elsewhere. T-shirts, hats, pins, toys, cups, and plenty of collectibles. I wouldn't be surprised to see some Vinylmations, too. (Comics have always lent themselves to merchandise. I would have killed for an awesome Johnny Storm or Wolverine costume in 1978.) This year's Comic Con previewed a number of Avengers items, mostly action figures and collectible statues. As the movie gets closer, we'll see plenty of items to separate us from our cash.
So, fair readers, Excelsior!. And until next time...
See ya real soon!
More: MOUSE MERCH
Stuff Not to Skip
Comments