FROM: On The Edge Published Regularly
Sailing the Seven Seas
KMB is hitting the high seas of the 7 Seas Lagoon and it's not just about boating. There are a few other water activities you can do on this lake and it's connecting sister lakes.
Sailing the Seven Seas
In our continuing efforts to highlight features of Walt Disney World that are outside the parks, we cannot neglect the Seven Seas Lagoon and the wonderful opportunities for recreation it provides. Indeed, the list of things to do on this body of water alone would cause one to assume that the lagoon itself is the size of the actual seven seas. But, alas, the lagoon is quite small, and this writer can still remember renting a little speed boat and nearly knocking Goofy off of his water skis back in '71. This was due to the crowded traffic lanes and had nothing to do with my boating skills, as my parents insisted at the time.
Yes, boat rental is just one of the many lagoon (and Bay Lake) activities available to the WDW visitor. Here's a small list of others, along with some tips for better enjoyment:
Fishing – Yes, it is possible to go fishing at Walt Disney World! Disney fishing excursions give new meaning to the phrase "Finding Nemo"! Our only advice here is to avoid hot days, and try to choose one of the remaining 2 or 3 days in a Florida year that are cooler. If you should end up fishing on a hot day, take advantage by asking your guide to fry your catch by laying it on the deck.
Parasailing – Some people think the "para" in "parasailing" stands for "parachute". Hah! It really stands for PARAMEDIC, which is what I needed after simply looking at someone else taking part in this foolish endeavor. For those of you who would go to great lengths just to get a view of the old River Country, this one's for you! We're told this was a popular activity during Space Shuttle launches. Perhaps it was because you could see the astronauts face to face?
Specialty Cruises – For those of you just dying for a way to spend your money, here's the answer! How about a cruise on a yacht with your own captain and first mate? Custom cigars filled with $10 bills can be arranged, along with a meal fit for a king. Politicians have been known to book this cruise for discussing the reduction of Federal spending. You can even book this cruise for a romantic view of the fireworks over Cinderella Castle. Be careful, though! Just when the mood is perfect, and romance fills the air, a giant barge with a sea serpent made of light bulbs approaches your boat and begins to blast the obnoxious sounds of a 1970's synthesizer playing sea shanties.
Tubing – This activity had a difficult time attracting visitors from London as they did not think riding public transportation sounded like fun at all. On the other hand, those from the states who have tried it have found it to be a blast. What could be more fun than attaching your hands to an inflated piece of plastic and then allowing yourself to be towed over the waves at breakneck speeds? The catch-22 of this ride is that if you stay on, you risk vibrations and various assaults to your midsection, but if you fall off, you risk gators and Goofy on skis. What fun!
Wakeboarding/Waterskiing – Rumor has it that the WDW Transportation Department uses the same personnel for all forms of transportation – buses, monorail, boats, etc. Yes, the same spirited souls that drive buses all over Disney property take out their frustrations by taking the opportunity to drive a boat now and then. Unfortunately, you are attached to it! Nah – we're just kidding on this one. The boat drivers are actually quite professional and provide just the right amount of guidance to be sure that your time on skis or a wakeboard is truly memorable. The bus drivers we were referring to are actually just piloting all of the other boats that you must dodge while you are on your skis.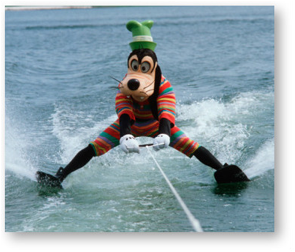 So if you have a taste for the high seas, Walt Disney World is for you. These are only a few of the many activities available on Disney waters. I'm headed off to the pier now to once again rent a "Sea Raycer" mini speedboat. I've brought along my deep-sea fishing gear and my scuba equipment. Nemo has to be out there somewhere!
More: On The Edge
Stuff Not to Skip
Comments