FROM: Park Perfect Published Daily
Perfect Spitting Camel
Every Disney picture tells a Disney story, and today we continue with our set of perfect park pics from Jeff Christiansen, who likely stood for many long minutes near The Magic Carpets of Aladdin waiting, waiting to shoot some camel saliva.
If anyone doubts Disney magic, consider this: the Magic Kingdom is perhaps the only place on earth where people are spat upon - and love it!
I'm talking about the infamous spitting camel near The Magic Carpets of Aladdin in Adventureland. This dastardly dromedary loves to douse in spit those who venture too close. The spit, of course, is Disney's highly chlorinated water, and there is no truth to the urban legend that an obese, tobacco-chewing Cast Member crouches inside the camel and does the honors.
Don't say the Genie didn't warn you! In a scene from Disney's Aladdin, the Genie turns Abu into a camel for Aladdin and then offers sage advice: "Watch out, it spits".
As with so much else at the Disney Parks, the spitting camel is testament to the Imagineers' playful inventiveness. I can imagine Walt himself getting a chuckle from it.
Today's picture, truly a perfect one, captures the camel in mid-spit: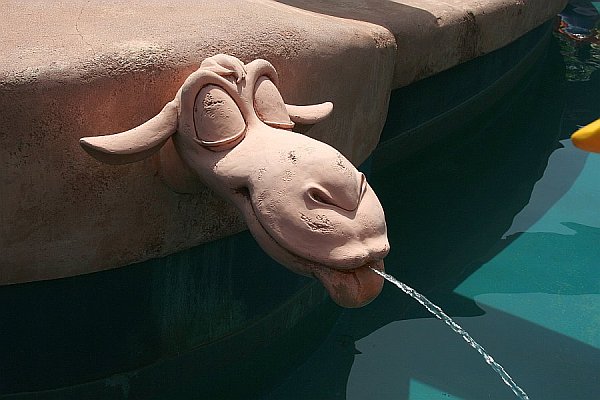 The images in Park Perfect this week are courtesy Jeff Christiansen.
More: PARK PERFECT
Comments