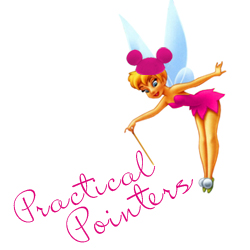 Practical Pointers from the Pink Ear Pixie
About the Column
Entering Disney World, especially for the first time, is like stepping foot in a foreign land. You have not months, not weeks, not even days to learn the geography, the culture, even the language. Next to your park pass, the most important thing to have in lieu of a local guide is park pointers: helpful, topical, practical advice about how to make the most of your temporary residence at Disney World. Amanda Sykora has been visiting Disney World for over thirty years, and as the Pink Ear Pixie, she dispenses practical pointers to enhance your experience and magnify your magic.
Disney Swag: The T-Shirt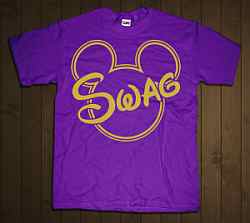 Get yours now!
Disney Swag: The T-Shirt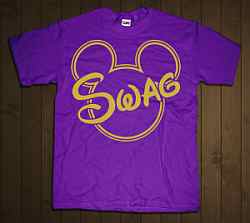 Get yours now!
Classic Disney Dispatch Content
Disney Dispatch Columns
Subscribe to Disney Dispatch Digest
And receive a daily email summary of new stuff on the site.
Disney Resorts: To Stay or Not to Stay
Amanda Sykora looks at the magic of staying at a Disney Resort
Walt Disney World offers a wide variety of Resorts, but why should you stay at one of them? The answer is not so simple.
As an experienced Disney World traveler, I have stayed both on and off Walt Disney World property throughout the 30-something years since my first visit. But it wasn't until 2002 that I stayed at a Disney Resort. Within moments of driving up to the gate to enter the resort property, I knew this was a Disney life-changing experience.
Never say never, but I will never stay off-site again.
That first Disney Resort experience in 2002 was a memorable, outstanding
experience for another reason: it was my first Disney trip as a parent.
We stayed at the All-Star Music Resort - one of Disney's Value Resorts. Checking in was quick and painless and our room was better than most of the off-site hotels where we'd stayed during previous trips. And the Disney magic was obvious!
Every family is different. Yours may be happy staying off-site.
But remember that Disney Resort guests are offered some wonderful extras not available at off-site hotels and resorts:
Disney's Magical Express Once you arrive at the Orlando Airport, how are you going to get to your resort? Hop aboard the Magical Express! This free bus service saves you the expense of renting a car or taking a cab.
Free Walt Disney World transportation Disney's buses run all day long to and from the parks and Downtown Disney. You can't go wrong with a service that saves you both gas and the daily parking fees at the parks. And best of all, you do not need a voucher or a set time to ride the buses. On a side note, getting lost while driving around Disney is no fun. Been there, done that!
EXTRA MAGIC HOURS Only available to Disney Resort guests, these hours are designed so that you can stay at a selected park up to 3 hours later than the general public or enter the park 1 hour earlier in the morning. It's almost like being a VIP.
Disney Dining Plan What's so special about a Dining Plan? It's only available to Disney Resort guests that book a package with room and tickets. There are several Disney Dining Plans and each one has its own benefits. In a nutshell, you pay for your meals in advance and save some money.
Free purchase delivery Let's say you're strolling through Epcot and enter the candy shop in Germany. There are hundreds of different chocolate and you want to purchase $100 worth as souvenirs. But it's 90 degrees outside. How are you going to get all that chocolate back to your resort room without it melting? Have it delivered! Disney Resort guests can have their purchases delivered directly to their resort. Don't drag it around with you!
Key to the World card Having a room key that also acts as a charge card, park ticket, and FASTPASS collector is very convenient. It also keeps track of your Disney Dining Plan credits.
Free parking at the theme parks Maybe you decide you'd rather drive to the Magic Kingdom for the day instead of taking the free bus transportation. Perfect! As a Disney Resort guest, you can park at the theme parks for free. If you were not given a parking pass at check-in, stop by guest services at your resort and they'll make sure you have the proper paperwork for free theme park parking.
Those are only a few of the many reasons why my family chooses to stay at Disney Resorts during our Disney World vacations. There are many more reasons, but there's one BIG reason that's hard to put into words: it's being always at Disney and knowing that when you leave the park after a magical day, you won't have to return to the 'real' world.
Need more pointers? Come back next week, or get in touch with Amanda herself at her travel agency, Pixie and Pirate Destinations, where she'll answer all your questions, book your next trip, and possibly sprinkle a bit of (pink) pixie dust on your tickets!
Vacation News from Amanda Sykora

For more, visit the homepage of PRACTICAL POINTERS FROM THE PINK EAR PIXIE