FROM: Remember The Magic Published As Needed
It's Time To Play Again
Breaking into the new year, Jeff talks about a couple of Tomorrowland favorite rides with Buzz Lightyear's Space Ranger Spin and Monsters Inc. Laugh Floor.
The galaxy is in danger, there is a swift need of a few cadets who are up to a big challenge against the likes of the Evil Emperor Zurg! You along with you partner must now be rushed into training and make sure you have your trigger finger ready! Blast into fun with your favorite galactic hero Buzz Lightyear in the shoot for points thrill of Buzz Lightyear's Space Ranger Spin attraction at the Walt Disney World Resort! In this interactive ride of lasers and sound features some of the favorite characters from Pixar's Toy Story! If your traveling with a disabled party you will be directed to walk through with the other guests, once you arrive near the moving floor the Cast Members will direct you to a hallway where you and your guests can board. Generally speaking, this ride can slow down for you to transport from wheelchair to attraction seat.
If you feel more comfortable within your own wheelchair they do have a select number of space spinners that will allow you to ride directly into the space spinner! Now, the goal is to rack up the points and help defeat Zurg! Not as easy as it sounds! Your are now zipping and turning around shooting your blaster at every red target you see! Be sure to shoot the batteries, they fall when you hit the target! This ride is fun for any age, and it will bring the kid out of anyone! A great photo to take is at the exit of the attraction you will find your captive opponent Zurg behind bars, this makes for a neat topic picture for any scrapbook or photo album.
Next, just a few steps away you will hear the laughter coming from one of my favorite attractions Monsters, Inc Laugh Floor! Welcome to Monstropolis, a city filled with your favorite scary monsters from Monsters, Inc! Here you will be seated in a nightclub environment that takes you into the heart of Monstropolis! In this show the audience must help "Monster of Ceremonies" Mike Wazowski fill a power capsule to generate the power needed to supply the city. Guests with wheelchairs are taken in first with priority seating. They can sit your entire party together and if you prefer you can remain in the wheelchair. This is one of my favorite interactive shows! Interactive? Yes, it truly is as each show is different, the audience becomes the attraction! Here some of the guests will be asked questions as they are featured on the huge screen for the entire crowd to see! It makes for some very funny family memories! Just to let you know, it doesn't matter where you sit, because they randomly choose each person anywhere in the crowd! While waiting in line you can actually text in your jokes to be read enduring the show, be sure to look around and see how!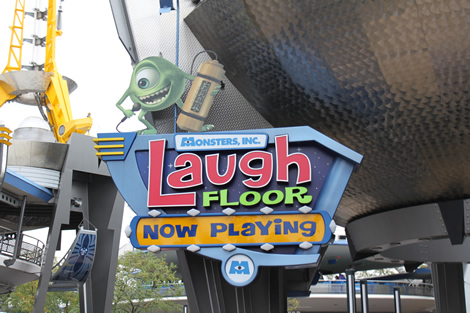 Next week we will continue on through other Disney attractions and what you may expect when traveling with a disabled member of your family. Be sure to check back and read some of the next few weeks of columns! I will be speaking with a family who enjoyed Walt Disney World as hundreds of volunteers built them a beautiful home with the help from ABC's Extreme Makeover: Home Edition! We will get the behind the scenes inclusive on how they enjoyed their magical time at the Walt Disney World Resort in Florida! Also, we will be talking more about engagements at Disney World, have you or someone you know been engaged or had a wedding at the happiest place on earth? I want to hear from you! As always, Remember the magic everyday, smile, and always think happy thoughts and your dreams will make you soar! Until next time, have a great weekend!
More: Remember The Magic
Stuff Not to Skip
Comments