FROM: Remember The Magic Published As Needed
It's Time To Eat!
Jeff obviously has given up on his New Year's resolution of losing weight because he already is reviewing not one but TWO Disney eating establishments. Our mouths are already watering, Jeff.
Hello again! If you have been following along the last few weeks, you will notice that we have done a lot of walking! While your exploring the magical splendors of Walt Disney World, keep in mind that the food served at many restaurants are some of the very best money can buy! It certainly is part of the experience, and you can even dine with your favorite characters! At select Disney restaurants you can use the Disney Dining Plan, this is an addition to your Walt Disney World Resort package and it well worth it! Disney Dining is a great way to save thirty percent or more on your food purchases! It's a great way to pay, most likely your going to eat at the parks anyway! What is wonderful about this program is no matter how much you spend on your meal, it only counts as a meal not a dollar amount! For example, my wife and I would always buy the cheapest meals so we didn't spend our fortune on one dinner. With Disney Dining, we simply pick any meal and dessert, along with our drink for one meal point! Now, when we eat dinner at Disney we can get the amazing BBQ Ribs and dessert and it would equal the same as getting a tiny hamburger and no dessert! The hardest thing to deal with is finding room for your value in your belly! Some of the best restaurants take Disney Dining too! My favorite places would have to be Cosmic Rays Starlight Cafe and The Chrystal Palace!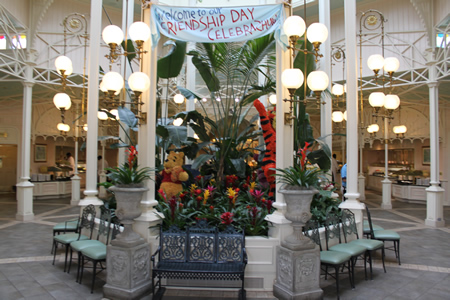 Cosmic Ray's Starlight Cafe' is inside Disney's Magic Kingdom Park. Located just across from the Tomorrowland Speedway is a restaurant that is truly out of this world good! Here guests can choose from different bays and food types. Everything from hamburgers and fries to ribs and mashed potatoes can be purchased at the different bays. You can be entertained to the soulful music that comes from another planet with our favorite piano player Sammy Eclipse! This is a great meeting place to take a break and regenerate while at Magic Kingdom. This restaurant is what Disney calls a quick service dining experience and if you select the Disney Dining Plan that allows you one quick service and one table service this is a great pick that offers huge lunch and dinner plates that are similar to what you would expect from any table service restaurant!
The Chrystal Palace, a unique all you can eat experience with the magic of your Winnie The Pooh pals coming to your table to visit! Here you can see Tigger, Pooh, Eyeore and Piglet! This is a great table service restaurant that combines an elegant dinner or lunch with character interaction, all with the kids in mind! Here the kids get to walk around their own mini sized buffet with bite sized foods and yummy treats! There is also a great dessert bar and ice cream for a very sweet ending to a great meal! Every few minutes one of the Pooh and friends characters will come around and allow you to say hi, snap a photo, and give a great big hug, making this a neat and exciting experience for your little ones! Nothing can come close to being able to sit down, and having the Disney Characters coming to you! If you select the Disney Dining package that includes both table service and quick service then this experience is included in your package! Make a reservation as soon as possible to get a great time, otherwise you may have to sit outside for a while waiting for another table to become available!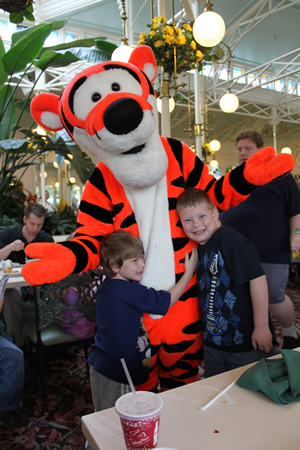 No matter where you are at, eating is essential to keeping up with the little ones! Make sure that you have plenty to drink while walking around in the parks, dehydration is very common among park goers and this will leave you feeling ten times more exhausted! Keep in mind, if you choose to get a Disney Dining Plan you will also get one snack per person per day that you can use pretty much anywhere throughout the Disney Parks or hotels! You can get a bottle of water, soft drink, or even cotton candy or popcorn! Use your snack to get a treat from the candy store or even get a hot fudge sundae and enjoy the day without worrying how much you spent on food! Besides it's all about remembering the magic not how much it costs!
More: Remember The Magic
Stuff Not to Skip
Comments