FROM: Remember The Magic Published As Needed
Friends With Real Character
Jeff talks about how magical it is for someone to get their picture with a Disney character. Young or old, that impression lasts with you for a long time and is one of the reasons Walt Disney World has the whole "customer experience" thing figured out better than anyone else.
When looking back into the past and remembering the most magical experiences of Walt Disney World, the biggest thing to come to mind would be the great character interaction with my children's favorite Disney friends! I remember the first time my son seen Mickey Mouse at Hollywood Studios and he was so excited he ran right up to him! That moment I knew that he would always remember that experience with Mickey and will one day relive that moment with his own children. Though the magic doesn't stop there, the first time is always the most magical! It's important that you really make that impression great for your children. Mickey happens to be one of my sons favorite character and that may never change!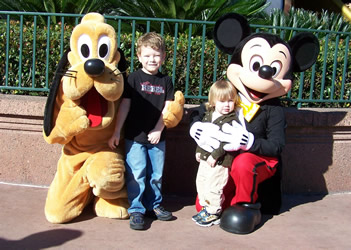 When getting the opportunity to meet and greet with Disney Characters it is always important to try and plan at least one day of taking the time to take a picture, nothing can bring those moments back and the picture will be timeless for your children! I have some of those very pictures hanging in my office and when people see them, the first words out of their mouth is usually... "I wish I would have taken my child to Walt Disney World." Having fun with your photos on vacation is the very reason to take them! Peeking around the corner, you just never know who might be there to say hello! I remember being on my very first visit to Disney, and my wife and I were alone. We were under the Sorcerer's Hat at Disney's Hollywood Studios looking at the collector pins we wanted. I remember looking around and someone tapped me on my shoulder, I assumed it was my wife and didn't look back at first. Then again on my shoulder I felt a tap, when I turned around it was none other than Pinocchio.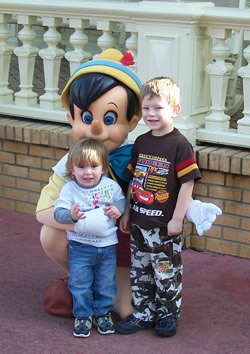 For a moment all I could do was smile and watch in amazement. I thought to myself, wow, here I am standing next to one of my favorite storybook characters. As a child my mother would read me that story almost every night. Even though I was nearly twenty years old, married, and a father I turned into that wonderful little three year old boy who didn't know the difference between reality and fantasy! The child never grows up inside, I never believed that was true until that very day in the park!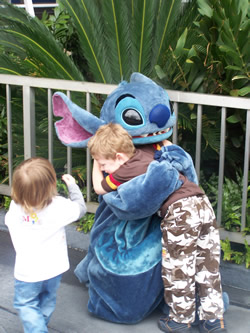 Having a moment to take a picture is always easy if your ready! Grab a nice, but small, camera to get those pictures done on vacation! It's a great feeling to have a camera in your pocket and knowing that if something does happen that has a magical meaning, you will be ready to slide it out and click away! When meeting the characters always take pictures from them beginning to end. If they walk up, they will most likely want to give them a hug, then pose for a picture! Take five or six shots, you can always delete the unwanted pictures later! Take advantage of at least one or two family pictures, the Cast Members who are taking the photos will also take a photo with your camera if you ask! Don't forget to take advantage of the Photo Pass too!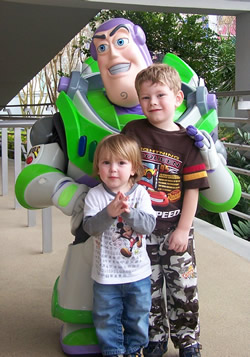 Remembering The Magic starts will looking at your photos! Today is a great day to pull out that old Walt Disney World album and you and your family can look at those memories together! Share them with friends, and maybe consider another magical experience this year by visiting the Happiest Place on Earth.... Walt Disney World!
More: Remember The Magic
Stuff Not to Skip
Comments