FROM: Running with the Mouse Published As Needed
2012 Princess Half Marathon Weekend
If you're a princess - or even potentially a princess - slip on your glass running shoes and vye for a spot in Disney's upcoming Princess Half Marathon, scheduled for February 2012. No fair having your lady in waiting do the running for you!
Calling all princesses: your race awaits!
Disney has just opened registrations for the 2012 Princess Half Marathon Weekend from February 24-26. The weekend is themed for women, and includes numerous events ranging from Disney's Fit for a Princess Expo to races for all ages and abilities.
The Expo, which starts on Friday, February 24, features vendors promoting women's fit and active lifestyles. starts FridayFit for a Princess Expo starts on Friday. At the Expo you'll also pick up your race packet - without which Disney won't let you run!
On Saturday, February 25, the festivities begin with the Disney Royal Family 5K and Royal Family Kid's races. The 5K is a great run with a course that weaves through EPCOT. It also has a 'stroller division' so no one has to miss out on the fun. All finishers will receive a medallion, including participants in strollers!
click an image to expand: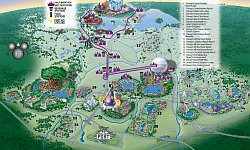 The course for the 2012 Princess Half Marathon.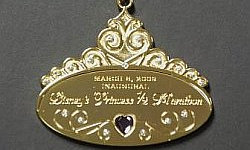 The medal you'll receive if you finish the 2012 Princess Half Marathon.
For the princes and princesses 13 and under, Disney offers Kid's races such as a Diaper Dash, 100M, 200M, 400M, and 1 mile. All kids will receive a great finisher medallion that they'll be proud to wear around the parks!
The main event of the Princess Half Marathon kicks off Sunday, February 26. The course heads from outside EPCOT up to the Magic Kingdom, then winds through the park - and through the Castle! - before returning to EPCOT through Future World and back to the parking lot.
If that sounds like too much running, you can find a partner and form a team. Everyone who finishes gets a beautiful tiara medal.
A nice touch for the race is that you can pick their favorite Princess - Ariel, Aurora, Belle, Cinderella, Jasmine, Rapunzel, Snow White, or Tiana - and Disney will give you a running bib in the Princess's color and with her name on it.
For this race, finally, Disney offers a men's shirt size to appease male participants. In the past, Disney had offered only women's shirt sizes, and so if you were a guy who finished the race, your wife (or girlfriend or mother) would get a nice shirt.
One thing to note with this race is that Disney only provides bus transportation for guests staying at host resorts. This is a change of policy from the January Walt Disney World Marathon Weekend, when Disney provided bus transportation for race participants staying at any of its resorts. You may need to book a cab if you're not staying at one of the host resorts. The cab ride will cost around $10-15.
Better hurry up and sign up by August 7 to get the lowest race entry fees. You can save up to $20 for the Half Marathon and Team registration.
Happy training!
More: RUNNING WITH THE MOUSE
Comments