FROM: Running with the Mouse Published As Needed
Disney Wine and Dine Half Marathon
Robert gives us a play by play of race day and some of the extras that happen when running. Is this race worth the cost of entry? Read thru to find out.
Race day started with a late wakeup at 10 am and a large breakfast. This was to be a rest day before doing the race. Went down to the pool for some sunshine before having an early pasta dinner at 4 pm. Took a nap before getting race stuff together and heading down to the bus stop. Staying at a Host Resort (Boardwalk Inn/Villas) allowed me not to worry about getting to the race. The busses started at 7 pm. I headed down at 7:15 pm waiting for my turn. The lines were long and as my bus left at 7:38 pm there was a huge line. Disney didn't have enough busses per their documents that stated the last bus would leave at 8 pm. Upon arriving at ESPN Wide World of Sports, there was a long line of busses waiting to drop off the runners. This was poorly planned as they had to stop and wait for busses to drop runners and loop around to wait for other busses to drop runners of to go back to the resorts to get the waiting runners at the host hotel. This lead to many people arriving late to the starting area and diminishing the benefit of paying extra for a host hotel. Disney needs some better planning!

Once into the runner's area, baggage check was quick. We than rested into a grassy area, which was somewhat wet, for another 1 ∏ hrs before heading to the corrals. Once we go into the corrals, we got to stand around for another 30 minutes before taking off.

The start was set to fireworks as we began our 13.1 mile trek.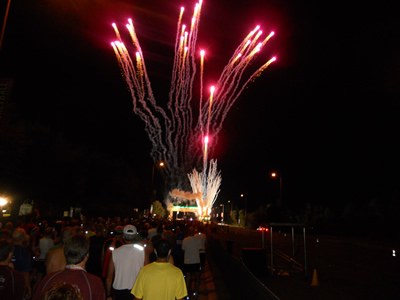 I ran across Jeff Galloway and his wife as we migrated towards Disney's Animal Kingdom. This section was fairly boring with limited lights and entertainment. Once entering the Animal Kingdom, it was fun being in the park at night. The only problem was lots of runners on narrow and uneven pathways that lead to many runners falling and injuring themselves. Disney needs to add more lights to warn runners.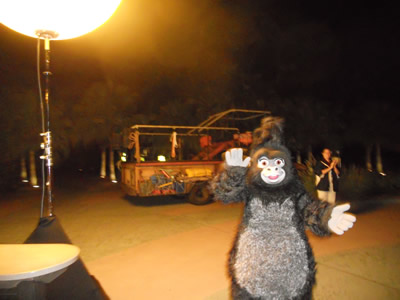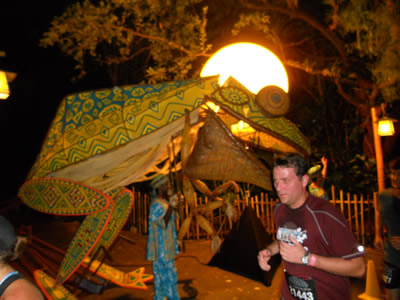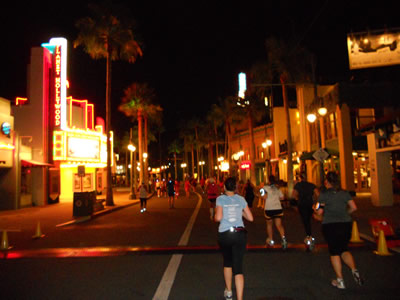 Once leaving Disney's Animal Kingdom, we headed down the same boring road section before taking a turn towards Disney's Hollywood Studios. Once entering the studios, you did a mind numbing endless loops through all the paths of the park. One highlight was seeing a sneak preview of Osborne Family lights.
Leaving the park we headed along the canal towards the Boardwalk, Yacht, and Beach Club Resorts before entering Epcot right before the International Gateway entrance. We meandered for almost a 1/2 mile before reaching an "understated" finish line. This is nothing like any of the other Walt Disney World or Disneyland races. It was than a mess getting from there to seeing your friends and family waiting for you. After meeting them, Disney split you apart to enter Epcot thus causing a second reunion after the race. Once you got into Epcot, Disney had 27 of Epcot's International Food and Wine festival's booths open. Disney gave all runners and family members that paid up to $79 (which included a $10 gift card to use for food and beverage.) The only problem was there were long lines. My group did a one mile cool down lap finding everything way too oversold by Disney to non runners. We than headed out at 3 pm as everything closed.

This was a big disappointment and I would not do this race gain. This was a bucket list race to say I have done this but wouldn't pay the premium fees charged again. This race is simply not worth the cost of race fees. If you want to do the Food and Wine Festival, go later in the month of October when lines are shorter and weather is better. I would not stay at the Boardwalk Inn/Villas as not worth the extra costs. You can save your money and take a cab to the start. This will allow less time waiting and much more convenient.

See you all in January as I work to keep my Perfectly Goofy streak intact with number 7!
More: RUNNING WITH THE MOUSE
Comments