FROM: Running with the Mouse Published As Needed
New Old Race!
Disney is rolling out a "new" race - the Twilight Zone Tower of Terror 10 Mile Night Run. If this doesn't sound new, Robert explains.
Disney released information about a "New" race this week. It is really the "unretiring" of an old race but making it a new distance. This is The Twilight Zone Tower of Terror 10 Mile Night run. This is the first race of this distance offered by Disney.

On the Disney race calendar, this replaces the date of the Wine and Dine Half Marathon(also a night run). The Twilight Zone Tower of Terror 10 Mile race will be on September 29, 2012 which is the beginning of Epcot's International Food and Wine Festival while the Food and Wine Half Marathon moves to the last weekend of the Food and Wine Festival on November 10, 2012.

The previous Twilight Zone Tower of Terror race had a distance of 13K. There was a 6.5 K option during the inaugural 2007 race and a 5K option during the final race in 2009. This race was a previous start in the parking lot of Disney's Hollywood Studio's and ran on some back roads(and dirt roads) through ESPN's Wide World of Sports before making a trek through Disney's Hollywood's Studios. The finish was by the Twilight Zone Tower of Terror. The 2012 version sounds like it will run a very similar course.

Disney mentions that there will be a "new medal". I really liked the old medal. Maybe they will just make a slight modification.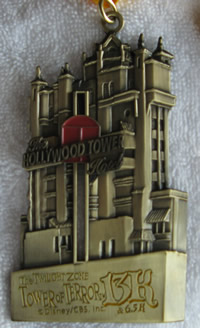 After you finish the race, there will be a post race party with live music and selected attractions such as Rock 'n' Roller Coaster Starring Aerosmith, Star Tours , Toy Story Mania! and The Twilight Zone Tower of Terror being open. This party lasts until 3:00 am! This is nice as the 2007 version had its party close at 1:00am and didn't leave a lot of time to "party".

The race weekend will feature a variety of events, including a 5K, kid's races and a Health & Fitness Expo all at the ESPN Wide World of Sports.

Disney hasn't released all the details but has set the date of registration to open on February 14, 2012. Funny that it opens on Valentine's Day!

More: RUNNING WITH THE MOUSE
Comments