FROM: Squeak of the Week Published Fridays
Walt Disney and the Art of the Emotion Picture
Who has heard of Blanche Sewell, Walt Disney's sister-in-law, whose fame as a film cutter at MGM in the early years of cinema brought her to Walt's attention exactly when he needed her skills? No one? John Donaldson explains who, and why.
Although dressed with immense success, Walt Disney was not one to stay still. By him, herky-jerky cartoons carried to considered animation; "built," he said, "by a steady day-by-day growth in which we all simply studied our trade and learned."
For six years, the set Mickey Mouse menu had been a form of fast food; easy, eight-minute meals, cooked-up in a kitsch kitchen; placing Swiss cheese to a player piano, or using teeth of a canine, to pry a tin can.
Everything was served, thick with schtick.
Walt wanted to move on, find a fine dine. A new meal; an Old Mill.
The chief was in need of a chef.
And Blanche Sewell was in receipt of real recipes.
Now folks, I hate to harp on this, but I have to. You won't find Miss Sewell mentioned, in reference to Walt Disney, in any book, other than my biography, Warp and Weft: Life Canvas of Herbert Ryman.
click an image to expand: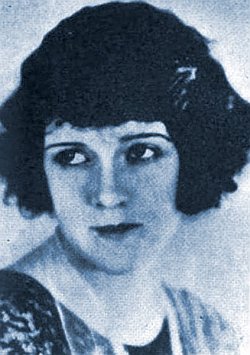 A young Blanche Sewell during her early days as a film editor in Hollywood.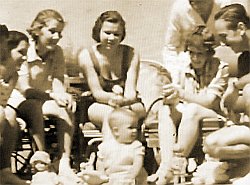 The Disney family, left to right: Lillian, Hazel, Marjorie, baby Diane Disney, Blanche Sewell, Walt.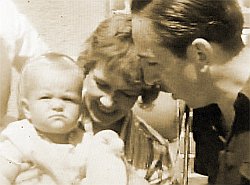 Disney family photograph, left to right: baby Diane Disney, her beloved Aunt Blanche Sewell, Walt.
Not in one claimed "definitive." Not in one "meticulously researched."
And that is an absolute shame.
You see, we all know the story of how Lillian Disney, née Bounds, bounded-down from Idaho to scout-around Los Angeles in December of 1923, obtaining a job as a cartoon cel, India-ink inker, with the Disney Brothers Studio.
But, Lillian already had interest in the making of movies, as her sister, Hazel, with whom she stayed, had married into the family of a regarded film editor.
That clever cutter of clutter, at Metro-Goldwyn-Mayer, be that Blanche.
Bluffing her way into a film laboratory, after buffing a foot of film, an instinctive eye had given access to editing; made assistant to Margaret Booth, then considered the best in the business.
An axiom in the motion picture industry had editing as make or break. When sixty thousand feet of footage was to be trimmed to a finished six thousand, it would be for Sewell to see that the soul of a story did not fall to the scrap floor.
Her reviews were always good news. Blanche became the favorite cutter of MGM production head Irving Thalberg; screen star Constance Talmadge found "her judgment to be almost infallible, her critical ability supreme, and the courage of her convictions unfaltering."
Does that sound like someone else?
Blanche Sewell was, at heart, of the art of the emotion picture.
So, when Walt Disney decided to venture into the full-length feature, he knew exactly the secret tutor to turn to.
His sister-in-law.
Besides being box office boffo, it is easy to see why the innovative Snow White and the Seven Dwarfs became the envy of everyone. Pinocchio, Fantasia, and Bambi followed. All of right tempo and temper.
If there be genius, this be genesis.
Walt Disney became Schmaltz Disney; a good, gooey thing.
And Blanche Sewell was the one who got him there.
An unheralded heroine.
By the way, in answer to Snow White, a live-action story, also of lost girl and little people, went into production at Metro-Goldwyn-Mayer.
The Wizard of Oz.
Edited by Blanche Sewell.
John Stanley Donaldson, once the protege of Disney Legend Herb Ryman, is the author of Mr. Ryman's biography, Warp and Weft: Life Canvas of Herbert Ryman, which you can purchase directly from the author's site.
More: SQUEAK OF THE WEEK