FROM: Squeak of the Week Published Fridays
Walt Disney Takes Kid Skit to Vid Hit
Tracing something well-known to its roots often turns up the unexpected. Ideas typically don't fall to the earth like acorns; they roll, picking up scraps of ideas here, inspiration there, and where they stop, sometimes John Donaldson knows.
Vox Puellarum presents A Play Parade was not on any television network - though it does sound like something sponsored by some cough syrup. This was the senior class, drama club production at the private Westlake School for Girls - featuring Sharon, the youngest daughter of Walt Disney.
"You won't like this," Walt turned to Herbert Ryman, attending. "Probably written by some child psychologist." He may not have been kidding. Such was this academy that when classmate Johanna, daughter of screenwriter Herman Mankiewicz, struggled in geometry - she simply wrote to Albert Einstein.
In reply, he forgot to stick a six-cent stamp - and his solution concerning a common external tangent, of two tangent circles, was later found to be wrong.
Still.
"Shh!" It was time for first curtain.
Devoid of boys, Sharon did her best in emoting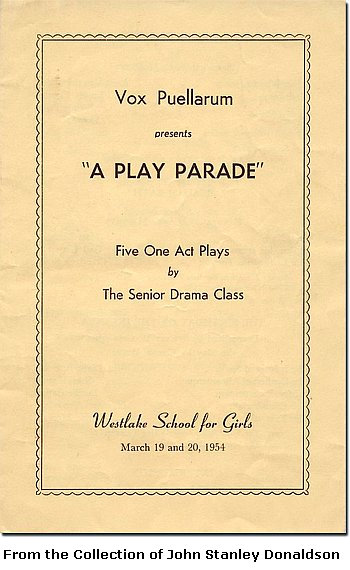 the character of "Elmer." Afterwards, in the Disney home, this was difficult to discuss, as the television was on. Pride of the Family had in plot a funny bit of business - the daughter flipping for a football player - something one varsity viewer could especially relate.
Ron Miller, soon to be son-in-law, dating as he was Diane, sat with eyes glued to tube. Walt tapped him on a shoulder. "Do you mind if I turn this off? Television is antisocial."
Lillian laughed. "He thinks it's antisocial. Wait 'til his films get on TV!"
The Westlake show of one-act plays was, as expected, amateurish - but taken as entertaining.
Such evening air of innocence gave impetus to idea.
Bill Walsh had a job at Disney, writing the comic strip, before being appointed, with protest, as head of television production. "But, I don't know anything about it," he would later relate of this fate. "That's okay," Walt had replied. "Nobody does!"
With that, Walsh created a coonskin cap craze, with a series called Davy Crockett.
What could possibly follow?
The answer went back to that Westlake show.
Bill was instructed by Walt to observe children on school playgrounds. His sight would select the ones who stood out from the ones with no glow.
Just the sort he should consider.
When casting The Mickey Mouse Club.
John Stanley Donaldson, once the protege of Disney Legend Herb Ryman, is the author of Mr. Ryman's biography, Warp and Weft: Life Canvas of Herbert Ryman, which you can purchase directly from the author's site.
More: SQUEAK OF THE WEEK
Comments