FROM: The 626 Published Fridays
California Adventure
Jeff is back from his first trip to Disneyland since childhood. He loves Disneyland - prefers it, in fact, over Disney World. But what of California Adventure? Has Jeff fallen for it as well? Join us now for another episode of As the Park Turns...
Last week, I gushed over my trip to Disneyland. It won me over in minutes, and I will never look the same at a Disney park ever again.
So, imagine my surprise when visiting Disney's California Adventure turned out to be a less than enthusiastic experience. How could these two parks, literally right next to each other, be so vastly different?
The Adventure That Never Was?
My day began early Saturday morning. I had a solid plan: Dual Rope Drop. Disneyland opened at 8:00 AM, and California Adventure at 10:00 AM, so I knew it wouldn't be a problem. After clustering on Main Street with the other thousand guests, waiting for the park to open, I quickly made my way to Star Tours for a quick ride. After hitting a few other attractions, I headed over to California Adventure for their rope drop.
My initial reaction was of shock. Sure, I had passed the main gate the day before, and I was aware of the massive amount of construction going on. But I had no idea how intense it actually was. The make shift line around the temporary walls to get into the park was just crazy. I'm sure the new main entrance will look wonderful when it's finally completed, but right now it's a nightmare.
The moment I was inside the park, I knew I wasn't in Kansas anymore. The layout seemed slapdash. It's a wonder how anyone could find anything!
But I couldn't worry about that just then - the park was due to open soon, and I wanted to get on The Little Mermaid: Ariel's
Undersea Adventure ahead of the massive crowds right behind me. I quickly made my way through the winding, confusing pathways to Paradise Pier. Amazingly enough, I was the first person in line. The Cast Member working at the front informed me that the attraction wasn't open yet (it wasn't quite 10:00 AM), and so I slowly make my way through the queue, awaiting the green light.
While walking through the line, I spoke with the Cast Member (who will remain nameless, to protect his identity). He had been working at California Adventure for almost a year, and was trying to transfer over to Disneyland permanently. I voiced my initial concerns about the park to him, and he agreed almost completely. He remembered visiting when the Park first opened, and he couldn't believe what a mess it was. He still couldn't believe how bad it was, but he appreciated that Disney was taking steps to change it. He was by no means derogatory, though - he loved his job - but he was just ready for a change of scenery.
click an image to expand: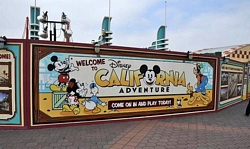 The most loved sign in the park. We're here!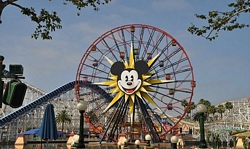 Mickey's Godzilla-sized Fun Wheel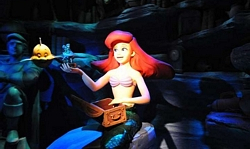 Ariel the Little Mermaid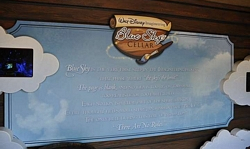 Blue Sky Cellar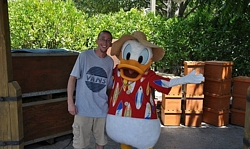 Security!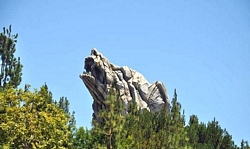 Grizzly Peak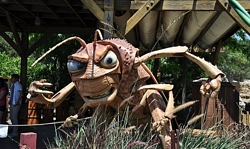 Hopper from It's Tough to be a Bug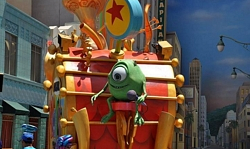 Mike from Monsters, Inc.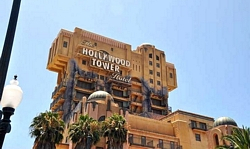 The Tower of Terror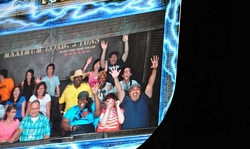 Looks like it's work release day at the Tower...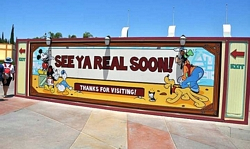 The most hated sign in the park. We're leaving...
When we got to the front of the line, we bid our goodbyes, and I climbed into an Omnimover Clamshell.
Other than the Clamshell, It's Pretty Dismal
While I definitely plan on writing a full article about Ariel's Undersea Adventure, I have to tell you that it's absolutely WONDERFUL! It harkens back to the original Fantasyland dark rides, and improves upon them tenfold. It was amazing. The animatronics were top notch (Ursula's incredibly lifelike movements are beyond words - the videos don't do it justice), and the subtle effects were welcome. The team of Imagineers working on this ride have truly out-done themselves. In fact, I was so impressed, as soon as I got off, that I ran back on it again!
As fantastic as it was, Ariel's Undersea Adventure was one of the few highlights in the park. I quickly realized that in most other areas California Adventure is in poor shape.
People visiting Disney World often complain that Animal Kingdom is a half day park. While I will debate that point in a later column (short version: it's not!), I feel that argument is definitely valid here. California Adventure is, without doubt, a half day park. If the crowds are light, then it's probably not even that. I hit almost every single attraction before noon. Noon! And the Park opened at 10:00 AM. I wasn't rushing, either. It's just that there really isn't much to do here.
While the original idea of California Adventure was somewhat intriguing, and probably looked good on paper, it failed in the execution. After plenty of other parks, all over the world, you would think Disney would know how to plan and design an entire theme park from scratch. But it feels like they threw out all of their previous knowledge when designing California Adventure. It's a mess of a mess, with a lot of room for improvement.
One of the most striking things I noticed about my visit was the crowds. Or, more specifically, the lack of them. Yes, I rushed over to The Little Mermaid to make sure I got there before it was swamped, but I could have ambled and still not faced a long line. I expected people to start swarming into the park in general, but those crowds never came. In fact, during my entire time there, I never waited more than 10 minutes for ANY attraction. I was amazed at the severe lack of people in the Park. There were quite a few times when I would be the ONLY person walking down a major walk way. Somewhat of an eerie site in a Disney theme park!
Don't even get me started on World of Color. I know I just said the crowds were super light during the day, but at night, it's a different story. While I left California Adventure to head over to Disneyland for the rest of the day, I did return that night to see World of Color. While I am sure the show itself is quite wonderful (hell, it looks gorgeous on YouTube!), being able to see the show live is another matter entirely.
There is no 'good' viewing area. Unlike Fantasmic at Hollywood Studios, which is showcased in a theater like setting so everyone can see, World of Color is a mess. Yes, I get the fact that it's a spacing issue. There is just no room to build a viewing area for the show. But having everyone stand on the same flat surface is just the wrong way to go. Unless you are there hours ahead of time, you'll be viewing the World Of The Backs Of People's Heads. It was so bad that I left halfway through to catch the fireworks over at Disneyland. I was really disappointed - so much so that I made a point to watch it on YouTube when I got back to the room that night, just so I wouldn't feel completely gyped.
Of course, Disney is taking steps to make the park better, and to increase attendance. Construction walls are everywhere, and lots of things are being revamped. Carsland is expected to add another major E-ticket attraction to the Park in 2012. The entire front half of the park is being re-themed. Steps are being taken to "turn down the suck" of Park itself. But is it enough to save it?
Maybe, maybe not. California Adventure was a misfire, an experiment gone wrong. Yes, it does have redeeming qualities, but not enough to make it feel like a true Disney experience. Maybe I was jaded after spending so much time at Disneyland. Maybe it was because I heard nothing but horrible things about California Adventure from others for years before finally experiencing it for myself. I do know that Disney has a lot of work to do before the park can really be a crowd pleaser.
Jeff's Hit List
As for the rest of the rides, I'll go through them much the same way I did with Disneyland's rides last week.
Monsters, Inc.: Mike & Sulley to the Rescue: Another enjoyable dark ride. Monsters, Inc is my favorite Pixar movie, so it was neat to see a ride based on it. While the animatronics were a little stiff, the ride itself was enjoyable. Also, Roz hit on me at the end, calling me a "hunkster." I'm not sure if it's a randomly generated phrases that she uses based on the people in the car, or whether someone is controlling her, but it was hilarious.
Tower of Terror: This felt like the little brother to the Disney World version. It was only the elevator drop - no traveling to the Twilight Zone. Still fun to get dropped 13 stories over and over again, but not as much story to it as its East Coast relative.
Animation Academy / Sorcerer's Workshop: Pretty neat to walk through, and often under-appreciated. Also, the Toy Story Zoetrope wasamazing to see in person, finally.
Grizzly River Run: Typical raft ride - nothing too exciting.
Wilderness Explorer Challenge Trail: Formerly Redwood Creek, this opened the day I was there. Now it's themed to Up, and it's a good distraction for the kids.
It's Tough To Be A Bug: Carbon copy of the show at Animal Kingdom.
Heimlich's Chew Chew Train: Short train ride aimed at kids, but I love Heimlich, so I had to try it!
Aladdin: A Musical Spectacular: It felt like seeing a Broadway show, which Disney is quite good at. It was great to see after hearing many great things about it.
Muppet Vision 3D: Another carbon copy, but you can't go wrong with the Muppets!
Soarin': I honestly never got the whole appeal of Soarin' and this didn't make me feel any different. It was OK. Just not for me.
Blue Sky Cellar: This was neat to see. I spent a good 45 minutes in here, wandering around, looking at models and concept art for the just opened Little Mermaid ride and the soon to be opened Carsland. It's a nice behind the scenes tour for Disney fans.
California Screamin': I'm a roller coaster junkie, and this was a pretty good one. While I'm used to more intense coasters, this was still at the top of my list. The speed more than made up for it. Also, anything narrated by Neil Patrick Harris wins in my book!
Goofy's Sky School: It was in soft opening the day I went. No matter how they re-theme it, it's still nothing more than a "wild mouse" ride.
Mickey's Fun Wheel: I enjoyed the hell out of this ride, while at the same time, I hated it. It doesn't look THAT bad when watching it. But as soon as you get up in one of the swinging carts, you realize just how scary it is! Nothing like flying full speed over to the edge, only to swing back and forth over the water! Great little surprise thrill ride!
Toy Story Midway Mania: Again, almost a carbon copy of the one on the East Coast. Not that I'm complaining - still a great ride! I also got my butt kicked by a 10 year old. By a lot!
Silly Symphony Swings: I'm a sucker for a swing ride, and one themed after one of my favorite cartoons was good enough for me.
Golden Zephyr: A 1920s equivalent to the Astro Orbiter. Kind of fun, but the glare coming off the ride itself killed my eyes!
The Little Mermaid: The best ride in the park. I went on it at least four times throughout the day, and always saw something new.
So, in all, I'd give California Adventure a solid C+, and on a crowded day, a C-.
I'm curious to see how the park improves - if it does - following the refurbishments and the new attractions. Perhaps it'll be a better experience than what I saw! For those of you who have visited the park before, what did you think about it?
You're welcome to browse through some of the best of the 2000+ photos that I took during my trip.
Follow me on Twitter for updates!
More: The 626
Comments