FROM: Vinylmation 360 Published Mondays
Cutesters Like You
Kelly takes a look at the new 3" mold
Vinylmation 360: A closer look at the new 3" mold
By Kelly Firth
If you have been reading Vinylmation 360 for a while now, you know that I am not a fan of the new 3" vinyl mold. This new version of vinyls lacks the Mickey outline on the face or body, a distinct nose, and buttons on the torso. The feet are smaller and removable, and the hands and arms are different sizes. The shape of the head is different as well, almost as if the original Vinylmation head was smooshed like wet clay.
I have been able to avoid the new mold vinyls thus far because I had very little interest in the Sea Creature open window set and the Cutesters Like You blind boxed set, while the mold itself made me not want the Pirates of the Caribbean set. The Park Series are by far my favorite Vinylmation series, and up until now they had used the original mold. However, Park 7 Series will be using the new mold, so the changes are about to impact me as well.

Cutesters Like You
The Disney Store series Cutesters Like You has plenty of problems on its own (strange translation of a concept, bad paint jobs, etc.), but add the new mold to it and you have a real mess on your hands. Based on what I have seen, it is the worst series released to date with the new mold. However, it is the only new mold series my local Disney Store carries as of this writing and I wanted to give you all a closer look at this mold. Keep that in mind as you read this week's column.
The Lion King blind boxed vinyls also use the new mold, and most of them do look better overall. However, I do not own any of them at this time, so I can't use that series to show the differences. (This column was written prior to the August 29th release date due to Hurricane Irene.) I still feel those designs would have transferred even better to the original mold, regardless.
First, let's look at the Cutesters Like You vinyls with each other.
L to R: Cutesters Like You's Smarty, Frenchy, and Tuney.
From a distance and from the front, Smarty, Frenchy, and Tuney do not look bad. They are bright and each one has an obvious "theme" behind it. When you look closer and/or turn them sideways, you start to see how strange they really look.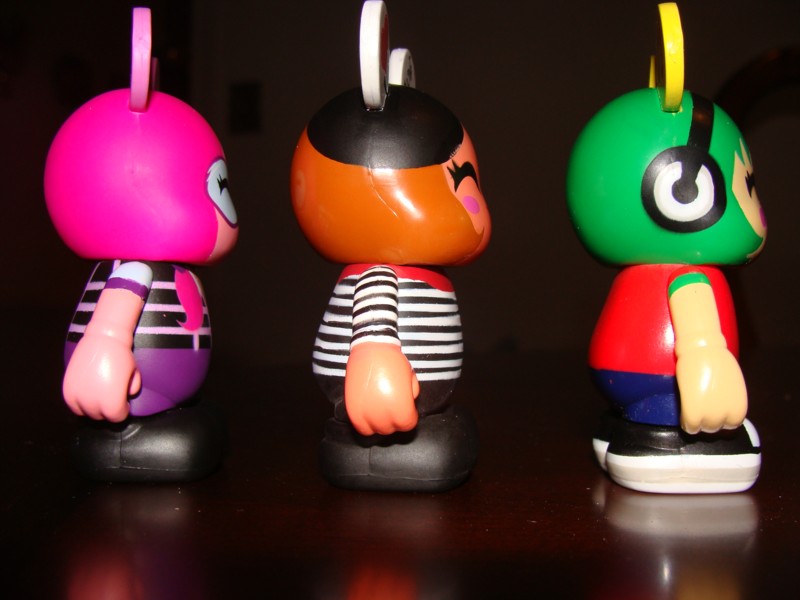 Right side view of Smarty, Frenchy, and Tuney.
As I have said before, Mickey is no longer Mickey. That in and of itself is a very unfortunate change to Vinylmation.
New Mold vs. Old Mold
The real issues become apparent when you compare the Cutesters Like You vinyls to older, original mold vinyls. The Monorail vinyls have been in four different Park Series thus far, and I am hopeful Disney will continue to release them.
With that in mind, I thought using Park 1's Red Monorail in a new vs. old mold comparison was the best way to go. I used Frenchy for most of the new mold comparisons because she was my favorite of the three I blind boxed. Looking at Frenchy and Monorail Red side by side from the front and the back, some of the differences are obvious.
Cutesters Like You's Frenchy and Park 1's Red Monorail.
The new mold's head is smaller and, again, looks as if it was smooshed together. The feet, while difficult to see in this picture, are smaller and also look smooshed together. The nose, buttons, and lines are gone, as are Mickey's trademark gloves. The hands are shaped differently as well. There are also two differences that are not visible: 1. The new mold seems lighter weight in comparison to the old mold. 2. While all vinyls have an unpleasant odor at least initially, these truly reek. As I said initially, my guess is a cheaper production process is at work here, including cheaper production materials or paint.
From the side, a few more differences are noticeable.
Cutesters Like You's Frenchy and Park 1's Red Monorail.
The new mold is shorter, squattier, and leans forward. Poor Frenchy looks like she needs to visit a chiropractor and hit the gym. The lack of facial lines eliminates the illusion of cheeks from the side, truly making Frenchy's head look like a blob rather than a person's head. You can really see the difference when you compare another vinyl, Smarty, side by side to another person Vinylmation, Park 5's Carousel of Progress John.
Cutesters Like You's Smarty and Park 5's Carousel of Progress John

Now, imagine a different color monorail vinyl translated to that new mold. I don't know about any of you, but the mental image I have is not pretty.
To be fair, there have been designs produced using the old mold that were less than well received. The infamous Gears Bears from the Urban Series are at or near the top of that list. So let's compare one of Urban 5's Gears Bears to Frenchy.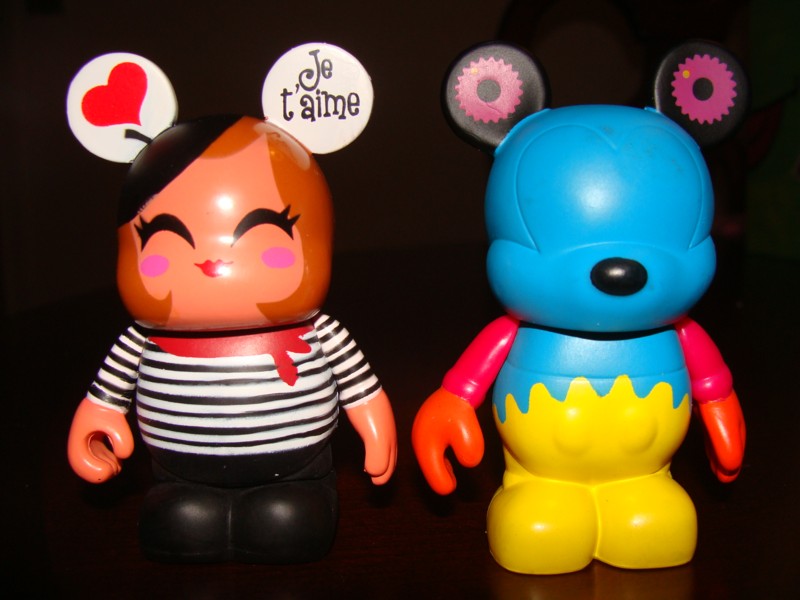 Cutesters Like You's Frenchy and Urban 5's Blue and Yellow Gears Bear

While Mr. Gears Bear is still no great shakes, I cringe to think what it would look like on the new mold. Frenchy was one of only a few Cutesters Like You vinyls that I actually liked. Yet as much as I dislike most of the Gears Bears, I still like this one just as much as I like Frenchy.
New 9" Mold
There's more bad news for collectors like me who dislike the new mold: At D23 Expo, Disney previewed two upcoming 9" vinyls from Holiday Series 3 that use a 9" version of the new 3" mold. Some will probably look better than others. For example, the Rat King looks intriguing; Thanksgiving Dinner man is all kinds of wrong. We have far less new 9" mold examples to go on than the new 3" mold, but my hopes are admittedly not high for the larger vinyls.

Worst of the Worst
Disney needs to wake up and smell the vinyls. These changes are not being received well by many in the diehard collecting community, and those are the people who support a line even in bad economic times. They are also the people who help bring new collectors into the fold by spreading the word. And spread the word they are.
If you google "Minnie Vinylmation new mold", you will find pictures from D23 Expo of a new Minnie Mouse 3" Vinylmation that uses the new mold. Minnie will supposedly be the free gift to those attending the Vinylmation event for Florida Project in WDW next weekend. It is absolutely shameful that this vinyl made it past early production stages. I have never seen a vinyl look that horrible, and I have never seen Minnie look that awful in ANY merchandise form. When a Mouse doesn't look decent on an allegedly mouse-shaped canvas, we have a problem.
To be clear, I am not knocking the artists. They have to work with the new mold, and in my opinion, there is only so much they can do with it. The mold itself is the problem. How any executive can look at Minnie and think that was a good idea is beyond me.

Looking Ahead
Collectors can be told over and over again that the change was made so that the painting process will be easier, thus allowing better, more intricate designs to be used. But even if that is all true and the change has nothing to do with cost, the proof is in the pudding. Many collectors view the new mold as inferior to the old mold, at best. At worst, it can look downright hideous.

I honestly do not know what Disney is thinking. I do not know if they use focus groups before they make huge decisions like this, but if not, they should. This is a critical time in the life of this collectible line, and everyone will have to decide whether to continue collecting or stop. I know many people like me who say they will be cutting back significantly on purchases, and there are many more all over various Disney and Vinylmation forums saying the same thing. That is a problem for Disney. I hope they realize just how much many of us dislike this mold and make some changes.
"Do you like me?" Why, no. No, I do not.
If the original mold can't be brought back, make a second "new mold" that looks better than this version.
Think I'm completely off base? Do you like the new mold? If so, tell me why below! All opinions are welcome.
On the last Sunday of every month, I'll devote this column to your questions and my answers. You can leave questions here as comments or else send them directly to me.
More: VINYLMATION 360
Comments