FROM: Vinylmation 360 Published Mondays
Have A Laugh's "Early To Bed" Donald
More from Kelly on some of her all time favorite Vinylmation figurines. This week she touches on one of my favorites - a very well made and funny "Early To Bed" Donald Duck.
Over the next several weeks, Vinylmation 360 will be focusing on showcasing some of my all-time favorite vinyls. Some are oldies but goodies, while others are more recent. Most are 3", but some are 9" vinyls. What a great way to show off some of the best work by the very talented Vinylmation artists.
So far, we've taken an up close look at Park 4's Astro Orbiter and Park 1's Kermit the Frog vinyl. This week we'll look at the first non-Parks vinyl, Have a Laugh's "Early to Bed" Donald Duck.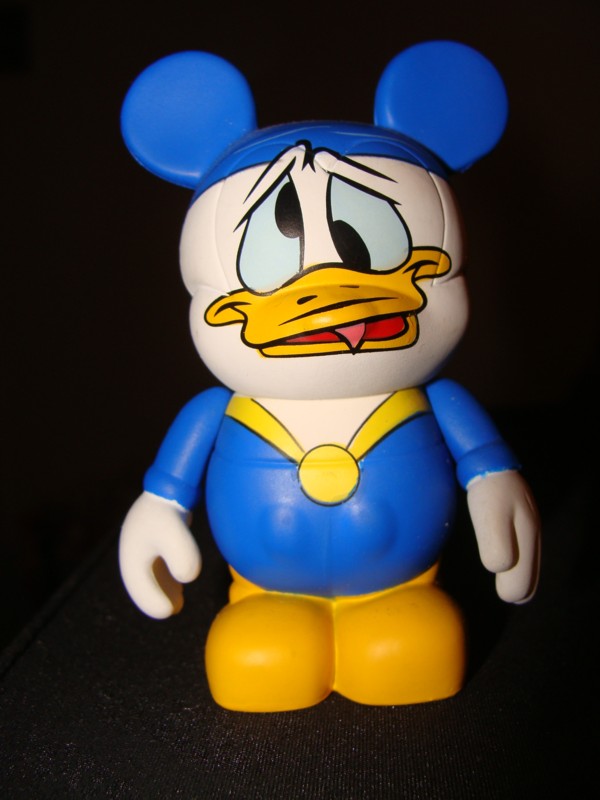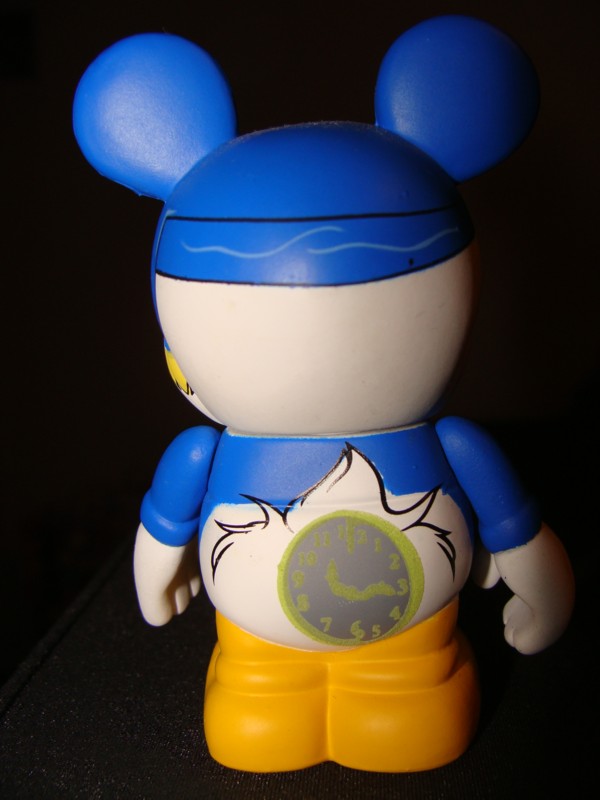 Eric Caszatt designed this vinyl of the irascible duck, the first 3" blind boxed series vinyl that portrayed Donald. Several more Donald vinyls have been made since then, but this remains one of my favorites. The clever use of blue paint on the ears and head makes it appear as if he is wearing Mickey ears (poor Donald—he is never allowed to steal the spotlight from the Mouse!). Because his feet are yellow, they look more like Mickey's shoes than Donald's webbed feet. All things considered though, the vinyl canvas was used well enough that you can still believe it is Donald. I happen to think the Mickey canvas works especially well for Donald and all of the duck characters, regardless of whether it is the old mold or the new mold that is being used by the artists.
The best feature of this design is the glow-in-the-dark clock on the back. Even if you have never seen the 1941 "Early to Bed" cartoon short, you should be able to guess that fate was not so kind to Donald once again. He can't manage to buy a night's sleep, partly because his clock won't stop harassing him! He tries to throw it away, but it comes right back, and he ends up swallowing the clock! He truly can't catch a break. The Have a Laugh series is truly one of the more stellar series ever released, especially if you are a fan of the Walt-era shorts.
If you don't already own Have a Laugh's Donald and wish to add him to your collection, you will have to turn to eBay or other selling/trading forums to get it. The Have a Laugh series seems to have finally sold out after Disney Stores included the series in their "Buy One, Get One Free" promotion. Most completed auctions or Buy It Nows on eBay are for around $10 before shipping, but cheaper listings can be found as well. Remember: The HAL series did come with artist cards, so search accordingly if you want a complete "set" for this figure.
Do you own the "Early to Bed" Donald Duck vinyl? What do you love about it? Share your thoughts in the comments section below!
A special message to my readers: I hope that you and yours have had a very Merry Christmas and a Happy Hanukkah, and that you all will have a wonderful New Year's!
On the last Monday of every month, I'll devote this column to your questions and my answers. You can leave questions here as comments or send them directly to me.
More: VINYLMATION 360
Comments