FROM: Vinylmation 360 Published Mondays
Buzz Lightyear XP-37 Space Cruiser
Kelly checks into 2012 with a continuation of her series of vinylmation favorites. Today she heads to Park 5 and the Buzz Lightyear XP-37 Space Cruiser. This one is a take on the vehicle you ride at the park in Astro Blasters.
Vinylmation 360 has recently been focusing on showcasing some of my all-time favorite vinyls. Some are oldies but goodies, while others are more recent. Most are 3", but some are 9" vinyls. What a great way to show off some of the best work by the very talented Vinylmation artists!
So far, we've taken an up close look at Have a Laugh's "Early to Bed" Donald Duck, Park 4's Astro Orbiter and Park 1's Kermit the Frog vinyl. This week we'll look at another Parks vinyl, Park 5's Buzz Lightyear XP-37 Space Cruiser.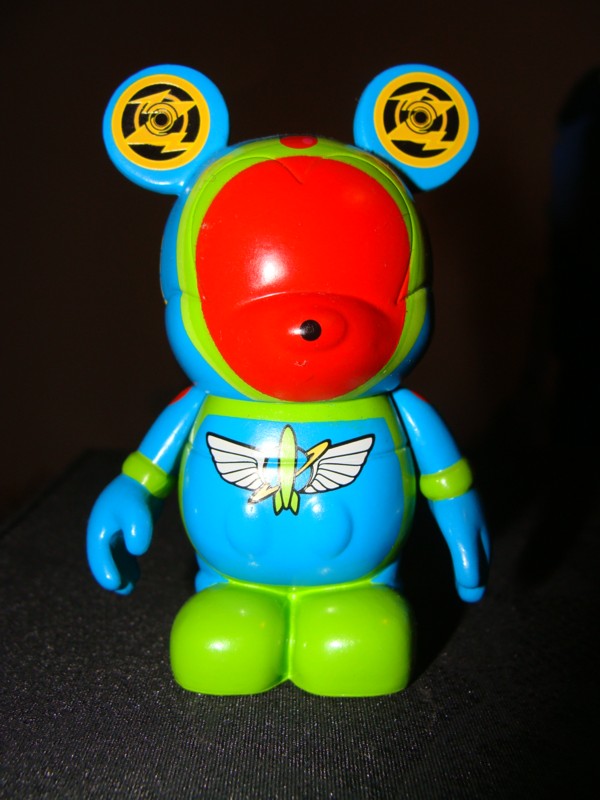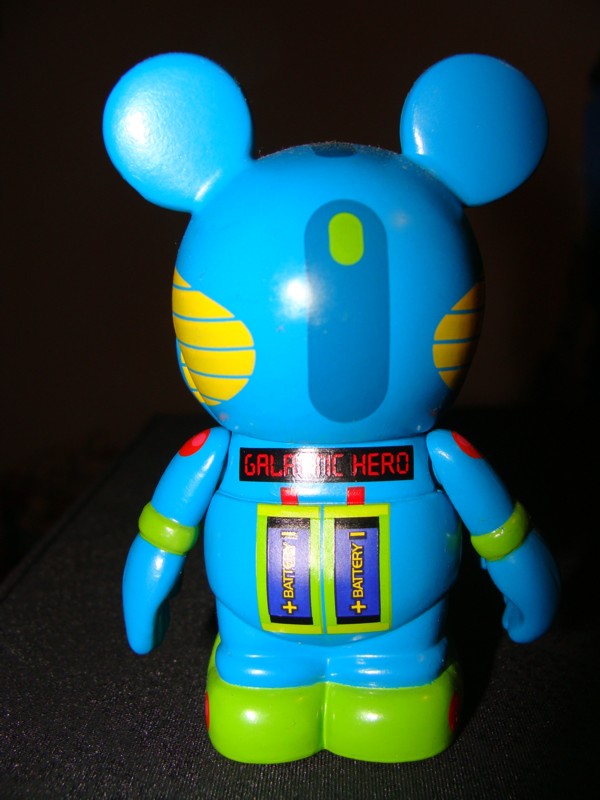 Eric Caszatt designed the 3" Space Cruiser vinyl, and it is an interpretation of the ride vehicles found in Buzz Lightyear's Space Ranger Spin and Buzz Lightyear Astro Blasters, located in WDW and Disneyland, respectively.
If you love one or both of these rides, you will love this vinyl! The face represents the front of the laser cannon intrepid Space Rangers use to shoot at Zurg and his minions. The trick to this ride is hitting the "Z" symbols located throughout the ride with the laser beam from your cannon. On the vinyl, the symbols were placed on the front of Mickey's ears. The ride vehicle emblem is located on Mickey's stomach, while a nod to the queue-area battery artwork is located on Mickey's back. Personally, I love Space Ranger Spin, and this vinyl is a great reminder of the many times I have tried my hand at a semi-decent score. It is one of my favorite WDW rides and has been the cause of many laughs on my vacations. One reason I love this vinyl is it is one of those rare pieces of memorabilia you can buy for this ride, and that helps remind me of those memories year-round!
Even if you have never been on these rides or have and simply do not care for them, Space Cruiser is still a great vinyl to add to your collection if you like brightly colored designs. This is definitely visible from across a room, and the glossy paint makes it look that much better.
Park 5 has been sold out for a while now, so you will need to trade for Space Cruiser or buy one from eBay or a Disney forum. Listings on eBay for this particular vinyl seem to be dwindling, and they have sold for between $15 and $35.79, pre-shipping, this month alone. If you can't track down a vinyl, the Disney Store website currently has the pin version on sale for $6.99.

Do you own the Space Cruiser vinyl? What do you love about it? Share your thoughts in the comments section below!
On the last Monday of every month, I'll devote this column to your questions and my answers. You can leave questions here as comments or send them directly to me.
More: VINYLMATION 360
Comments