FROM: Vinylmation My Way Published Saturdays and Sundays
Madame Medusa
The Devil's Eye Diamond! Remember? It was the object of Madame Medusa's evil desire in the 1977 Disney film, The Rescuers. Enjoy Medusa in all her mean majesty, courtesy of Vinylmation designer Michael Pahlow's custom prowess.
click image to enlarge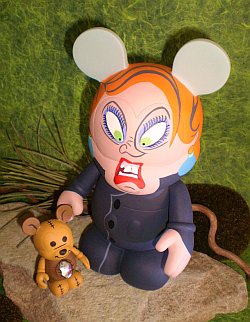 Madame Medusa and Teddy
This is one of my favorite custom sets.
It's Madame Medusa and Teddy (complete with the Devil's Eye hidden inside Teddy) from The Rescuers, one of the best Disney films ever made, with a great story and equally great characters.
I hope you enjoy Madame Medusa as much as I did creating her.
Bob's Three Cents:
The Rescuers, an animated movie, was released by Disney in 1977. The plot, in simplest terms, involves two mice who attempt to rescue an orphan girl named Penny held captive in the Devil's Bayou by Madame Medusa.
In the film, as in Michael's custom vinyl, Madame Medusa has red hair, and she has her sights set on the Devil's Eye Diamond, which she hopes Penny will be able to procure for her.
Note, as Michael points out, the Devil's Eye Diamond attached to smiling Teddy, and enjoy the look of horror on Madame Medusa's face as she realizes that she has been foiled once again.
Each custom copyright its creator, which in the case of Madame Medusa is Michael Pahlow.
More: VINYLMATION MY WAY