FROM: Why Did Disney DO That?!? Published As Necessary
Movie to Attraction to Movie Again
First Disney made attractions out of movies, now they make movies out of attractions. But what if Lee Beatens made these movies? Would the Tiki birds and flowers suddenly turn murderous? Would Jose crave not seeds but souls? Read, if you dare...
How many people realize that when Disneyland opened, its attractions were almost entirely designed around Disney movies that had been released up to 1955? Peter Pan, Snow White; Dumbo, Swiss Family Robinson, and the yet unreleased Sleeping Beauty were just a few of the Disney franchises that became real 3D experiences at Walt's theme park.
Later, as new movies came out, they too found their way into the park, such as 20,000 Leagues Under the Sea and others.
But some attractions were brand new and designed just for Disneyland. These included the Tiki Room, Pirates of the Caribbean, Country Bear Jamboree, and so forth.
Over the years, more movies have been made into rides, attractions, and shows at Disney parks around the world.
And Then It Happened
But then something else started to happen. Rides that had not come from a movie all of a sudden were made into movies. The Haunted Mansion, Pirates of the Caribbean,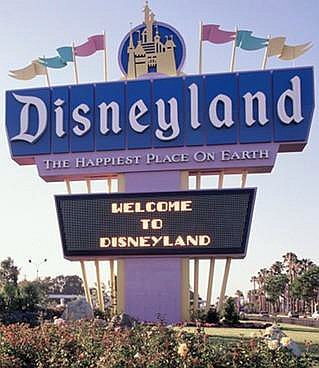 and The Country Bears have all gotten a turn, with various degrees of success.
And Disney isn't finished yet!
More Cash Cows, Please
A reworking of The Haunted Mansion is presently in the works. The Jungle Cruise is going to ply filmic waters of with Tim Allen and Tom Hanks on board.
And I've just heard a rumor that The Matterhorn is going to make it big on screen, so to speak.
Why is Disney doing this?!?
We need look no further than the cash cow that is Pirates of the Caribbean. With billions of box office bucks flowing into Mickey's pockets, there will be no end to this lucrative formula!
But what attraction will Disney put up on the silver screen next?
My Predictions
Only a demented monkey could accurately predict where Disney management is going to take this trend, and although I'm not a monkey, I will make a few predictions of my own:
It's A Spy World: Based on It's A Small World. An international group of child singers travels the world doing a series of charitable concerts to promote world peace. But they're really secret agents! After each performance, they're deployed on various missions that the government's top agents can't handle. Their weapon of choice: mindless repetitive lyrics! Cody Banks guest stars.
Big Thunder Mountain: There isn't a mountain that the plucky cast of this movie won't climb! Even the strange and dangerous peaks of Big Thunder will be conquered by their skill and courage. Or will they? What the cast doesn't know about this mysterious rock mass may just kill them, if the goat doesn't get them first.
The Tiki Gods: Based on the fan favorite The Tiki Room, this epic takes us out of the restaurant and into the wilds of Polynesia. Our cast finds themselves in the midst of an enchanted land where the birds can sing (words) and the flowers croon... right before they attack mercilessly a la Alfred Hitchcock's The Birds! Not to be released under the Disney banner, this PG13 horror flick will scare the pants off of you in the first few frames. Cringe in fear as you hear Jose say: "Come to the Tiki Gods! Bow to the Tiki Gods! And die, Senorita!"
When Disney tries to make the Electrical Water Pageant into an Esther Williams comeback vehicle, I'm boycotting the theatre!
More: WHY DID DISNEY DO THAT?!?
Comments