FROM: Perfecting the Customer Experience A Disney Dispatch Feature
Do You Remember Super Service?
Jeff means super service at service stations, and yes, I do. It wasn't that long ago when a stop for gas included a wipe of the windshield and a fluids check - free! Is the service still super at the gas stations in the Disney parks? Jeff pulls in to find out...
A walk through your favorite Disney theme parks might remind you of another time, when filling your gas tank was an interaction and an experience, not simply just a passing transaction that emptied your wallet.
click an image to expand: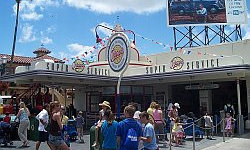 Oscars, home of the 'Super Service' in Disney's Hollywood Studios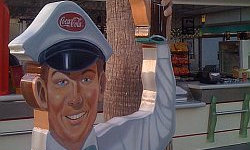 An Oscar's attendant ready to provide Super Service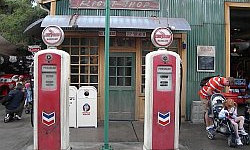 Fly and Buy in Condor Flats at Disney California Adventure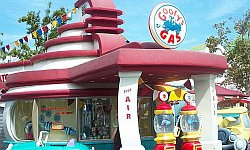 Goofy's Gas in Disneyland's ToonTown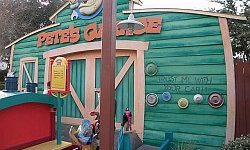 Pete's Service Station, formerly of Toon Town Fair
Step into Disney's Hollywood Studio and you'll find that you can get 'Super Service' at Oscars. It has to be super service, because the old tow truck advertised towing for the stars. That meant everything had to be squeaky clean - for a service station. Even attendants dressed in spotless white uniforms would meet you with a smile as you drove in to fill up your car, while providing you with a cold beverage to go.
Out in the high desert of Condor Flats at Disney California Adventure, you find Fly and Buy. You're fortunate. Back in the late forties to the early sixties, it wasn't always easy to find a place to get gas. And back then, people drove cars that needed refueling more often than today. Availability was very important. Fly and Buy was there for you.
Goofy's Gas in Toon Town at Disneyland offers free gas and water. That harkens back to a time when many services were free. Free inspections of your tires, battery, oil, cables, and radiator. If you needed air, it was handled free of charge. The same was true of cleaning your windows. Very few stations take that approach any more, which suggested that it was about the entire experience, not just the commoditization of buying gas.
Service stations often came with a repair garage. Goofy's Gas also had a motto: "If we can't fix it, we won't!" My guess is that if Goofy truly lived up to that motto, he probably didn't do too many repairs at his station.
Another such motto could be found at Pete's Garage at Toon Town Fair. The suspicious motto here was "Trust Me With Your Car." In the old days, service stations like Texaco would have slogans such as "You can Trust Your Car to the Man Who Wears the Stars". It's hard to associate the words Trust and Gas together any more. But there was a time when you could trust the service at your local gas station.
Unfortunately, like the demise of Mickey's Toon Town Fair at the Magic Kingdom, there is also a demise of service stations like those of the old days. But all of these stations still embody some important points around service - points that are valuable even if you aren't running a gas station.
Those points...
Treat everyone like a star,
Keep it clean and shiny,
Offer friendly service,
Be accessible and available,
Provide for the total experience,
Build and maintain trust,
...are still good points in customer service today.
It's enough for any customer to say, "Fill 'er Up!"
For more information about Perfecting the Customer Experience, please contact Jeff Kober or Ted Topping. The next public programs are September 27 to 29, 2011 and February 21 to 23, 2012. Companies may prefer a private, tailored experience. Neither the program nor its facilitators are associated in any way with The Walt Disney Company.