FROM: Perfecting the Customer Experience A Disney Dispatch Feature
Storybook Circus
Best-selling author Jeff Kober is perhaps the premiere authority on how to make use of the business and cultural principles of The Disney Corporation to solve your own on-the-job challenges. His latest example: Storybook Circus.
Storybook Circus is a new addition to Fantasyland at the Magic Kingdom. But the idea is anything but new.
click an image to expand:
Drawings illustrate what Storybook Circus will look like when it opens.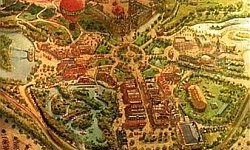 Walt Disney used this map to showcase Disneyland on ABC TV. Note the circus tents in the bottom right hand corner.
This fully-functional calliope has a permanent home at Fort Wilderness next to the horses... unless there's another place it is needed.
These maquettes which were on display at Disneyland's Opera House for the 50th Anniversary were sculpted for the proposed 'Dumbo's Circusland'.
The themes of Storybook Circus don't seem like such a departure from the Circusland concepts originally slated to be build behind Storybook Land.
Pinocchio's Daring Adventure at Disneyland.
Instead of Storybook Land, we got Toon Town.
Even the earliest maps drawn of Disneyland suggested a circus component be part of the guest experience.
So after the first hectic summer was over, Walt Disney ordered a circus added in time for the holiday season. Based on the success of his TV show, he named it the Mickey Mouse Club Circus, and he combined the entire Mickey Mouse club gang with circus acts that had appeared on the program's Circus Day.
The success of that circus was short-lived. Walt decided after the holidays to send most of the components over to the studio where it would be re-used in the making of Toby Tyler, or Ten Weeks With The Circus.
One calliope lives on today and has been stationed at Fort Wilderness for eventual use in parades and other events.
Even if a circus show was a bad idea (it was tried again at Epcot years later with disastrous result), the idea for a circus attraction isn't so far-fetched, and Disney planned in the mid 1970's to expand Disneyland with a new themed area called 'Circusland'.
This attraction would be located behind Storybook Land inside and outside the berm, and would have moved Dumbo to an elevated platform in the back. Casey Jr. would have a new station here, and Mickey's Mad House would offer a thrilling ride-through themed to the 1930's and the days of glorious black-and-white Mickey Mouse cartoons.
But the highlight would have been 'Circus Disney', a major ride through attraction featuring dozens of Disney characters brought to life through audio animatronics.
That ride would take you through a wild animal menagerie featuring King Louie and Shere Khan and through sideshows featuring characters like the 'Fire Eater Reluctant Dragon' and Horace Horsecollar as a one man band. Then you'd end up in the middle of a three ring circus featuring daredevil acts such as 'The Flying Goofys'.
Circusland never pitched a tent at Disneyland, but many of its ideas resurfaced in the New Fantasyland, which premiered in the 1980's with such attractions as an improved flying Dumbo ride and a Pinocchio dark ride.
What did get built behind Storybook Land was Toon Town.
That idea had its basis on the very successful Mickey's Birthday Land and subsequent Starland. The circus tents of Mickey's Birthday Land were originally intended to be a temporary land to celebrate Mickey's 60th birthday. But the concept was strong enough to continue permanently in the form of ToonTown Fair. And, of course, ToonTown Fair took its cue from the successful Toon Town.
So when Imagineers re-imagined a new Fantasyland, they saw an opportunity to again put the Birthdayland tents to use, while finding a better place for Dumbo, who didn't fit conceptually within the walls of Cinderella's castle corridor. Rather than building an elevated Dumbo, they would focus on the challenge of slow moving lines by creating two Dumbo attractions. They would also incorporate Goofy's Barnstormer into it as well, retitling it as the Great Goofini.
Just like a circus is only great when it's on the road, so are good ideas. They have to head down the path before they really take fruition.
And at Disney, that final fruition is known as Storybook Circus.
Ask yourself:
Is there a good idea you've often pondered?
What are the merits of that idea? What works, and what doesn't?
How has time allowed your idea to incubate and improve? Is now the time for it to hatch?
By answering these questions, and then acting upon the answers, you might bring some Disney magic into your own workplace!
For more information about Perfecting the Customer Experience, please contact Jeff Kober or Ted Topping. The next public programs are September 27 to 29, 2011 and February 21 to 23, 2012. Companies may prefer a private, tailored experience. Neither the program nor its facilitators are associated in any way with The Walt Disney Company.