Disney Wonder Brings Magic to Vancouver
Snow, polar bears, Alaska - not what most people associate with a Disney vacation! But as Ted Topping reports, that is exactly what you will encounter if you book a cruise on the Disney Wonder departing from its new port in Vancouver, British Columbia.
There was a certain 'magic' in the air for Disney fans in Vancouver, British Columbia on May 3, 2011 as Port Metro Vancouver welcomed the Disney Wonder.
click an image to expand: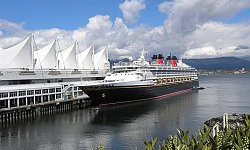 Disney Wonder sits at its berth at the Canada Place Cruise Ship Terminal.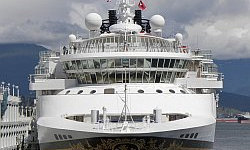 The bow of the ship bears a playful cartoon of Mickey as Steamboat Willie.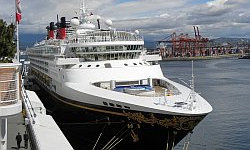 Disney Wonder berthed at Canada Place with container terminal cranes in the background.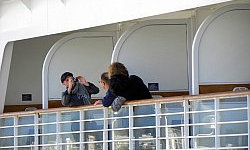 Passengers take turns photographing each other two hours before departure.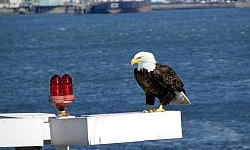 The wildlife sightings started early as this American Bald Eagle perched near the stern.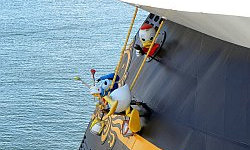 Disney fun at the stern: Donald repaints the Wonder name while Huey cuts his rope.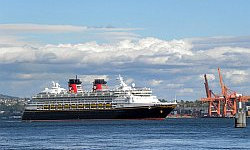 The ship's whistle sounded, followed by seven notes of When You Wish Upon a Star.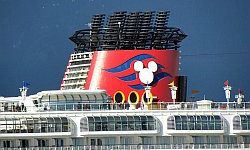 Passengers on the outer decks are close enough to Vancouver's Stanley Park to wave.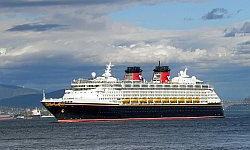 Disney Wonder on its inaugural cruise from Vancouver to Alaska on May 3, 2011.
The Wonder Drops Anchor in Vancouver
The ship arrived on May 3, 2011, early in the morning, after completing a six-night repositioning cruise from Los Angeles to Vancouver, with stops in San Francisco and Victoria, British Columbia.
The Wonder will now depart for Alaska from Vancouver every Tuesday until September, calling on ports such as Juneau, Ketchikan, and Skagway. This is the first year that Disney Cruise Line has offered Alaskan cruises.
To promote the new itinerary, Disney announced in February that guests 17 and under can sail free when traveling with two full-fare guests in the same stateroom. The offer expires June 7.
To prepare for the Alaska sailings, a new facility called Outlook Cafe was added to the Disney Wonder during dry dock in October.
Located high atop deck 10, the 2,500-square-foot facility is a 'stylish retreat' where adult guests can relax and enjoy a beverage as they look out through floor-to-ceiling, curved glass windows at breathtaking vistas.
The Disney Cruise Line website promises guests that they will sail north to picture-perfect Alaska and behold all kinds of wildlife, from bald eagles and bears to sea otters and whales, and it didn't take long for the sightings to begin.
As the Wonder sat berthed at the Canada Place Cruise Ship Terminal, two sharp-eyed guests who were already on board called to us from their balcony and pointed to an American Bald Eagle sitting atop a nearby light standard.
And that was only the first of the surprises we found at the stern of the ship.
We next noticed that a huge sculpture of Donald Duck was suspended high above the water from two 'ropes.' As Donald was touching up the paint of the ship's name, nephew Huey hung above him with a pair of scissors - preparing to cut the rope.
Port Metro Vancouver is the leading homeport to Alaska and the only gateway through Canada's Inside Passage. In preparation for this new season of cruises, Disney Cruise Line worked with local (Alaskan) tour operators to create a number of family-friendly excursions that will 'entertain and inspire' both adults and children amid Alaska's natural beauty and rich cultural heritage.
The Wonder Sets Sail for Alaska
The ship's whistle sounded just after 5:00 pm as the lines were cast off, the sound echoing through the high-rise towers of downtown Vancouver. To people who enjoy watching the cruise ships come and go, as we do, that sound is always special.
But what caught our attention as Disney fans was what came next: the first seven notes of 'When You Wish Upon a Star'.
We were told by industry sources that guests aboard the Disney Wonder enjoy stage spectaculars, adventurous deck parties, and the most extensive youth activities in the industry. We watched the ship leave its berth with no small amount of envy.
With 'Disney' on the side and a Mickey silhouette on each funnel, the Wonder attracted a lot of attention from passersby before its inaugural cruise. People took turns posing for photos with the ship in the background.
And as the ship headed out past Vancouver's Stanley Park towards open water, passengers on the outer decks were close enough to those of us on the shore to wave a smiling goodbye.
Ted Topping is president of Creative Insights Inc., a service-design consulting firm in Vancouver. As a speaker, trainer, author and consultant, he helps organizations learn to execute the all-important details that lead to sustained success in a consumer-facing business.
Ted is also facilitator, with Jeff Kober, of Perfecting the Customer Experience.